The Ultimate List of Best Hanging Chairs
With this list, we would like to help you get an overview of all best rated hanging chairs. It includes all different types of hanging chairs: hammock chairs made of cotton and basket chairs; indoor and outdoor; for adults and kids.
The list is kept up to date and contains all the important information. By clicking on the "Read Review", you can jump to our review. There you will find more detailed information about the featured hanging chair.
The most important points in a nutshell
There are basically two types of hanging seats: the soft fabric hanging chairs, and the hard basket hanging chairs.
Fabric hanging chairs are – hammock chairs, macrame hanging chairs, hanging cocoons and the hanging caves.
Basket hanging chairs are – the wooden hanging chairs, the wicker hanging chairs (natural rattan or synthetic rattan), hanging bubble chairs, the hanging pods, hanging papasan chairs and hanging nests.
How to hang a hanging chair?
You can choose between a hanging chair stand or a suspension kit. Depending on space available in your house or in your garden, on the terrace or the balcony,
How much does a hanging chair cost?
Fabric hammock hanging seats are usually an inexpensive option. Otherwise hanging basket chairs you will find in the middle price section. If you like designer hanging chairs or luxurious swings, you'll have to pay a bit more than that.  The wooden hanging seats are the best choice, but they are also the most expensive.
The main types of hanging chairs
Hanging chairs are available in various designs and made of different materials. As we've already mentioned above,  ammock chairs have a soft surface and usually include cotton and wood fort he spreader bar. Basket chairs are usually made of rattan or wicker, wood or even glass and plastic.
Here is a brief overview of the most important variants:
The classic hammock chair made of fabric
The best known and at the same time the most classical hanging chair is made of cotton fabric or synthetic fibers and can be seen as a modification of a classic hammock. It usually consists of a spreader bar, the seat of fabric and a rope system of cords. Some models already include hanging hardware and some not, so you need to buy this separately.
The fabric hammock chairs are generally the cheapest hanging chairs on the market.
Wicker chairs made of rattan and poly rattan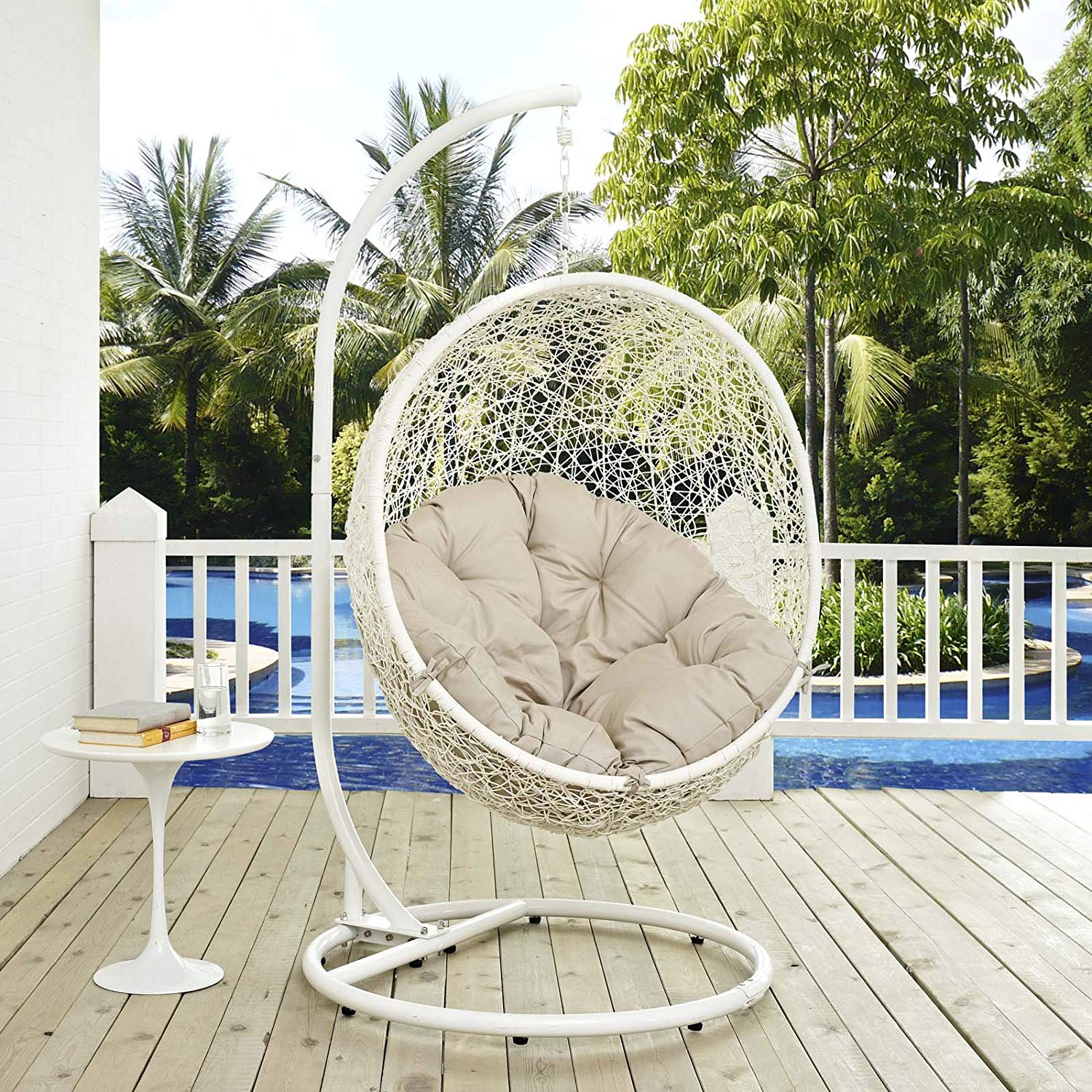 Hanging chairs made of rattan, which are also called hanging basket chairs, are also very popular. They are usually made of poly rattan, an artificial rattan imitation. Poly rattan is extremely weatherproof, making rattan hammock chairs particularly suitable for the garden. But they are also a popular design object for your home.
But also the natural rattan comes back: In the meantime, woven baskets made of real natural rattan are in the market again.
Unlike the fabric models, a rattan hanging basket is not that flexible. You do not have much in common with a hammock, rather with a classic armchair. Although you are more stable in them, the seat does not adapt so well to the body.
Weatherproof models for Outdoors
Due to their weather resistance, poly rattan hanging baskets are often used on terraces or on the balconies. If you remove the padding, you can usually let your chair outside even if it rains. This is not possible with natural rattan and we recommend real natural hanging chairs as indoor furniture.
Many models can also be used in the garden. You will need either a suitable frame, or you can use a sturdy tree in your garden.
However, a few things should be noted: not every hanging chair and not every hammock chair frame is weather resistant. The hanging chairs themselves should be covered in the rain or better stored indoors to protect them from moisture.
The best models for children
Every kids' room should have a kids' indoor swing! Thanks to its free-floating suspension, it improves the motor skills of the child and is also a huge climbing fun for the little ones. Hanging caves offer a perfect place to play, hide, dream, read or learn. Yes, that's right, cause swinging improves concentration and helps a child to focus on.
Besides, it is quickly hung up and stowed away in the closet and thus does not take away so much space as a conventional piece of furniture.
Where and how can I hang the hanging chair?
Some hanging chairs are offered with suitable hanging kits and accessories. But for many good hanging chairs, it is not the case, and you have to choose a suitable suspension yourself.
The easiest way to hang up a hanging seat is to use a hanging chair frame. It is easy to install and flexible- so you can change the location of your hanging chair without any problems. We recommend a seat outdoors, ut in a small apartment, a hanging chair with frame looks too bulky. The suspension from the ceiling saves space and is much more elegant. Her is It is important to find the best hanging accessory.
For outdoor hanging chairs, another option is to hang the hanging chair on a tree. You need a really stable branch or you can distribute the weight over diverse branches using a rope construction.
When you buy a swing chair for indoors, you should already have a definite place for it. So you need to double check that the hammock seat will indeed fit in that space. Don't forget, it's also called a hammock swing. So it should away from walls or other pieces of furniture. There should be enough space for the sitting person to actually swing in any direction without hitting anything.
Different suspension ways- pros and cons
As we mentioned above, you can typically attach your hanging chair in four different ways.
from the ceiling
on suspension frame
on the tree
under a balcony
Here we briefly introduce you to the three types and show you the Pros and Cons.
Hanging Chair Frame
A hanging chair stand or frame is the easiest way to hang up your hanging seat safely. On the market,, there is a large selection of frames in different shapes, colors and materials. The most commonly used frame is a steel frame.
Pros
flexible
simple assembly
no manual skills required
Cons
require sufficient space
high acquisition costs
Suspension on tree
The most cost-effective outdoor suspension is the branch of a tree. All you need is a strong rope knotted to a strong branch and a snap hook.
These utensils are usually already available as a set from the manufacturers at a reasonable price as accessories to buy.
Pros
inexpensive
simple assembly
no drilling required
Cons
needs a tree with a good bearing capacity
tree damage possible
Suspension on balcony
First, you need to figure out who owns the balcony. If it's your own, you can start right away. But if it belongs to your neighbor, then you should ask him beforehand if it is okay for him.
Stability is particularly important here again. If you can find a visible wooden beam or steel construction, you can proceed in the same way as with the suspension on the tree and attach a loop over the steel girder or beam and hang your hanging chair on it.
Pros
inexpensive
simple assembly
no drilling required
Cons
require load-bearing beams or steel girders
Knowledge about the statics of the balcony necessary
A guide on how to hang a hanging chair you can find here.
How to choose the best hanging chair for me?
You are not the first person who is looking for a hanging chair. Many other people have been faced with the same questions as you- which one is the best hanging chair for me. They made a decision and in the end, bought one of hanging chairs.
Some of these customers have eventually shared their experiences with the new hanging chair on Amazon as a customer review. The more good reviews a product has, the more often it is bought of course. But that bestseller list is not suitable for everyone.
The Amazons' bestseller hanging chairs:
The Amazon bestseller list contains many particularly favorable hanging chairs that also serve the purpose for some customers. However, many of the hanging chairs are no-name products, which are manufactured in Asia under lousy or unknown conditions and at dumping wages at all cost.
If you simply want to buy something that is trendy but affordable without exploring too much around, here is  the list with the best selling hanging chairs on Amazon
The Amazon bestseller hanging chairs list includes:
1st place: Sorbus Hammock Chair Macrame Swing
Are you looking for a simple and cheap but stylish hanging seat? Then this macrame hanging chair from Sorbus is just the thing for you. The polyester ring offers the necessary stability and the woven seat made of pure cotton provides the necessary comfort. The four ropes hold the hanging chair in a stable position while you relax and let your soul dangle.
The Macrame style net is made from 100% cotton.
Retro Bohemian-style aesthetic design.
Maximum seating capacity of one person.
Maximum weight limit of 265 pounds.
The material is meant to be hand washed.
It features a strong but lightweight plastic piped frame.
It comes with 2 separate hooks. You can use one or both.
2nd place: Two Person Hanging Loveseat Chair with Stand
This basket hanging chair made of washable fabric. The use of this weather-resistant material gives you a weatherproof and easy-care basket hanging chair. You can choose between four different colors nd also get matching cushions.
Colorful, lightweight and comfortable design
Suitable for your home or garden
Durable, washable weather resistant fabric
Overall 66″ tall stand, 50″ wide chair, and 43″ high opening
Weight Capacity:400 lbs. The cushion is 48″ wide and 36″ deep and 5″ thick
3rd place: Hanging Hammock Chair XXL with drink holder
This affordable fabric hanging hammock made of cotton fabric. The two cushions for your seating comfort. It is a cheap and basic hammock chair, so you cannot expect a really high-quality product, but it is Great for the price
Cotton Fabric Construction, wood spreader bar and 2 Cushions
Hanging Chair Swing Weight Capacity 265lbs.
Hanging hardware is not included.
Approximate Measures 38-3/8″ x 15-1/8″
Quality swing chairs, hanging egg chairs and hammock chairs
Anyone who wants to buy a really high quality hanging chair, or at least want to know where the hanging chair comes from, how was it produced and was it tested for safety, should rather buy a hanging chair made by one of the well-known manufacturers. Their products usually have a proper certification that proves their dedication to quality.
If you want to buy a classic hanging chair made of fabric – hammock chair– there are a few things to keep in mind. Below we explain what should you pay attention to when shopping for a hammock chair
Things you should consider before buying a hanging chair?
What are the benefits of a hanging chair?
The hanging chair is an alternative to the conventional chair. The main difference is – a hanging chair is without its ground contact. And exactly this offers you some Pros:
The dynamic swing movement trains your motor skills and your sense of balance.
The swing movement improve the concentration
It can reduce the stress on your spine and your joints which is good against neck and back pain
Here you can read a really nice article about 7 Reasons To Hang a Hammock Chair Indoors and why a hanging chair can be a suitable companion and a nice accessory in the garden or on the balcony for everyone.
What size should I choose?
The size is primarily dependent on the space you have available for a hanging chair. In the living room, it is nicer and takes up less space if you install a free-floating hanging chair without a frame. For outdoor hanging chairs you may have more possibilities; on a balcony, a small hanging chair makes more sense. But if you have a garden, a hanging chair with stand is a good choice. Also, even a large basket hanging chair can be suspended from a sturdy tree.
Another important point, of course, is your height and weight. The seating area should offer you enough space so that you don't feel constricted. If you choose a fabric hammock chair, it should be large enough to sit in or even better, to lie in. For this reason, many suppliers offer extra large hammock chair loungers.
The rule for the correct size of a fabric hammock chair is: The cloth length of the seat should be at least 20 cm longer than you are tall. This ensures a sufficient size.
If you really only want to sit in your hammock chair, then, of course, your hanging chair can also be smaller.
Will it fit?
You should, of course, measure a space for furniture before you buy it. You should consider the sounding area, cause the hanging chair is not a static piece of furniture. You'll need more space then usual, especially if you have kids, cause swings are fun and action.
The size of a hanging chair is directly related to its comfort. Although you are more likely to sit in a hammock chair rather than lying in it, the model of choice should be big enough to fit your whole body.
Rule of thumb: The fabric surface of hammock your chair should be at least 20 cm longer than you are tall. If it's longer, that's good because it means you can use it also as a hammock chair lounger. For basket hanging chairs, the measurements are obvious, and it is big enough or not.
Length of the spreader bar
The spreader bar of a hammock chair for adult models is usually between 90 and 140 cm wide. We recommend a bar length of at least 110 cm. For hammock chairs for kids, the spreader bar may be shorter.
Summary
Cloth surface about 20 cm longer than you are tall

Spreader bar wide about 110 to 140 cm

Enough free place around your hanging chair
How much do hanging chairs cost?
The prices vary very strongly, depending on quality and design. Although there are very cheap models starting from 30 $, we do not recommend to choose the cheapest model. Many manufacturers also offer fair and sustainably produced hanging chairs. If you care about quality and nature, you should spend between 70 and 200 $ for a good cotton hammock chair. For basket rattan chairs or those made of wood, wicker or acrylic, you should spend 350 $ or more.
Where can I buy a hanging chair?
Hanging chairs are the in-thing, and many good models can be found in furniture stores. Ikea does not offer hanging chairs at the moment. In addition, various versions of the hanging chairs are available in numerous online shops.
What are the alternatives to a hanging chair?
The classic alternative to a hammock chair is a hammock. This is the better choice for those who have a huge living room and prefer to lie down rather than to sit. The hammock completely surrounds the body and adapts to your personal body shape. Opposite to a hammock chair, it offers enough space for a nap or even to sleep in it at night. It can easily be stretched between two trees. So you can take them with on a trip to nature and hang them almost everywhere.
Even though the hammock offers enough space to lay in, it also requires a lot of space. That is why a hammock chair is the better choice for indoors.
Quality
Not only the size of the hanging chair must be right, but also its quality. There are a lot of low-cost suppliers out there but it is worth taking a look at the recognized and well-known hanging chair brands. We recommend hanging chairs produced in the USA and Europe. Or hammock chairs from South America, cause hammock, and hammock chairs have been produced there for many years.
Quality features
The fabrics: for example, cotton, organic cotton or weatherproof synthetic fibres.

The weave density: While some providers use cheap, thin fabrics, brand suppliers often use thicker, densely woven fabric. Often a blend of 70% polyester and 30% cotton, making the material windproof and extremely hardwearing.

Suspension cords: While some manufacturers here sew simple loops, there are also special called "Cadejos", in which the fabric surface goes directly into the suspension ropes. This is not only beautiful but also incredibly durable.

Origin and the conditions: Hanging chairs from South America (the home of the hammock) or from fair production generally are of better quality.
Capacity
The load capacity is, of course, a very important point. Especially when buying big size hanging chairs that you want to use for two, you should pay attention to sufficient capacity.
The manufacturer mostly specifies the load capacity. Anyway, if you buy a no-name hammock chair, we advise caution.
Design & Comfort
Having a hanging chair in your living room is a hype. It is so casual and fresh and modern and chick at the same time. Of course, that trendy piece of furniture, which is also a lifestyle, should look beautiful, but do not forget the comfort. A hanging chair must be ergonomic.
Fairtrade
We want to mention that only fair trade is fair. As simple as that!
A controlled trade, in which producers are paid that "minimum price" for their products, determined differently by the individual fair trade organizations, will make you feel really comfortable and relaxed when swinging in your new chair. We recommend paying a few bucks more and having a clear conscience.
Origin of the hanging chair
The hammock chair was created as a modification of the classic hammock in South America. Accordingly, high-quality hammock chairs still come from Brazil, Mexico and other parts of South America today. Cheap hanging chairs in the price range up to 50 USD and are very often produced under inhumane working conditions in Asia. Often these models are of bad quality and smell extremely unpleasant in the first few weeks.
The best hanging chairs brands
There are several brands in the USA market, which have high quality. They are mostly imported from South America. We recommend the following providers:
Byer of Maine

La Siesta

Cobble Mountain

Hatteras Hammocks
Nevertheless, many new suppliers usually import cheap models from Asia and sell them on Amazon.
Hanging Chair Trends 2019
Here you can read our article about 10 Unique Hanging Chair Models 2019 You Will Love, where we have introduced 9 really beautiful basket chairs and one gorgeous macrame hanging chair. The hanging chairs are trendy, and there are hundreds of models out there on the market, but only a few of them are unique in design and comfortable at the same time.

Trend 1: more luxurious and more elegant
This trend has been going on for a while now. One sees this above all in the fact that ever more money and trouble is used for the mechanism of the own garden. If you have your own garden, you want to use it intensively and set it up accordingly. Of course, this starts with the planting and continues with the garden furniture. This also applies to balconies. A similar trend can be observed here. This means that the quality of garden furniture is becoming ever higher. Of course, this also includes hanging chairs. More and more people want to relax and unwind outdoors. And where better to do that than in a beautiful hanging chair? For this reason, there is now a gigantic selection of armchairs.
Trend 2: Sustainability and ecology
The topic of sustainability is becoming more and more important. First manufacturers offer models made of recycled materials and organic quality. It is essential to pay attention to certified wood cultivation. Some manufacturers also offer bamboo spreaders. This has the advantage that it is an extremely fast renewable raw material. The good conscience has a price, but the planet will thank you for this extra expense. Who can afford it, should consider whether such an armchair is not perhaps exactly the right thing.
Trend 3: Outdoor UV Resistant and All-Weather Swing Chairs with Frame
Another trend that has been continuing for some time is the dominance of outdoor swing chairs made from synthetic wicker also known as Synthetic Rattan. This material has a great advantage that it tolerates moisture very well, cannot get moldy and is extremely easy to clean. So it is usually enough to wash the armchair with a damp cloth. In addition, synthetic rattan looks very high-quality due to its braided look and is not expensive at all. For all these reasons, there is now a large selection of beautiful hanging chairs made of water-resistant PE rattan. Anyone who buys such a hanging chair this year will definitely be in line with the trend.
And here you can have a look at beautiful pictures: Hanging-Chairs's Choice: The Photos We Want to Share with You. Enjoy!
Conclusion
We hope with this extraordinary large an comprehensive guide and reviews, we could help you with your research for the right hanging chair. The best hanging chair is that one, which fits YOU, and that you have to decide alone. 
Have fun and swing!