Hanging chairs are the new, cool thing that can be suspended from a sturdy branch in your garden, from a strong beam on your porch. There are countless attractive places where you can hang your hanging chair if you use a small dose of creativity, and there are various types of hanging chairs to reflect whatever decorating idea. Here you can find out, why and how to suspend an indoor hanging chair.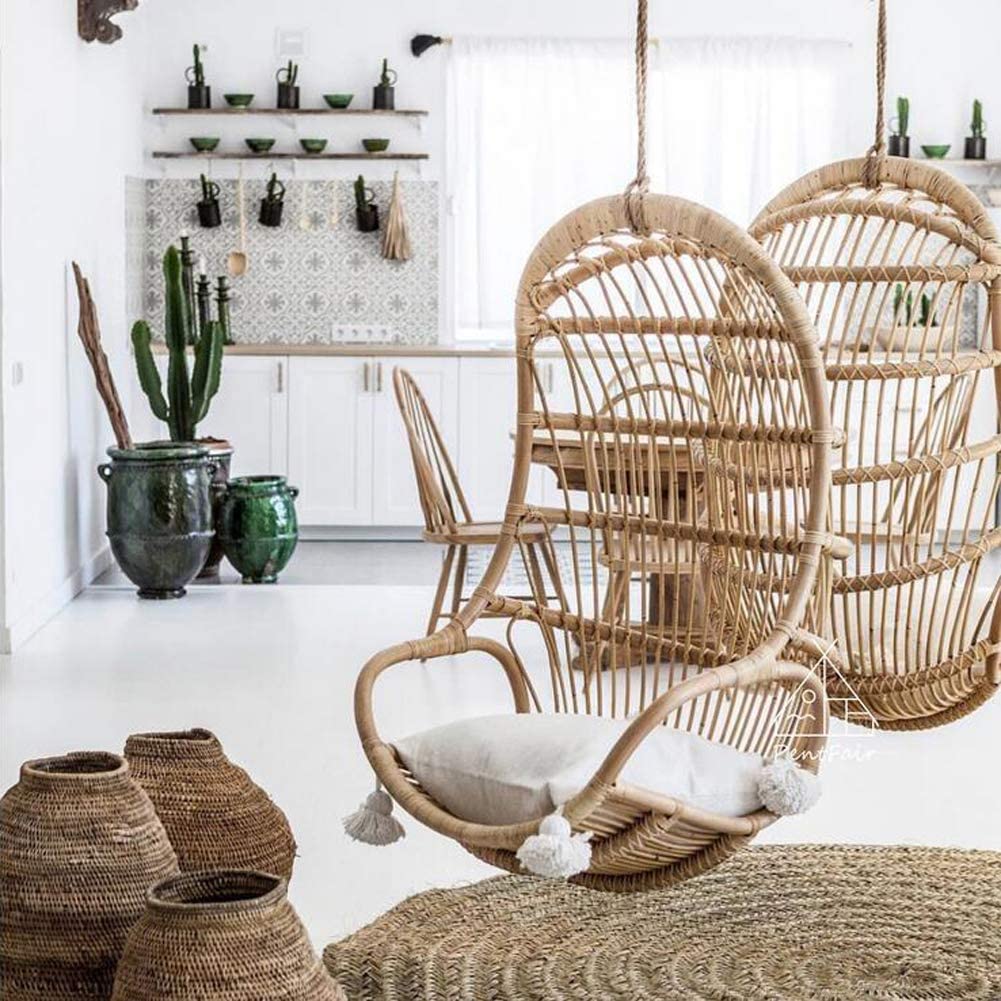 teardrop-hanging-chair-free-floating-huge-living-room-high-ceiling
two-bubble-chairs-hanging-from-ceiling-living-room
Indoor-Globo-Swing-Chair-Home-Décor-with-Natural-Tones
swing-natural-rattan-chair-with-cushion-and-rope-for-indoor-room
transparent-hanging-ball-chair-living-room-huge-window-morning-coffee
simple-indoor-swing-in-a-luxury-home-with-huge-amazing-window
two-hanging-egg-chairs-rattan-original-by-nanna-ditzel
bubble-chair-glas-and-comfy-yellow-cushions
two-macrame-hanging-chairs-suspended-from-ceiling-in-the-front-of-huge-window
boho-macrame-indoor-hammock-chair-minimal-light
indoor-basket-swing-chair-rattan-loft-room
yelow-hanging-seat-with--awseosme-view-the-city
komorebi-hammock-chair-review-black-white-living-room
Why a Hanging Chair inside your Home?
A porch may be the most popular place for a swing. However, only a quick look on Pinterest will confirm that having a hanging chair suspended from the ceiling inside your home – in a living room, or bedroom or even home office – enjoys increasing popularity among those with stylish and fashionable homes.
Here are some of the reasons for this:
it's unexpected and surprising
it's something different
it's healthy
and it's fun.
Different Types of Indoor Hanging Chairs
Whether rattan, wicker, acrylic or hammock, all these chairs are constructed and designed to offer a comfortable and remarkably relaxing environment.
The following list provides the names and brief descriptions of different types of indoor hanging chairs:
One of the best things about indoor hanging chairs is the fact that DIY installation is not rocket science. So if you enjoy getting your hands dirty then this will be a fun project for you. To help you do it right, here is a comprehensive guide on what you need and how to go about the entire process.
Hammock feeling in your living room
Hammocks are so incredibly comfortable but they tend to take up a lot of space. That's the reason why they usually find their place in a garden. But in the form of a hammock chair, they've been adapted to fit in indoor spaces as well. A hammock chair is a bit more compact but just as enjoyable and relaxing. And from an aesthetic point of view, it can be a great addition to a casual living room, a bedroom, a kid's room or even to your home office.
They bring coziness anywhere you place them. Suspended from ceilings, or as a free-standing indoor hanging chair, it is a real highlight for every room. The soft back of the seat fully supports the head and neck, so you can recline back very comfortably. It is so relaxing that you are able to nap in it!
Hammock chairs are made of cotton or fabric and therefore wonderfully soft to the touch. They are machine-washable and very easy to clean.
If you're still not sure you are ready to get one, here are the 7 reasons why to hang a hammock chair indoors.
Hanging Chair for Bedroom
So if you don't have enough space in your living room, then think about what would it look like if you had a bedroom with hanging chair? Maybe there is a bare corner you thought was unusable that would be the perfect place for a comfy bedroom chair swing. Your bedroom wouldn't be just a place to sleep, but rather your favorite place where you can read, listen to music and enjoy the book. So why not?
Whether you live in a small city apartment with a small bedroom or a grand country pile with a huge one, you can make it looks beautiful. Bedroom design doesn't have to mean a complete redecoration. Sometimes a tweak, like new lighting, a change of art or a new fluffy hammock chair can make a dramatic difference.
The bedroom is more than any other room an indicator of your personal style. If not, then it's time to change it. It is often the neglected room in your house because nobody else sees it — but it should be the exact opposite because it's your own space where you get to recharge, where you sleep, where you go to meditate, where you go when you simply want to be alone and escape everyday life.
The fact that the bedroom is our personal safe haven where we can be ourselves at our leisure is also what makes it an ideal room for a hanging chair. No matter what style you prefer, there are so much different styles of indoor hanging chairs that you surely can find a perfect one for your bedroom.
Hanging Chair in Children's Room
A hanging chair for your kid is not only fun, but it is also ergonomic, healthy and your children will fall in love with this delightful corner. By hanging a swing chair to your kid's room, you will create a joyful and relaxing space at once, suitable for hours of play and relaxation.
It is a comfortable place of retreat with a very strong playful element as well. It is just the perfect zone for reading or dreaming for your children, designed only for them.
But which hanging chairs are particularly suitable for the children's rooms and how to install them as simple as possible? You can read more about it in the category "FOR KIDS".
Hanging Basket Chairs
For those who prefer to swing in a common sitting position, hanging basket chairs are the right solution. They are unique looking and so much fun to use. A hanging chair with the stand made from woven rattan with a comfy cushion inside would be a great way to add a splash of style to your living room.
Hanging Egg Chair
They come in a wide range of designs, shapes and styles but the most popular are egg shaped swing chairs. It is not only aesthetically beautiful but amazingly ergonomic. Like one of your favorite pieces of clothing that fits you just perfectly.
The original Hanging Egg Chair is recognized as a part of Danish design history. It was designed by Nanna Ditzel in 1957 and is manufactured by Sika Design, one of the oldest Scandinavian producers of rattan and wicker furniture. Her beautiful naturally design is characterized by soft feminine elegance.
Today there are a lot of egg-shaped hanging chairs in the market, in different sizes and materials and various colors. So if you are not rattan fan maybe this white indoor hanging egg chair suits your tasteperfectly.
Floating Bubble Chair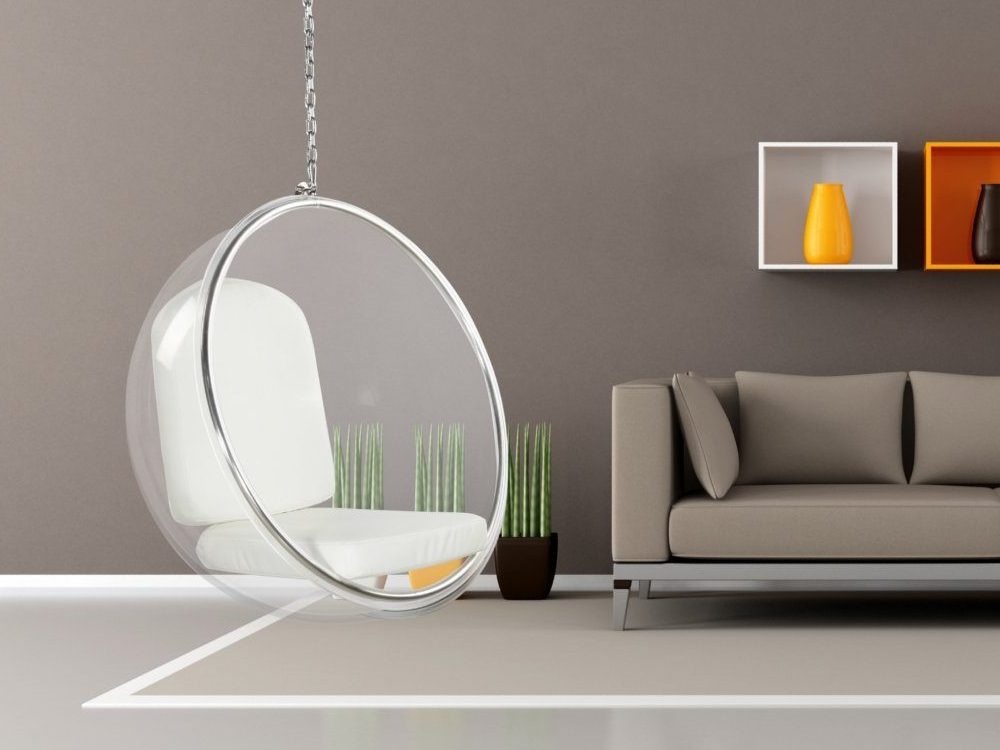 If you prefer a minimalist lifestyle, a transparent bubble chair with a delightfully simple design would be perfect for your minimal living room with a crisp straight line. This indoor hanging ball chair is better without a stand. Hang it from a beam in the corner of the living room and you'll feel subtle and soothing weightlessness in your own personal orb. Just like in a bubble.
The original bubble chair was designed by Eero Aarnio in 1968 in Finland. He wanted the chair to float like a "bubble" and be completely transparent. To get this effect the chair should be hung from the ceiling and not from a stand.
The chair is often used to symbolize the 1960's period and has featured in many movies.
The original bubble chair is distributed by Adelta and costs nearly 5000 $. A good replica of the original is available for much less money.
Conclusion
Every house should have a hanging chair
Yes, that's right. You too should have one!
They are fun.
They are beautiful.
They are wonderfully ergonomic.
As a symbol of peace, balance, and leisure a hanging chair can add a sense of harmony and relaxation to any home decoration and is an ideal alternative to a traditional motionless seat, which may appear visually heavy and old-fashioned.
Adding a soft hammock chair or a woven rattan hanging basket chair with a comfy cushion would give your home a bohemian or modern feel, depending on the style you choose. It is extremely simple to move compared to your other furnishings. As a result, you don't have to choose just one room to keep your indoor hanging chair in – you can enjoy it in any room and at any time.
No matter what stage of life you're in, there's a perfect hanging chair for your home.
Bring That Summer Feeling In Your Home: Installation Guide