If you want a cosy place to curl up with a good book and warm drink in your bedroom, why not elevate that space above the floor? Hanging chairs for bedrooms are a great choice for those that own their own home. They are also a great way to add the illusion of space to a room. Don't dismiss floating chairs as something stark, uncomfortable or extreme. Here I want to discuss some important considerations for finding the best floating chairs for bedrooms.
CHECK PRICE ON AMAZON CHECK PRICE ON WAYFAIR
1) Not all floating bedroom chairs look like they were made in the 1970s.
When I say hanging chairs, one of the first things that probably comes to mind is the hanging pod chair of the mid-century. These chairs were must-have items because of their shape and simplicity. All you got was a half a clear sphere was a cushion and a chain from the ceiling. It was stark and bold. While you can still get chairs inspired by this look, I recommend looking at some softer options for a cosier feel. Try out some rattan designs or some hanging hammock chairs.
2) They can be supportive and comfortable if they are the right size.
The size of the pod is important if you, and all those in the household, will be comfortable sitting in it. I recommended asking the following questions:
Is it too heavy to be suspended from the ceiling?
Is it too wide for the room?
Does it have the right weight capacity for all users?
This is where we sometimes see a potential downside compared to bedroom hanging chairs with stands. There is nothing to support the weight of the chair other than the chain to the ceiling. Check the weight capacity in the specification before buying a floating pod chair. Also, check the width to be sure that it will be comfortable to use but also small enough for the space.
3) Soft furnishings turn any floating pod into a welcoming nook.
One of the great things about these floating pod chairs for bedrooms is that you can get a fairly basic model and dress it up. This allows for a more affordable minimalist product, such as one from Ikea, rather than something vintage, bespoke or overpriced. Once you have the right shape and size you can dress it up with your own soft furnishings. Bring in throws and cushions that match the theme of the room. Add a rug beneath for added comfort to tie it all together.
4) Chairs that hang from the ceiling for bedrooms don't have to cost a fortune.
Yes, there are some pricey designs out there – particularly some of those that mimic the mid-century modern designs. But, you can get some great products on a budget if you need to.
Some of the best floating room swing chairs for bedrooms under $100
1) The Komorebi Hammock chair sits low to the ground with a seat that blends a lounger cushion with a hammock effect. There are also nice details like the side pocket for a book.
CHECK PRICE ON AMAZON CHECK PRICE ON WAYFAIR
2) One of the cheapest types of hanging chairs for the bedroom is the hammock swing. Companies like Sorbus offer a range of colour choices to suit various taste. The hammock is supportive and easy to install.
CHECK PRICE ON AMAZON CHECK PRICE ON WAYFAIR
Some of the best floating chairs to hand in bedrooms above $150
1) This Exaco model is a stylish piece for all those that want something a little more high-end. There is a curved structure made from Scandinavian Spruce and a soft lounger cushion.
CHECK PRICE ON AMAZON CHECK ALTERNATIVE ON WAYFAIR
2) This Kouboo chair blends together a mid-century modern shape with a softer, natural feel. The hemp rope and rattan design are inviting in their natural colours.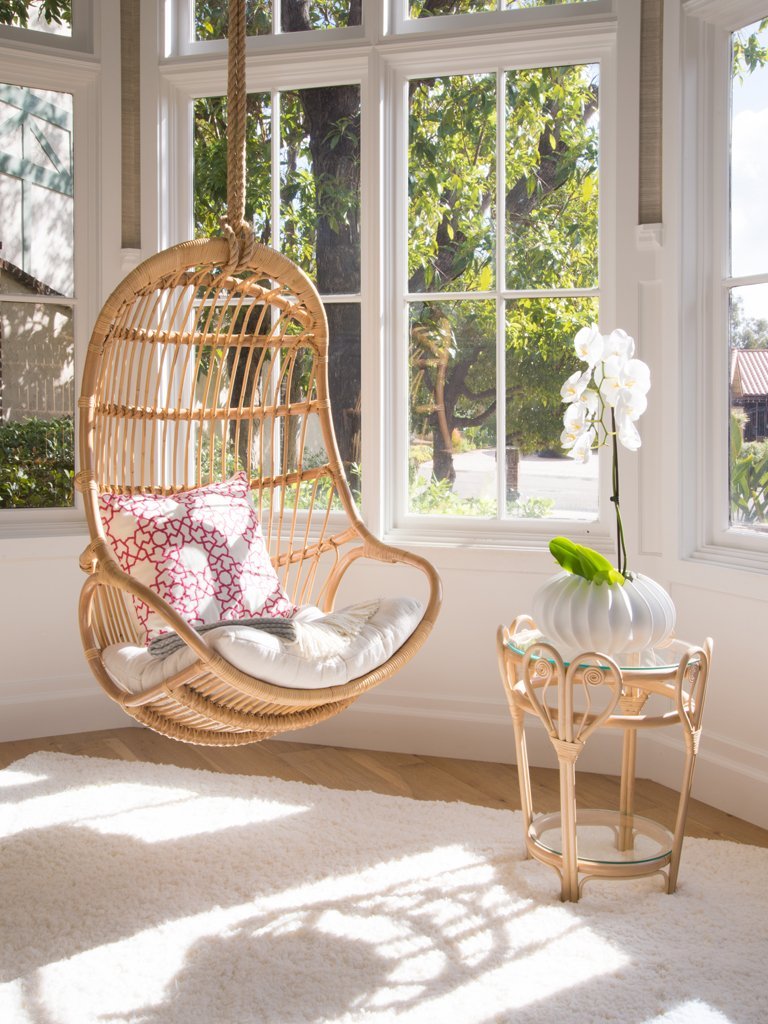 CHECK PRICE ON AMAZON CHECK PRICE ON WAYFAIR
5) There is a product out there for every bedroom.
As you can see, we have come a long way from the space-age pods of the 1970s. There are so many suspended hammocks, cane seats and other floating chairs for bedrooms. Match the best shape and material to the feel of your room. Then make sure that it is the right size for the space and all potential occupants, and here is how to install it easily. From there, all you need to do is dress it up and make it as cozy as possible.