For a kid, growing up is a magical time where anything and everything is possible. Filled with energy and zest, kids spend every day living in their special worlds. Swinging safely in the confines of one's own house is a great way for kids to not only have fun but also to relax and rest their minds.
Swings can teach them to balance, spatial awareness and coordination as well, all which are necessary skills to have in life. There are several other benefits of having kids swinging as it strengthens their core and improves their sensory integration. It helps the brain to organize and interpret information in a more efficient manner. It also has a calming effect on the kid as he/she will have a safer avenue to spend their excess energy.
Let me walk you through some of the different types of indoor swings for kids in this article and why you should buy them.
1) Classic Toddler Swing for Your Little One
Almost every kid loves the idea of riding a horse. While this may be dangerous for young ones, a wooden horse swing is the next best thing. Ecotribe Wooden Toddler Horse Swing Set is chemical-free which can offer hours of unadulterated joy and fun for toddlers between the ages of 6 months to 3 years. The Ecotribe wooden swing set comes with a variety of cool designs ranging from a horse, giraffe and even a unicorn. It was also pretty easy for me to assemble the swing, thanks to the detailed instruction manual that comes with it.
Features
It is made up of eco-friendly materials such as untreated, smoothed birch wood and all natural cotton ropes.
It comes with a bucket seat that provides good back support as well as easy to grip handles for the child.
You can use this swing both indoors and outdoors. I would definitely take this with me when I go on picnics with my kids.
Pros
Non toxic
Great back support.
Comes in 3 different animal designs.
Very compact and easy to assemble.
Cons
You need to use wood sealer for outdoor use.
Due to its wooden frame, some toddlers might find it a bit tight.
Bottomline
With cool animal designs, nontoxic materials and great back support, this swing is perfect for you if you want a fun, safe and well built outdoor/indoor swing for your kid.
2) Fun Filled Indoor Baby Swing
If you are looking for a softer version of a horse swing set, then the HABA Horse Baby Swing will surely delight you.
HABA Indoor Horse Baby Swing Review
It can hold up to 66 pounds and is quite spacious to allow your loved one to sit with great comfort. As it comes in polyester, you can wash it from time to time. I really liked how I could adjust the seat easily; thanks to the removable back pad and the adjustable straps that comes with it. The cushion is nice and soft too and won't leave any marks on your child's delicate body.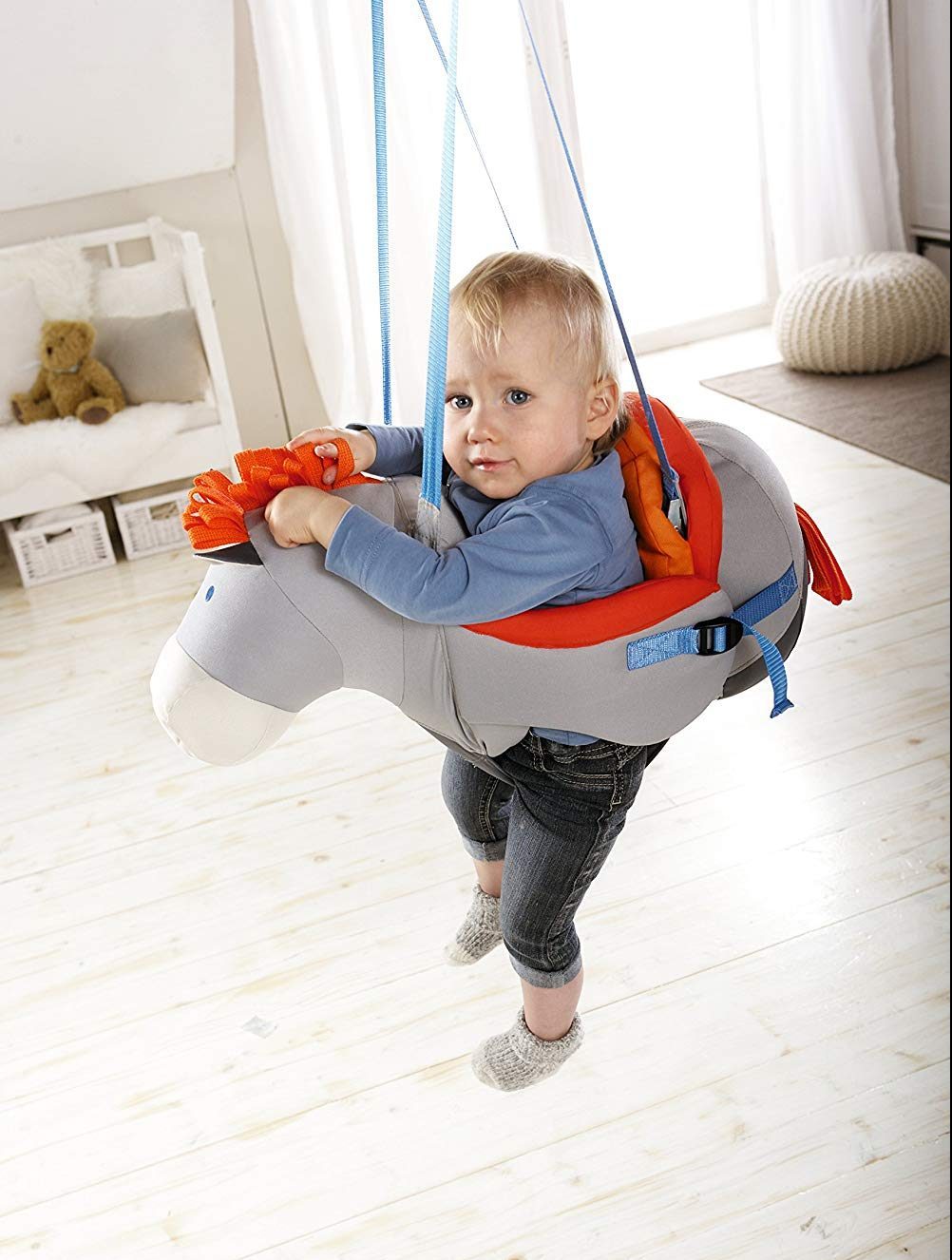 Features
It comes with a removable back pad which could be easily adjusted as per your needs.
With the adjustable straps, you will be able to increase or decrease the height of the swing with no hassles at all.
You can also adjust the seat based on the size of your baby and this might be a very convenient feature
Pros
It's washable.
Visually fun.
Adjustable seat and removable back pad.
Very good quality.
Cons
Polyester as a material may not be ideal for everybody.
Comes only in one animal design.
Bottomline
If you prefer soft cushiony horse shaped indoor swings for your kids, then the HABA horse swing with its adjustable seat, removable back pad and cute horse design is perfect for you.
For newborns, we suggest having a look at baby hammocks.
HABA Indoor Aircraft Baby Swing Review
If planes are your kids' favorite vehicle, then the HABA Aircraft Soft Ondoor Swing will surely put a big smile on his/her face. I found this kids room swing to be one of the cutest swings I have ever seen with its soft, plush design and vibrant colors. It can support up to a maximum weight of 66 pounds and is primarily targeted at children below 4 years.
Features
I loved the attention to detail as it comes with a spinning propeller.
You get an adjustable seat that you can modify as per your kid's comfort needs.
You also get a seatbelt with the seat which not only sticks to the theme but also adds a nice layer of safety.
Pros
It's designed perfectly.
Rotating propeller.
Adjustable seat with seat belt.
 Excellent quality.
Cons
Comes only in 1 color combo.
It's a little expensive.
Bottomline
If your kid is fascinated by or loves watching planes fly, then look no further than the HABA Aircraft Swing. It's cute, comfortable and allows your loved one to utilize his/her amazing imagination.
More about classic baby swing chairs you can read here.
3) Cozy Kids Hanging Chairs – Different Types
Hanging Pod Chair
LA Siesta Joki is an original kids' hanging nest that set the standard when it came to kids' pod chairs. See our full review here.
Made out of 100 percent cotton, it is soft to touch while being gentle on the skin. It feels luxuriously comfortable and it can rotate 360 degrees without getting entangled; thanks to the built-in safety swivel. It can also hold up to 175 pounds and is ideal for kids from ages 3 to 10. You also get to choose from 6 gorgeous colors that will surely spice up your room ambient as well.
Features
It comes with a luxuriously soft seat cushion that will instantly make your kid relax and snuggle in.
With the built-in safety swivel, you can rotate the chair numerous times without it getting entangled. I found this to be a great feature as it eliminates the risk that normal hanging chairs have.
You can choose from a dazzling variety of 6 colors ranging from blue and orange to green and purple.
Pros
The seat is amazingly soft.
You can rotate it 360 degrees.
It's spacious enough for little ones to snuggle up and sleep in.
2 year warranty.
Cons
It's a little bit on the expensive side.
Bottomline
The LA Siesta Joki is an amazingly comfortable hanging chair that can not only entertain your child but also allow him/her to peacefully drift off to sleep and relax. Plus, it will make you feel jealous when you see your little one getting all cozy inside.
Alternative:
The hammock chair below has a stylish bnw look. We don't know much about the manufacturer and what material is made of, but the details you can read on Amazon:
Kids' Hammock Swing
This one is perfect for you if you are looking for a hanging chair that not only keeps your favorite little person cozy and relaxed but also spruces up the ambience in your room.
Byer of Maine Kids' Globo comes with a solid build quality made up of multiple layers of weatherproofed spruce wood and a comfy Agora fabric cushion. Unlike the others, this one took a little bit more time to set up which is only natural due to its overall design. It can support up to 77 pounds which makes it ideal for young kids. Visually, it looks gorgeous and I really loved how unique and niche it looks.
Features
It can be either suspended from a beam or the Globo chair stand which I found to be very convenient.
Its weather proof body will make it last a good amount of time.
It can be used for outdoor use too once it is treated with a penetrating oil finish for extra protection.
Pros
The design is gorgeous.
It's very comfortable for little kids to relax in.
It's quite spacious.
Comes in two colors.
Cons
Requires a little bit of work to set it up.
It's pretty big and requires a good amount of space.
Bottomline
I found the Byer of Maine Globo Kids chair to be an excellent hammock swing for kids not only for its eye catching design but also due to its spacious seat and comfy cushion. Globo Basket Chair It's more than just a swing; it's a great relaxation tool for your little ones to rest and daydream in. 
Kids' Hammock Chair
Sorbus Hanging Rope Hammock Chair Swing is a personal favorite of mine because of the level of comfort it offers. The cotton and polyester fabric really feels good and makes you want to just curl up inside it. It's also very compact and easy to carry from one place to another. You do need some space once it is set up. It can support up to 330 pounds as it comes with a robust steel frame that you can easily assemble in a matter of minutes. All I had to do was lock the joints together with the snap button and the entire assembly was over before I even realized it.
Features
The Sorbus Hanging Rope comes with a steel stand for good stability. I don't have to worry about it collapsing while my kid is using it.
You can use it both indoors and outdoors which is great because there are always times when i wish that I had a cozy kids room swing chair while relaxing outside.
Pros
Easy to set up.
Very comfortable to sit in.
Comes in 4 beautiful color combinations.
Compact and easy to travel with.
Cons
Requires sufficient space once set up as it comes with a stand.
As it has a steel frame, it wouldn't be suitable for very young kids.
Bottomline
This is a great kids' indoor hammock chair for those who don't mind putting assembled parts together to set it up. It is comfortable, offers great value for money and comes in some really awesome color combinations.
Therapy Swing for Kids
If you are on the lookout for a therapy swing, look no further than the Quility Indoor Therapy Swing.
It comes with an extra durable 4-way stretch fabric, 2 ropes and 1 shackle for attachment purposes. This particular swing isn't made for toddlers but for young kids above the age of 5 and it can support up to 77 pounds. Its main purpose is to help kids with special needs and it does a great job to be honest. The quality of the fabric is really something to marvel at. It is very soft to the touch but extremely durable at the same time. The installation is very basic and can be finished within a few minutes.
Features
The functional design along with the fabric quality provides a calming effect for kids.
You can use it both indoors and outdoors depending on your convenience.
You also get to download a pose book which can help you to find the ideal poses for optimum health benefits which I found to be very useful.
It comes with a special 80 percent blend of polyester and 20 percent Lycra.
Pros
It is very soft and durable at the same time.
The stretchy fabric not only keeps the kids safe but also provides several health benefits.
The product comes with the approval of numerous therapists and is used in autistic schools.
Very compact.
It's ideal for kids with special needs.
Cons
Lacks the versatility you find in normal indoor swings.
Though your kids can use it casually, they won't find it comfortable to spend a lot of time in it.
Bottomline
As a therapy swing, it does a great job of doing what it is supposed to do. The pose book was really useful as I saw almost instant results especially in the way it calmed kids. Not only is it cozy, calming and very strong, but it can also actually help to improve the mental health of your child.
4) The Perfect Children's Hammock
 Organic Cotton Kingsize Family Classic Hammock
If you are looking for a gorgeous children's hammock, look no further than the LA Siesta Flora Hammock which comes in a dazzling variety of 10 eye popping colors. What I really love about this particular hammock is that its colors are neither too gaudy nor too dull. The tear-proof fabric is made up of organic cotton and made in Columbia with handmade plaits. The quality is just outstanding as it can support up to 440 pounds. It molds well with the shape of the body when you lie in it and it feels quite luxurious. Making your kids nap has never been easier.
Features
The fabric comes with double threaded, reinforced edges making it very durable.
I found this to be very well constructed as it features numerous suspension cords which help in regulating weight distribution properly.
Pros
• Comes in a wide variety of 10 beautiful color combinations.
It can support up to 440 pounds.
The fabric is made up of organic cotton.
Very comfortable to lie in.
Cons
• Needs a good amount of space to set it up.
Bottomline
The LA Siesta Flora is an amazing hammock not just for kids but for the whole family. It's very spacious, luxurious and distributes weight evenly to give your kids a relaxing and happy experience.
Organic Cotton Kingsize Family Hammock with Hand-woven Fringes
Handmade in Brazil, the LA Siesta Bossanova Hammock is another high quality hammock made from organic cotton. Similar to the Flora, it can also support up to 440 pounds and features the same level of diagonal weaves that helps in distributing the weight evenly for optimum comfort. Where it differs from the former is in its design. It features decorative fringes and macramé making it an excellent choice for indoor as well as outdoor use.
Features
High quality weaves helps to not only increase comfort but also to provide great support when lying diagonally.
I really loved the fact that you can buy the hammock with or without a suspension set, wooden stand or a steel stand depending on your preference.
Pros
You have the option to buy it with a stand for indoor use.
It can support up to 440 pounds and provide amazing comfort.
Each purchase helps to improve the lives of street children in Brazil which is a great cause.
Cons
Needs a good amount of space to set it up.
Color options aren't that great.
Bottomline
If you are looking for a well-designed, spacious children's hammock that can be used both indoors and outdoors, then this one might just do the trick.
This beautifully designed eco-friendly hammock is available in many colors and with a canoa wooden stand.
Things You Should Consider Before Buying a Kids' Indoor Swing 
Buying the right indoor swing for your child might appear to be a simple choice but it can be daunting once you start looking. The market is flooded with different types of swings and chances are you will get a bit confused along the way. However, if you break it down to a few simple points, you will be able to have a far better experience.
1. One of the most important aspects is of course safety, which means you need to ensure that you are buying only high quality eco-friendly products.
2. Next aspect to look for would be the features so you get value for your hard earned money.
3. Finally, it needs to be fun and easy to set up so your kid will be able to enjoy countless hours swinging safely, while improving his/her health.
Conclusion
When it comes to relaxing or calming kids down, there are very few activities that are more efficient than indoor swings for kids.
Not only do their provide oodles of fun for the young ones but they also help to improve their mental and physical skills. While one might assume that swing chairs and hammocks are better placed outside, security wise, it's better to have them indoors if your kids are very young. You will be able to keep them safe at all times while being able to control or change the environment as per needed.
You get so many different types of indoor swing chairs today made up of a variety of different materials and innovative designs. The price will vary too depending on the features, quality of material and even design. With a little bit of research, a little bit of reflection and a dash of internet savviness, you will be able to find the perfect one for your needs in no time at all.
For older kids and teens we recommend having a look at 13 Hanging Chairs Your Teen Will Love (And How To Choose The Perfect One)