Anyone who wants to leave a hammock chair outside overnight should consider buying a model specially designed for outdoors. It is made of weatherproof fabric which is UV-resistant and water-repellent. 
Some people like to put their hammock chairs on their balcony in the spring, and then move them back into the living room during the winter, putting them next to a huge window or in front of the fireplace.  Any hammock chair, no matter what material is made of, could be used outdoors for a while.  You can simply hang it on your covered porch or balcony. But no matter how lightweight they are, taking it indoors or covering it with a furniture cover every time you notice the clouds turn gray becomes a bit of a nuisance.
There would be no harm in taking a look at hammock chairs you can let in your garden during the summer. Even if it rains.
Weatherproof hammock chairs – the outdoor solution
Outdoor fabrics and materials are offered in a wide variety of choices. High-quality weather resistant hammock chairs are made of fast-drying polypropylene which is very durable, so they can be left outside all summer long. This synthetic fabric looks and feels like cotton and is very soft and comfy. The spreader bar is also weatherproof and very sturdy, mostly made of robust high-quality bamboo.
Although exposed to the wind, the sun, and rain, it will keep its functionality and radiant colors as well.
Here are the best weatherproof  and UV-resistant hammock chairs available in the market:
Sunbrella of Hatteras Hammocks
Hatteras Hammocks is a US-based company which is the leader in the US hammock industry for over 4 decades.
Their outdoor swing chairs are handmade in the USA from two layers of Sunbrella fabric, which feels and look like cotton but is very durable, resistant to fading, staining, mold, and mildew.
HamacTex® of La Siesta
La Siesta is a German manufacturer. Their top-quality original cotton hammock chairs are bestsellers in Germany  and they have designed a weatherproof functional material especially for requirements of outdoor hammock chairs–HamacTex®– which is:
machine-washable
fast -drying
color fastening
UV-resistant and soft to the touch
could be left in the garden all summer without weathering.
Although made of polypropylene, these hammock chairs feel and look like cotton.
Even after months of being exposed to daylight, the colors maintain their radiance and the fabric remains soft and flexible. Due to the soft, skin-friendly surface of HamacTex®, the material is so soft that you can barely tell them apart from cotton. Even when thinly clothed the lying in this hammock chair is extremely comfortable.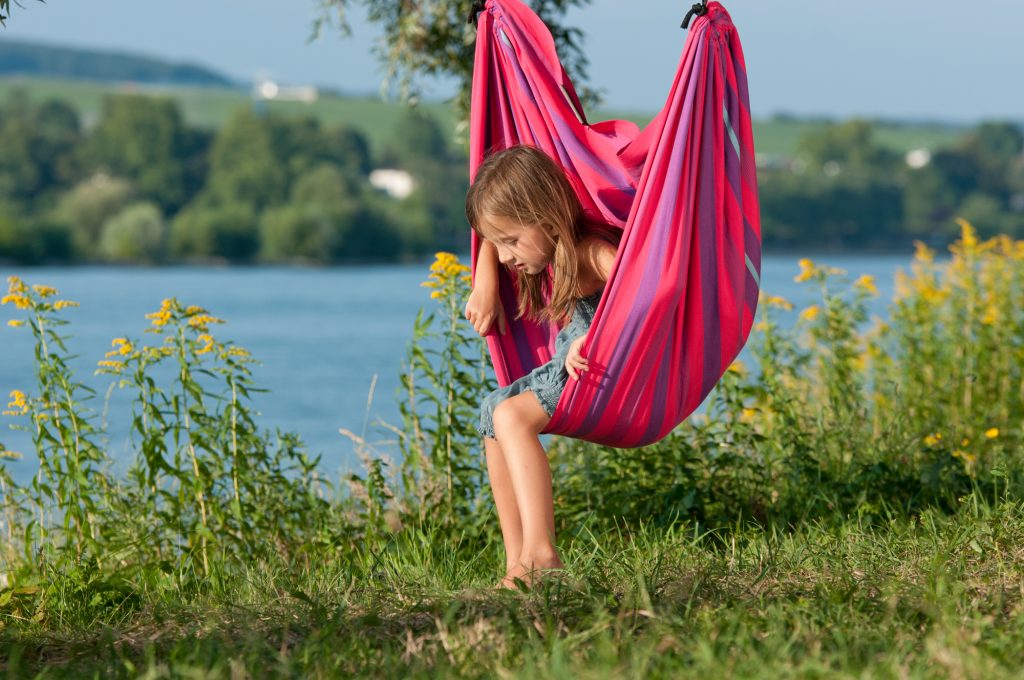 These are the best models of La Siesta from HamacTex®
Hanging fabric chairs or adults:
Hanging fabric chairs for kids:
EllTex® of 

Byer of Maine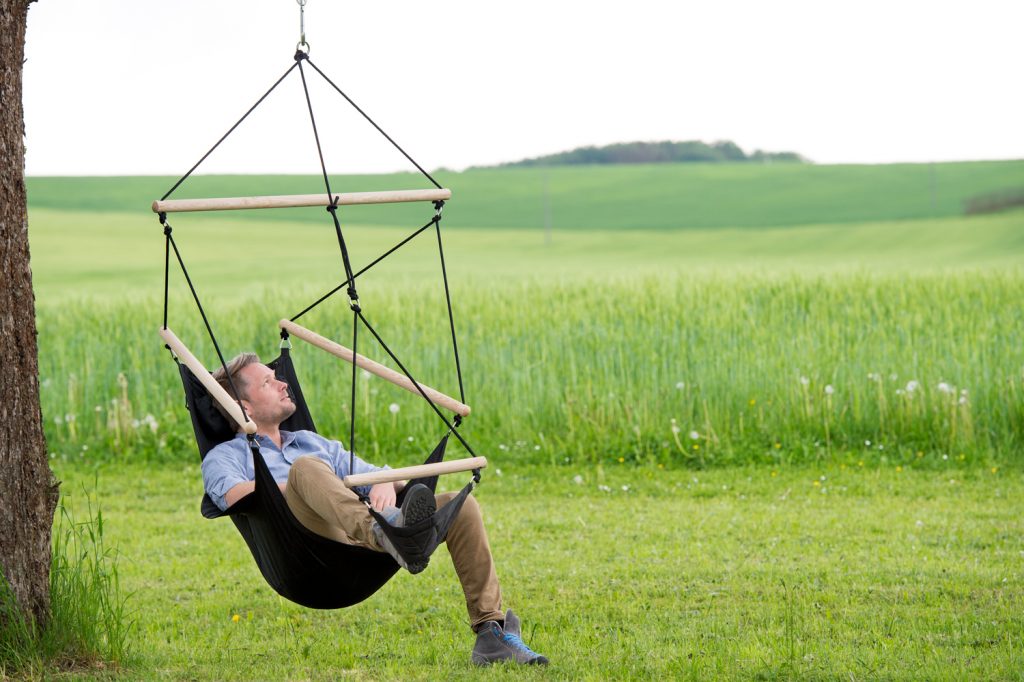 Amazonas is also a German manufacturer based near Munich, Germany. Byer of Maine sells their products in the U.S. offers hammock chairs made from EllTex® ( "Extra Long Lasting Textile") that can be hung outside even when it is raining or when the sun is burning hot. The special material is a mix of 45% polyester and 55% cotton but is almost as soft as pure cotton fabric. EllTex® is extremely weather-resistant (both against the sun, as well as from rain) hardly fades and stays extremely tear-proof, even after repeatedly getting wet through rain or repeated washing.
Here you can check price and availability.
Also, Byer of Maine Swinger Chair with footrest is weather resistant. It is made of durable polyester fabric with an integral pillow.
100% Soft-spun acrylic fabric of  Yellow Leaf Hammocks
Hammock chairs from Yellow Leaf Hammocks are not cheap, but when you compare it to other low-budget hammocks, you definitely can feel how cozier the fine weave of this hammock chair is.
These freshly woven hammock chairs are made from 100% soft-spun acrylic fabric and can be left out all season. It's large enough you can lay in about like a normal hammock too.  It is such a great feeling how you can stretch it out to hold your feet up as well or just sit in it as in a chair. It also supports your head, unlike other hanging chairs.
They also have has a social conscience -each purchase contributes to high-wage artisan employment creation in rural Thailand.
Handmade Hammock Chairs
When you want to purchase a high-quality handmade hammock chair and support small manufacturers, the AIX Hammock Chair made in Latvia is a good choice. Each chair is handcrafted, meaning that each one is  "one of a kind" piece of furniture and each wooden spreader bar is unique. Sitting in this hammock under the trees will bring you peace, but the chair looks beautiful indoors as well.
The chair was represented in the exhibition in Finland and we hope to see it soon on the US market.
Things you should watch out for when hanging a hammock chair in the garden?
Would you like to leave your hammock chair outdoors during summer?  Then you should keep a few things in mind, especially if the hanging chair isn't made of weatherproof material.
Firstly, you should make sure the chair remains dry. Do not expose it to rain or moisture. If you leave your hammock chair outside overnight, it gets wet in the morning and should have the opportunity to completely dry up,  otherwise, it can become moldy.
Although a good quality hammock chair is strong, the sun is stronger and can cause fabrics to fade. Fading is a common problem for outdoor hammock chairs or if they have been placed next to a window that gets too much sunlight.
Fabrics blended with acrylic, polyester, and nylon is generally less likely to fade. Also, consider the fade-ability of the colors you select. Dark colors will fade much more rapidly than lighter ones.
Your hammock chair and any other outdoor hanging chair or even patio swing that is not in use should be covered. However, covers protect from light and moisture, but not against temperatures so during the winter you should bring it into the house.
Hammock Chair Location
If you hang your hammock chair from a stand, you can move it in your garden as you please.  But also without a stand using a simple suspension kit, there are many enjoyable spots where you can hang your hammock chair – show off your creativity!
There are many wonderful places where you can hang your outdoor hammock chair if you use a small portion of creativity.  To make you ready for your next hammock chair adventure, here are the 7 best spots to hang a hammock chair outdoors.
For more ideas visit our reviews page with the ultimate list of the best hanging chairs.