There is only one original iconic hanging egg chair – designed by Nanna Ditzel in the early 1960s. However, we noticed that our visitors often expect something else when they type in "hanging egg chair," or "egg swing," or even "egg hammock." Although it is clear- a ball is round, and an egg is oval- many who are looking for an egg chair expect something completely different; A round-shaped hanging basket with a stand. Or some other kind of basket swing chairs.
To help you find the chair you want, however you name it, we are going to show you here various types of hanging egg chairs. They all have something in common:
all of them are basket hanging chairs (in opposite to soft hammocks made of textile)
in each of them, you can swing lightly touching the ground with your feet
Below you can find FAQ around hanging egg chair types and our answers and examples. Enjoy it!
Are they designed for inside or for outside?
1. Outdoor Hanging Egg Chair
2. Indoor Hanging Egg Chair
---
How large is the basket?
1. Double 2 Person Hanging Egg Chair
2. Single Person Hanging Egg Chair
---
Do they come with a frame or a ceiling suspension hardware?
1. Hanging Egg Chair with Stand
2. Hanging Egg Chair without Stand
Here you can read: Create A Styling Reading Nook With Floating Chairs For Bedrooms
---
What material are they made of?
1. Wooden Egg Swing
2. Wicker Egg Swings
---
3. Natural Rattan Egg Swings
4. Soft Material Egg Swings
---
Do they have an open or closed shape?
1. Closed Egg Pod Basket
2. Opened Grid Egg Basket
---
Mass production or art pieces?
1. Cheap Hanging Egg Chairs
2. Luxury Hanging Egg Chair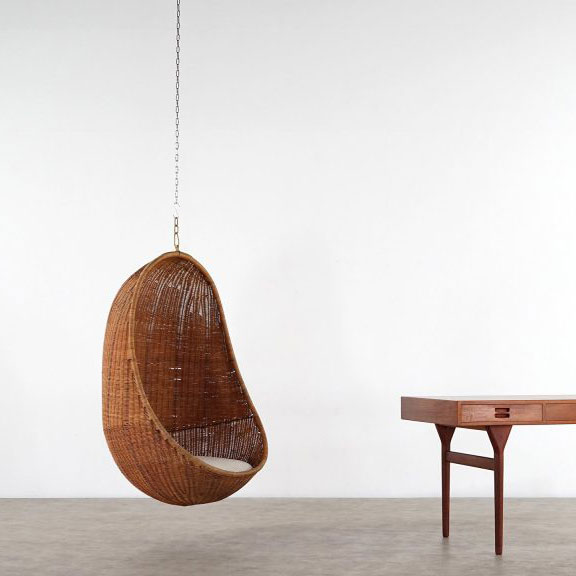 ---
What shape is the basket?
1. Round shaped Egg Chairs
2. Egg Shaped Swing Chairs
3. Teardrop-shaped Egg Swings
4. Hanging chair open sided
---
As you can see, there are various typer of hanging egg chairs. No matter if you are looking for a 2 person hanging egg chair or a single-seater swing, an outdoor or indoor option – there is a perfect hanging egg chair waiting for you.
For more ideas, visit our reviews page with the ultimate list of the best hanging chairs.
FAQ Hanging Egg Chairs
1. What is an Egg Chair?
An egg chair is actually a half egg shaped chair. They are also known as swing chairs, hanging basket chairs, or egg hammocks. But we also want to point out that (although it is not quite logical) circular-shaped hanging chairs are also common among hanging egg chairs.
2. Which types of hanging egg chairs are known?
There are different types of hanging egg chairs: hanging egg chair with stand, and hanging egg chair without stand, depending on the type of suspension. Single hanging egg chairs, or double hanging egg chairs, depending on load capacity and size. They can be made of different materials: rattan, wicker, plastic, fiberglass, knotted, wood, aluminum. Some of them can be used outdoors, and some of them (natural rattan, for example) are only indoor hanging egg chairs.
All these different types of hanging egg chairs have been introduced above.
3. Where to buy egg chairs?
Many sell hanging egg chairs because they are completely in trend. You generally have two options, either visiting a local furniture dealer or buying online.
And here you can read more about Ikea hanging egg chair.
4. Who sells hanging egg chairs online?
If you decide to buy an egg swing online, besides hanging egg chairs collection by Amazon, you can find a very large selection at Wayfair. But some very nice unique pieces are not available at these two biggest online sellers.
Unique egg chairs collection you can find at Anthropologie). Finish Design Store offers originals such as Nana Ditzel Egg Chair or Bubble Chair. Urban Outfitters (here) has a fancy collection, and if you looking for a rattan egg swing chair, you can always find nice ones at Serena&Lily. For customers from the UK, we also recommend looking at Made.
6. Frame for hanging egg chair – where to find and what to choose?
There are so many beautiful hanging chairs that are offered without a matching frame. We would even say that the most beautiful egg hanging chairs available on the internet are without a frame. Therefore, it should not deter you from choosing a hanging chair without a frame. Because there are very good frames, which are sold separately. We have made a selection of the best hanging chair stands You can then choose whether you want to use your egg chair with a wooden frame or a metal frame.
7. Cushion for hanging egg chair – where to find and what to choose?
Of course, you can already use the pillows you have in the house. But they are usually not ergonomic enough. If you did not get a suitable cushion with your chosen hanging egg chair, here is our selection of the best cushions designed especially for hanging egg chairs.
8. Cover for hanging egg chair – where to find and what to choose?
If you use your hanging egg chair outside, you will need a suitable hanging chair cover. Especially if you don't have a covered terrace or use the chair in the garden. We have presented a selection of the best hanging chair covers here.
10. Are hanging egg chairs comfortable?
Hanging chairs are generally comfortable because they rock. Babies like swings, toddlers too, and unfortunately adults have forgotten how pleasant it is. Apart from that, ergonomically speaking, there are different models of hanging chairs. While hammock chairs (cotton) adapt to the body, hanging egg chairs are made of solid material. The advantage is that you can lean back properly, like in a classic armchair. But you need a nice, thick and cuddly cushion so that it is not too hard to sit on. When you like to put the legs up in the chair, the basket must be deep enough.
11. How to assemble a hanging egg chair?
Usually, the hanging egg chair comes ready to hang up, with instructions on how to do it. With a few simple steps, you can hang the basket on the frame. If you choose the free-hanging version, not all parts are always available. Here are the best hanging kits.
12. Are hanging egg chairs safe?
Yes, they are. But you have to be aware that the hanging chairs are not meant to swing wildly (children like it), but for easy rocking. This question usually refers to whether the basket will fall down all at once. As long as it is well fixed and the load capacity is respected, there are generally no big concerns.
Especially with big or double hanging chairs, which are meant for two people, you should pay attention to sufficient load capacity.
13. How to make an egg chair?
For those who dare to start this project, we have an interesting video, you can see here:

What a fantastic result!
You can find the same wooden hanging chair here.