A baby hammock has benefits for development and wellbeing of a newborn. Baby hammocks are, just like the name said, designed with babies in mind so that the little one can not fall out. A particular benefit for babies is the gentle rocking, which calms them down helps them fall asleep quickly.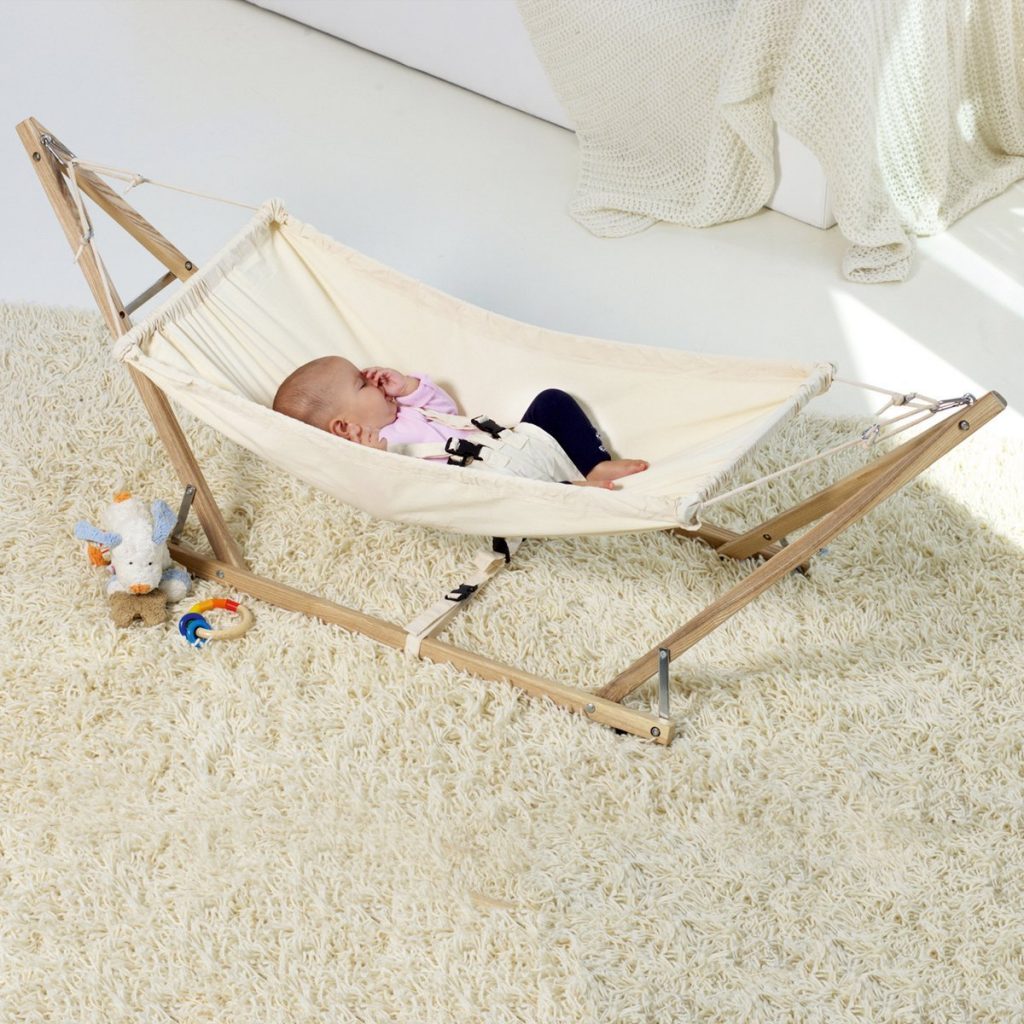 The market of baby hammocks is relatively large, and it is usually not easy to choose a model. This article should give you a reasonable basis for the decision when you consider buying a  hammock swing. This constant gentle movement will lull your baby to sleep
We'll write here about the pros and cons of a baby hammock. We'll give you some tips on how to buy a hammock for babies at a reasonable price, or even how to make one. And we'll have a look at some popular and safe models from high-quality manufacturers.
Top 5 baby hammock models 
The infants and toddlers under two years are still too young for a classic hammock chair. The babies are unable to sit up straight, but laying in and you will need a baby hammock. Here are three models we found and pick up among all others available. Please note- we haven't tested these models personally, so if you have questions, please contact the manufacturer.
1. Newborn Hammock Cradle Swing Crib with Stand for Nursery 
2 . Set Organic Hushamok Baby Hammock Swing with Wooden Stand
This hammock chair for babies is designed from the finest materials. It is meant for babies, that already can sit and should help them to fall asleep.  The design features a natural swing system that is guaranteed to rock your baby to sleep gently.  The stand is highly durable and the hammock seat is made from natural, 100% organic cotton. The seat is easy to adjust/adapt for older children up to a maximum weight of 50 pounds/22kg.
3. Tubibu Baby Hammock Cradle 100% Cotton Cribs
4. Macrame Baby Crib Hammock Swing
Hanging Baby Crib in Macrame made by young macrame designer team – Hang A Hammock Collective. Oval shape cradle with a handwoven wicker base made of 100% cotton ropes looks beautiful. This crib is meant for newborns to 20 months babies and it is smaller than a standard cradle.
5 . La Siesta Hammock for Baby made of organic cotton
Baby Hammock Stand
For a baby hammock swing, you will definitely need a baby hammock stand. Some baby hammocks you can purchase as a set, mostly those ones that have two anchor points. Baby hammocks with one anchor point have that advantage, that they rotate 360 degrees. This natural rocking motion gets your baby to fall asleep faster and stay asleep for longer. But sometimes they come without a stand, and you should choose one by your self.
Here you have two possibilities:
to choose a hammock baby stand specially designed for this purpose
 To choose a stable hammock chair stand, that you can use later for kids hanging chair or an indoor hammock chair for adults.
If you make your decision for the first option, here are some stands that we recommend:
Hushamok Okoa Stand and Organic Baby Hammock
CHECK PRICE ON AMAZON CHECK PRICE ON WAYFAIR
Why a baby hammock swing and why not?
Helping your baby fall asleep in a swaying baby hammock seems like a great idea and solution to a few problems.
There are many different motives why you should buy a hammock for your baby. We name you the most important reasons below. But there are also reasons why you shouldn't buy a hammock for babies. We name them too.
Colic Babies Usually love Swaying in a Hammock
Some babies sleep a lot, but some babies cry a lot.
Usually, parents who want to test a baby hammock are those who have tried a lot of tricks before. They have a big problem- their baby simply doesn't want to sleep! The child is exhausted and cry more and more, the parents are exhausted too and under the stress- they need a solution to this big problem. 
And a baby hammock could help! Swaying naturally (in opposite to electric baby swings) in a hammock helps babies have a peaceful and deeper sleep.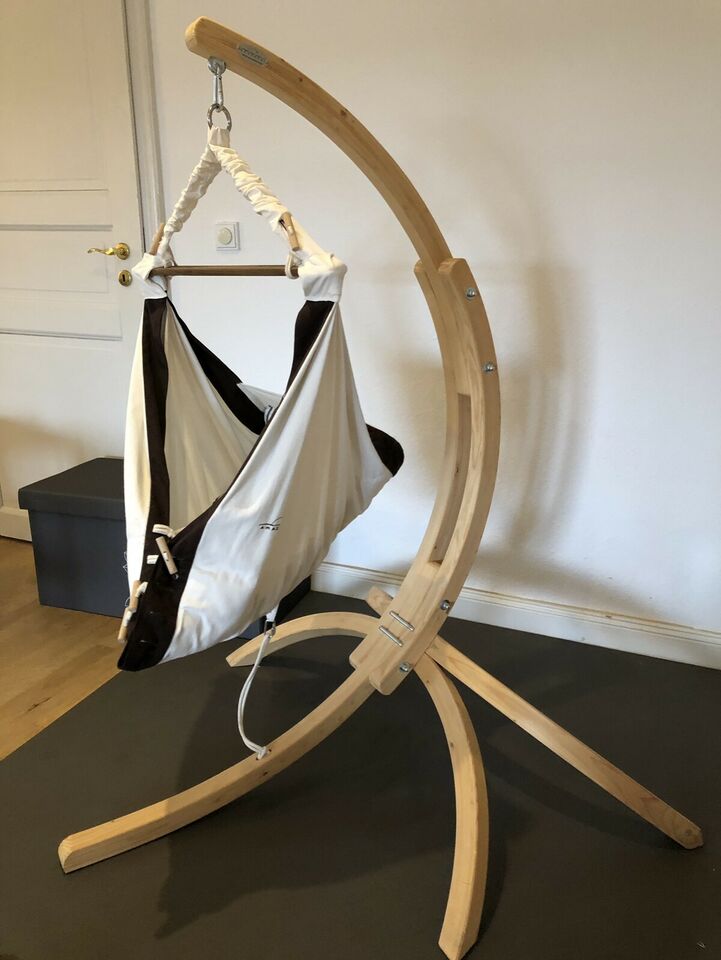 "I had never been able to put my baby down for more than five minutes. It started to cry. The first time I placed my [first-born child] in the baby hammock for a daytime nap, he slept soundly for two hours"
On the other side, some experts are not convinced of the safety of hammocks for babies in general. According to them, a baby should sleep on a flat and firm surface, on ist back.
In a baby hammock, babies can indeed only sleep on their backs, but a baby hammock is neither flat nor firm and could be dangerous for babies. On the other side, there are experts with a different opinion.
However, in the beginning, we want to point out  these three points:
A baby hammock cannot replace the baby crib
 Never leave your baby alone in a hammock! You have to be present and watching.
 Baby hammocks don't always pass safety muster according to the reports some pediatric organizations and sleep experts.
Not every baby hammock is safe
Indeed, there were two recalls in 2010 involving hammocks for newborns.
"MamaLittleHelper LLC, initiated a voluntary recall of its metal hammock stands in 2010 after a 4-month-old girl fell out of the hammock when the stand broke.

Also in 2010, 24,000 units of Amby Baby Motion Beds, made by Minnesota-based Amby Baby USA that is longer in business, were recalled after two infant deaths in Georgia and Oregon. "
More about this you can read at Healthline.
In the meantime, there are a lot of baby hammocks available online. However, the problem is that they are mostly untested and only subject to recall when something goes wrong.
So buy a hammock made of non-toxic material, make sure the stand is sturdy and stable. A hammock could help your baby to fall asleep. Be grateful for these moments; read a book, watch tv, eat a tasty lunch. But NEVER leave your baby alone in a room in a hammock. If you are near your baby, you can act in every unsafe situation that might come up.
Here are some advantages of a baby hammock
The C-shaped spine of a baby
Newborns are in a state of flexion, still curled up. Their spine is in a natural long c-shaped (convex) curve. So the truth is, the Newborn babies do not naturally lie flat. They will have their legs pulled up to allow the spine to adopt the natural 'C' shape discussed above.
This phase usually ends when the child begins to walk independently, after about one year. Until then, the c-shaped spine should still be supported now and then to allow a gentle and slow changeover.
More about this you can read here.
In a baby hammock, the child is slightly curved by the shape of the hammock so that the sensitive spine can develop slowly.
Get close to the parents
Baby hammocks are very mobile, which is an advantage over the crib. This fact creates many opportunities to give your child a physical closeness to his parents. No matter whether you are in the kitchen, or bad, or even outside, your baby can be anywhere near you, feel your presence and feel secure.
The safeness and closeness can have a significant impact on the psyche of your child and ist healthy development of the personality. Especially a baby hammock with a frame can be used very comfortably here. The stand can usually be set up within a few seconds and therefore, incredibly practical.
Sooth a crying baby
Some babies sleep for hours, another cry for hours, and this affects 10–40% of children. Read more about baby colic more here.
Calming crying babies can be a tricky affair, and most parents can probably talk for hours about it. Babies, unfortunately, have no other option but to cry loudly in case of physical or mental discomfort.
A baby hammock can help in two different ways:
Being close to the parents e helps to calm the baby: It does not feel alone.
On the other hand, the swaying movement helps to gently lull the child to sleep and to avoid nervous anxiety. The natural C-spae of the spin help baby to relax.
Help against the Moro reflex
If your baby has problems with the Moro reflex, a baby hammock can be effective. The light movement during sleep can help, and the baby is less likely to wake up. As a further help against the Moro reflex also you should try swaddling.
Is your baby going to love a hammock swing?
Babies have their preferences: Not every child is enthusiastic about a baby hammock, and not every crying baby will be calmed down by the swaying movements.
Although many parents have had positive experiences with baby hammocks, this, of course, does not guarantee success in your case. Some children do not feel well in a hammock.
We recommend making some simple tests with a blanket before you make a final decision whether to buy a hammock or not. You can do it like this: hold a sheet or sling with your hands in such a way that it forms a kind of pouch. Put your child in there, simulate a baby hammock by gently swinging and you will see if your baby likes it or not.
Also, you can borrow a from friends or buy from a dealer with a generous and easy-to-use return policy (for example, Amazon, or a reputable local dealer).
Some babies fall asleep straight away, some will need a bit more time. Usually, in the beginning, most babies need a bit more time to fall asleep because of the new situation. That's why we recommend to stay close to your baby at the beginning and keep eye contact to make your baby feel safe and secure.
How long can you use it?
Most baby hammocks are recommended until the age of about 9-12 months. However, no one of them can completely replace a crib. Some hammock swings you can use longer. Sure you have a lot of questions, and we recommend visiting a German expert page (written in English). 
But even older babies love to lie in a  hammock swing to relax and play. From the age of about three years, the hammocks are usually too small cause their maximum load capacity is often about 15 kg. But you can use some hammock stands, like this from Byer of main for hanging chairs for kids later.
Baby hammock for sale
Of course, there are used products to buy. Such a second-hand purchase is especially useful if you want to test the use of the baby hammock without investing too much money.
We recommend you to first look at eBay
DIY baby hammock
If you are a gifted craftsman, you also have the opportunity to build a baby hammock yourself. However, this requires a lot of effort and is not necessarily cheaper than a purchased copy. Of course, if you enjoy it, a hammock swing for your newborn is a great craft project. You can find pretty good instructions for this, for example at wikiHow
Conclusion
The baby hammock can be a great opportunity for you and your child to bring some harmony to the relationship. Although it cannot replace a crib, colic babies can often be effectively relaxed in a baby hammock, and you should try it.