If you have previously considered hammock chair an outdoor accessory, think again. Yes, that cool, swinging thing that can be placed inside your home! As a symbol of serenity, lightness, and leisure, an indoor hammock chair can add a sense of peace and relaxation to any home décor. It is an ideal alternative to a classic static chair or even rocking chair, which may seem visually heavy and disrupts the energy flow in your home.
Find the Best Hammock Chair for Your Home
No doubt, having a hammock chair indoors is exceptionally comfortable and a perfect hideout for reading, listening to music, drinking a cup of tea or just relaxing. But which one is the best for you? You can choose from multiple colors and styles to reflect whatever decorating idea. We'll help you to make a decision and select the option that best matches your criteria.
These are our reviews for the best and most recommended hammock chairs:
Macrame Cotton Rope Hammock Swing Chair
This macrame style chair is made from 100% cotton. It is breathable like a hammock and at the same time has a solid seat like a basket chair. It is not only stylish but also comfortable and the perfect combination of aesthetics and functionality.
Read more: Review: Macrame Cotton Rope Hammock Swing Chair.
Macrame Hanging Chair Handmade
For fans of boho macrame swings, a cosy macrame style hanging hammock chair is an excellent choice. Indoor hammock swings need to be both pretty and practical, and this macrame hammock chair made by Hang a Hammock Collective is just as pleasant to sit in as it is to look at. It will fit with any smart home décor styles and is a beautiful addition to your living room or bedroom.
Read more: Review: Stylish Macrame Hanging Chair by Hang A Hammock Collective
BOHOROCKERS: Luxury Hammock Chair for Bohemian Interior
Bohorochers is a unique quilted hanging chair lounger designed by Philip Cooper. It is made of stuffed, brushed cotton and it is an excellent choice for all of you who don't want just a simple hammock chair but a top-quality luxury model. The seating area is padded with ten stitched pillows, which makes this hammock chair very comfortable to sit in. You can sit in this hanging chair with legs down slightly touching the ground, or you can relax completely stretched. The carrying capacity of up to 160 kg makes this hammock chair the right choice for families. You can suspend this hanging chair lounger from two suspension points from a ceiling with one of these suspension sets, beam or walls.
If you prefer a stand, we recommend  the wooden hammock chair stand you can find here: Hammock chair stands
Read more: BOHOROCKERS: Luxury Bohemian Hammock Chair designed by Philip Cooper
Handmade Hammock Chair by Chilloutchair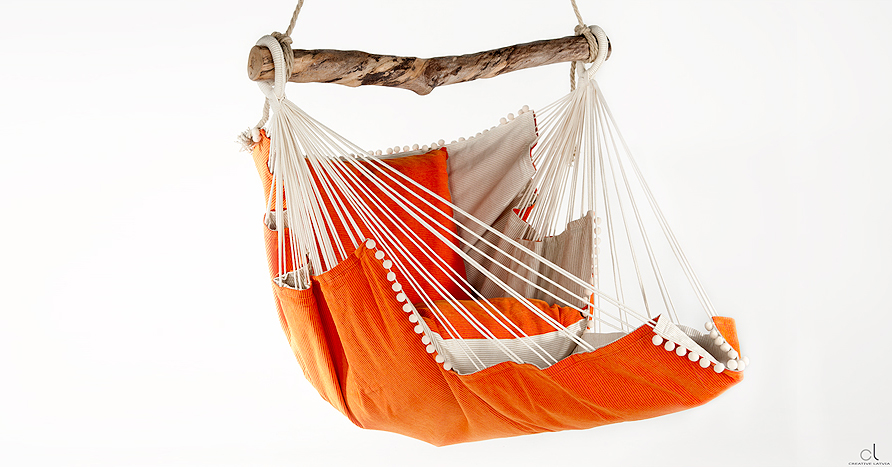 This handmade hammock chair looks exciting and unique and brings life to any room it's placed in.
The wooden spreader bar is something special- each one is hand sources from the wild native beaches of the Baltic Sea.
If you are a person, who appreciates art, comfort, and expert hand-craftsmanship than the Chillout-Chair is definitely for you. It will bring you and your family hours of relaxation and ensure you always have a snug place to get away from it all.
Read more: Review: Handmade Hammock Chair by Chilloutchair.
Cobble Mountain Hanging Chairs with Stowaway Foothold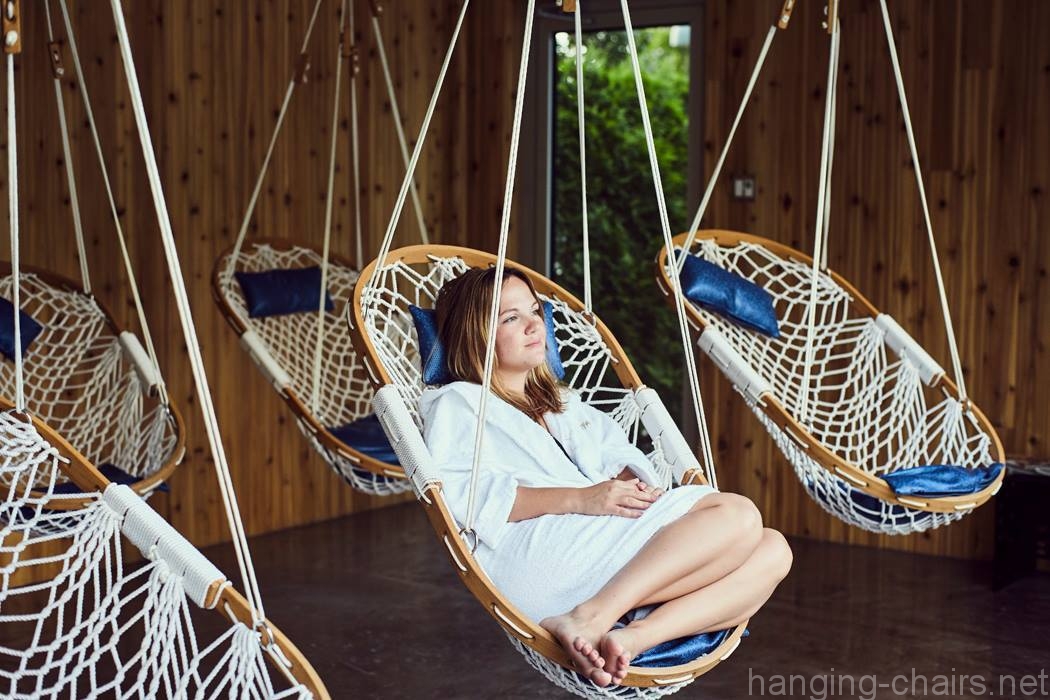 The manufacturers paid attention to detail, and it shows. The cotton used for the rope is sturdy yet still soft and comfortable, and the oak wood was smooth. The chairs are coated with a special eco-friendly sealant to make them weather resistant. So you can use it both outdoors and indoors.
The chairs also come with a stowaway footrest and soft, durable pillows which make them even more luxurious.
Read more:  Review: Cobble Mountain Hanging Chairs with Stowaway Foothold.
Organic Hammock Chair Lounger HABANA- by La Siesta
It is, without a doubt, one of the best hammock chairs on the market. With an integrated 360-degree safety swivel, it is effortless to install. La Siesta meets the highest standards of quality concerning nature and humans, and this product does stand out due to the high-quality artistry, durability and unique comfort it offers users. The organic cotton fabrics are also very soft to the touch and smell nice right out of the box.
Read more: Review: Two Person Organic Hammock Chair.
Indoor Hammock Chair SEDONA- by Yellow Leaf Hammocks
Yellow Leaf Hammocks is a unique company that breaks the cycle of poverty by creating sustainable jobs. All of their hammock weavers are people who were previously trapped in debt slavery or extreme poverty. Yellow Leaf Hammocks allows them to earn a stable income and maintain the dignity of work. They believe in providing a hand up, not a handout. If you want to spend your dollars where they will do the most good, an indoor hammock chair from Yellow Leaf Hammocks is a great way to do this. Also, you will be receiving a hand-woven high-quality hammock chair for all of your relaxing needs.
Read more: Review: Hammock Chair SEDONA- by Yellow Leaf Hammocks.
Hammock Chair BRAZIL – by Byer of Maine
If you're looking for a comfy hammock chair and still prefer a high-quality brand hammock chair against a cheap model, but don't wanna spend a fortune,  then this Brazil hammock chair is the right choice for you.
Wrap yourself in the delicious comfort of the Brazil chair from Byer of Maine
Read more: Review: Hammock Chair BRAZIL by Byer of Maine
Hammock Swing Chair Lounger in Vibrant Colors By La Siesta
The Currambera Collection is very cheerful and will make any living room lively and sunny. It is available in Kiwi, Blueberry, Apricot, and Chery.
This cotton hammock swing chair is the most giant La Siesta hammock chair and is ideal for couples and families with kids. The Lounger is comfy yet sturdy; it combines the feel of a hammock and the space-saving qualities of an indoor hammock chair. There is enough space for a couple, a parent and a child, or even you with your dog. It is made of pure cotton, extremely resistant to tearing, and very easy to set up.
XXL Hammock Chair with Drink Holder by Hammock Sky
This XXL hammock chair in very eye-catching summertime tones gives every room you place it in a "Brazilian feel". It is also called hammock chair lounger cause it is so large, that it can be almost used as a classic hammock. You just simply lay back, which means you won't have to dangle your legs at all if you don't want to. Or you can sit Indian-style in it.
Read more: REVIEW: XXL Hammock Chair with Drink Holder by Hammock Sky
Indoor Hammock Chair for Kids
If you are looking for a hammock chair for little ones, we would recommend one of these four options:
The children's hanging pod from Ikea is a popular option. It is made of 100% polyester and easy-care, but not as soft as organic cotton hammocks, that's why we recommend you much better model by La Siesta named below. Nevertheless, you can read our review for Ekorre hanging chair here.
2. Hanging Nest Chair by La Siesta
Although there are many versions of this hanging cave model available online, we strongly recommend this one. Hanging Nest by La Siesta is wholly made of organic fuzz-free organic cotton.  Particularly this model is certified by the German Association for Technical Inspection (TÜV) and bears the GS seal for "Tested Safety". This international quality label is only granted to products that meet the highest safety and quality standards.
The video below is in German. Nevertheless, we suggest watching it, cause "a picture is worth a thousand words", and you can see what the difference between a kids' hammock chair by La Siesta nad some no-name products imported from China is:
This model is a hanging tent with holes for windows and the door, and not a chair, but is trendy and will make your kids happy. However, the kids are not going to sitting there quietly,  so a hook in the ceiling would not work. We strongly recommend installing this model with a stand. Have a look at this one.
4. Indoor Swing
There are many different types of indoor swing chairs now made of diverse materials and innovative designs. The price will vary too depending on the quality, material, design and manufacturer. here is an article which could help to find the perfect one for your needs: Indoor Swings: Swinging, Spinning and Rocking in Kids' Room
Incorporating a Hammock Chair Into Home Décor
First of all; One of the things about indoor hanging hammock chairs you need to know is the fact that DIY installation is not rocket science. To help you do it right, here is a comprehensive guide on what you need and how to go about the entire process.
Christopher Columbus not only stumbled upon the Americas, but he also came across the traditional hammocks that were used back in the day by inhabitants of Central and South America. They used it to safeguard themselves from biting ants, snakes, animal bites, insect stings and transmissible diseases. Soon they were used by sailors for an entirely different reason—sleeping on the ships.
Hammocks remain a popular commodity and are favoured by families, children, couples as well as physiotherapists and individual travellers. Mainly an outdoor product, hammocks are the best way to relax and unwind. However, with the introduction of hammock chairs, calming your nerves and simply relaxing after a long day at work has a whole new meaning now. They are the fancy and fresh piece of furniture that can be placed inside your home.
Exotic Charm & Lightness of Being in Your Own Home
Do you love that light-as-the-breeze hammock feeling which reminds you of romantic nights under the stars, warm tropical beaches, extravagant gardens, and sunny balconies?  With a comfy hammock chair, you can have it in your own home. A hanging hammock chair doesn't take up as much space as a classic hammock but can add a touch of softness and coziness to the interior décor.
Having one hanging in your home is surprising, although a growing trend in modern interior design.
There's a reason why babies love swings –  it reminds of gentle rocking motion the mother's womb. It can soothe infants, but also adults can enjoy all the same benefits from rocking. Just a few minutes spent sitting in a hammock chair relaxes the body and allows people to sleep better and can relieve stress and lower blood pressure. It's a great place to unwind after the hard day and relax.
You can buy one or you can DIY a macrame hammock chair, it's up to you.  However, you definitely should spend at least 10 minutes in a hammock chair every single day, unless you're too busy. Then you should spend an hour.
Here are 7 Reasons why to Hang a Hammock Chair Indoors.
Read here:  Swinging In a Hammock Chair to a Stronger Body
Choosing a Hammock Chair Location
Right by the huge window sounds like an excellent spot.
But hammock chair would add a totally new dimension to any room in your home. Perfect for those cozy corners in your living room or in your children's room, or your bedrooms,  it is an excellent piece of furniture to jazz up your indoor spaces.
Look around you- is there any free space for a beautiful hammock chair? You better look twice at that big chair in the corner. Do you really need it?! Yes, that's right, it takes a lot of space and nobody ever use it – you can live without it! Get rid of it! A hammock chair is more inviting, stylish, trendy, comfy, and tend to take up less space physically and visually. And the best – You can easily hang it from the ceiling, take it down once you don't need it and throw it in the closet. So simple is that.
Hanging chairs require only one suspension point and can be hung in every room in your home.
With a hanging chair for kids, you'll design a new universe from the children's room. Children simply adore them! They not only fun but also very healthy- the gentle rocking movement has a soothing effect on children, which can develop concentration and sense of balance.
Color Therapy & Hammock Chair in Your Living Space
What are the predominant colors surrounding you in your living space? When selecting a hammock chair to enhance your home decor, pay close attention to material, and colors. Striped with vivid and warm tones, that are suggestive of the sun, fire, and stars, hammock chair can completely change the atmosphere and the ambience of your home bringing spring summer feeling even in winter.
White, beige or ivory set a relaxed tone of understated elegance every room that receives a lot of sunlight and has a good view into a garden or similar relaxing space. Their pureness and softness are calm and relaxing, so if you want to hang your hammock chair in your bedroom, such neutral colors the right choice.
Hanging Your Hammock Chair Indoors
Hanging a hammock chair indoors is possible in many ways. You can choose a stand or, you can suspend it from the ceiling or strong beams.
Modern adjustable hammock chair stands, varying in materials and design, are made of wood, metal or material combinations to enhance all your decorating projects. Also, there are specially designed hanging systems only for hanging seats. Some of them are meant only for the ceiling, some are specialized for trees, and there are also universal suspension sets, allowing you to quickly hang your hammock chair and easily adjust it to the optimal height.
As you see, there are so many reasons to hang a hammock chair indoors. Try it, and you will not regret it.