Bohorockers, short for bohemian rocking chairs, is a luxury rocking hanging chair that can fulfil your hammock dream, without compromise. Wonderful. Ecstatic. Blissful. It feels like floating on a cloud.
Bohorockers Hammock Swing is a suspended lounger made from luxury fabrics to create a cosy cocoon to find peace and calm in your home. It is both elegant and comfortable. It hangs like a piece of crafted art in your space.
We are happy to announce that this exceptional hanging chair is now available on the US market! Hanging Chair Rocker Lounge by Marañon comes in three versions:
Marañon Bohemian Hanging Chair Rocker Lounger Brown/Ecru
Our favourite from the three models available is this quilted hanging chair lounger in brown. It is exceptionally comfortable and an excellent choice for indoor and outdoor use. They made the chair of stuffed, brushed cotton. This gives the Rocker Lounger Hanging Chair 10 stitched pillows, which makes this hanging chair very comfortable to sit in. It is possible to sit in this chair with legs down or to choose to go fully stretched. The Rocker hanging chair has a carrying capacity of up to 160 kg. You can suspend this lounger type hanging chair from two suspension points from a ceiling with one of these suspension sets, beam or walls.
The rocker hanging chair fits the wooden hammock chair stand perfectly.
More about stands you can read here: Hammock chair stands
2. Marañon Hanging Chair Jeans Lounger
High-quality Jeans Hanging Lounger Chair is made of very strong denim fabric. The seating area is made with 2 layers of denim to make it extra durable and very comfortable. Two practical pockets on the inside of the hammock chair are perfect for your mobile or small book. This high-quality Lounger chair fits perfectly with the wooden arc frame for hammock chairs. It can take a weight up to 180kg.
3. Marañon Hanging Chair Rocker Lounger Red/Grey
This chair, the same as the Hanging Chair Rocker Lounger Brown/Ecru named above, is made of padded, brushed cotton in the colours red with grey. The 10 sewed pillows make the seating area extremely comfortable. You can sit in this chair with legs down, or you can fully stretch thanks to the integrated footrest. The Rocker hanging chair has a carrying capacity of up to 160 kg. Beam or walls.
BOHO HAMMOCK SWING – MAIN FEATURES
When ordering the Bohorockers Chair, you may choose the colour for each side of the hammock bed and also the colour of each side of the cushion bed, which gives you several different possibilities too. The chair is 12o cm wide, so you feel free and easy and relaxed inside.  It is also designed to recline to a total length of 210 cm fully. The chair is both easy to get out and easy to get in.
The unique shape of the swing seat is achieved by using different lengths of the rope getting the hammock form that gently nests you. Twelve sausage cushions add a deeper comfort to your sitting experience and weigh you in total satisfaction, while an integrated leg extension lets you stretch out, in contrast to a typical hammock chair.
Technical Details:
12 poly fibre densely stuffed integrated sausage cushions.
120 cm diameter carved wood pole, string triangle to a stainless steel 318 swivel carabiner.
90 meters of weather-resistant polyester rope.
 Integrated leg extension to sit or recline up to 175 kg.
water-resistant, colour fast, mould proof, easy clean
Your chair will look unfaded and unfazed after years. The fabrics for the chairs are luxury, soft washable and stain treated. They are tactile and soft to the touch. The inside chair is made of fake furs and fake suede. The outside chairs of sunbrella of acrylic fabrics. They are weather-resistant and can stand the test of time.
WHERE TO HANG YOUR BOHEMIAN HAMMOCK CHAIR?
Bohorockers hanging chair is the best when hangs from an expanding eye bolt drilled into a concrete ceiling or a wooden ceiling joist beam. Hanging the Bohorockers "pivot style" from a single point allows you a 360° swing experience where you can rotate and swing free.
A stand solves the problem "Where can I hang?"
Bohorockers "Swing" 2018 self-supporting stand allows you to hang your swing hammock on the deck and by the pool, where hanging from above is not possible. Made from zinc and powder coated mild steel and an oiled wood footplate. It has a load-bearing strength, a maximum weight of 175kgs is easy to erect, stable when swinging and robust in all weather.
BOHEMIAN FASHION REFLECTS THE LIFESTYLE ITSELF
This beautiful design is so timeless and distinctive that it has been copied over and over again. We can understand that this design is worthy of imitation. However, we would like to bring to your attention, that many of those hammock chairs like this are a copy of Bohorockers Siesta Chair designed by Philip Cooper in 2002, which is the original designer. For example, the CilloutChair from Latvia.
Here you can watch his video or read his story below, and you will see that the fakes are noticeably inferior. Bohorockers hammock swing designed and handmade by Philip Cooper is not only a hammock chair that looks like a bohemian one; it has an unconventional story behind. An incredible story about Phillip Cooper, a real bohemian who lives unconventional and artistic life. As he says: "Walking my own path, deciding my own truths, working guided by my imagination, I am alive!"
WHO AM I – A FEW WORDS FROM DESIGNER
Who am I…
Having travelled through my 20's around the world, funded by ski seasons working as a healing artist combining massage, gongs and hypnotherapy, I landed in Tarifa, Spain as kite surfing was just beginning.
I had been living buried in an Uzbek yurt tent in Val d'Isere at 1800 meters in the winter seasons, which had given me a foundation in green woodwork and using a sewing machine. So when I came to Tarifa and fell in love, getting married, I thought to create a more permanent business.
In 1994 I travelled to Chile to experience a total solar eclipse, and after continued onto Brazil. While there, I bought some traditional chair hammocks as one sees online. On my return, however, I realised they were dysfunctional, and although we dream about them, generally they ended up under someone's bed, unused!
6 years after buying them and sitting uncomfortably …I had a vision of how to make them better. I bought a sewing machine and some fabric and tried to realise my dream. Later I sold the first ones to the mistral surf centre. Soon though I realised I wanted to have my feet up, so I created the integrated leg extension.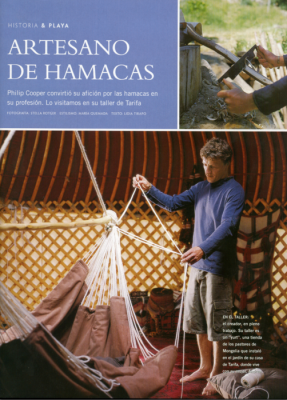 In 2004 the chairs got featured in Habitania, a 4-page color story in a  home decoration magazine and El Pais newspaper in Spain.
My business was launched…
In this time I begin designing the low rider stands. Up to this time, the chair hammock stands were hung from above. I was not so defensive about copying as these are universal design concepts…an H base, with H uprights, a U base with U shaped uprights….but I have still worked hard to come up with a new design every few years to keep Bohorockers unique in the market…always working towards making, as I say, "my best ever"
And copied…
In this time I sold the chairs at Kokko, a cool furniture shop in Tarifa, and a couple from Latvia on holiday windsurfing bought my chair and took it back to Latvia and begun copying my
design…identically…calling it Chill Out Chair. At the same time, a man from Seville did the same thing and called his company Evercasa. I asked them both to firstly stop, secondly to give me credit for my efforts.
I was surprised they both copied me identically, using webbing to connect the strings to the fabric at the same distance and number, the same length….everything identical. Normally one takes a design and includes and transcends it by making 8 changes…but these people were not people who were designers or hammock sitters…more opportunists.
So I do take it as validating my cool design…
By 2006 though I changed the string lengths to make the chair more supportive, and had enough of taking the hanging chair cushions from the peoples' sofa and returning them to the chair, so I decided to sew in 12 sausage-shaped cushions.
My lazy minded copiers couldn't be bothered to do this as it adds nearly double the labor time…but from my perspective…takes the chair to another comfort style dimension….and already they were the most comfortable on the market.
…and Lifestyle
I have been exclusively a manufacturer. I did ask them to buy the chairs off me, but you can imagine what was said when it ruined their false stories. My designs were sold to companies such as Maranon hammocks, David Jones in Australia, Shooky in France, companies in the UK and South Africa, even Mexico. Bohorockers have not had a social media or google image presence and it is only now I begin to sell retail, online, creating small batch collections.
I thank Chill Out Chairs and Evercasa for celebrating my design, and wish them all the best, with the hope one day they give me credit for creating a living and lifestyle for them.
As I say, may all who sit in my bohemian hammock chair, be happy!
Read also: