The hanging egg chair remains to this day a stylishly chic piece of furniture. Whether you use it in your living room, bedroom or office, an egg-shaped hanging basket chair inevitably becomes the central point of any decorative scheme. Be it as part of a minimalist theme or part of an eclectic blend of furnishings, the hanging egg chair inside your home will always add a bit of refined elegance to any space.
The Original Hanging Egg Chair
The Iconic Original Nanna Ditzel Hanging Egg Chair is now available in the USA market.
No single creation expressed this spirit more than her Hanging Egg Chair, designed in 1957, which was often featured in interior and fashion magazines. Suspended by a chain from the ceiling, this no-gravity chair suggested a liberated lifestyle, free from earthbound fears.
Read more here: The Original Hanging Egg Chair: by Nanna & Jørgen Ditzel.
Unlike other trendy or eye-catching pieces of furniture that impress aesthetically, but fail in terms of comfort and usability, the basket hanging egg chair successfully combines form and function. It is as stylish as it is practical and comfortable. This is due to the way that the egg chair was originally designed by famed Danish furniture designer, Nanna Ditzel.
She incorporated the minimalist visual elements that characterised the "Scandinavian-look" of furnishings and architecture of the mid-1950s to 1960s period and combined it with the sturdy warmth of rattan.
Indoor Hanging Egg Chair Suspended from Ceiling
The combination of a simple chain suspending a wicker rattan basket, which is artfully sculpted into the iconic egg shape, gave rise to the entire "floating chair" movement. A single cushion is located within the floating sculpted basket. Sitting in it creates a feeling that one is entering a truly personal space. It creates privacy and comfort in what some characterise as a seating pod that uses the most naturally ergonomic shape possible — the oval.
Hanging Egg Chair with Stand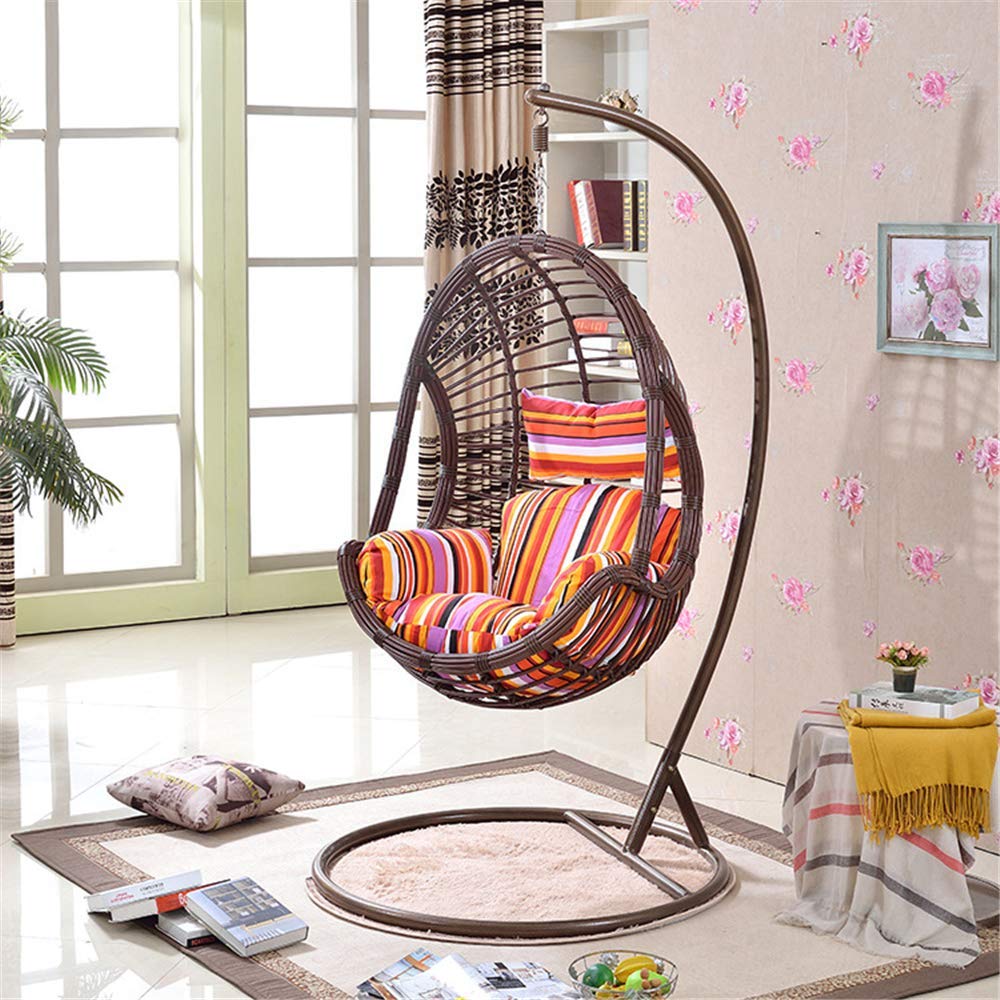 In the meantime, there are many interpretations of the classical hanging egg chair design. Form diversity in terms of basket and cushion material and color and the installation.  Very popular is the option to create the same look and comfort by using a sturdy frame as opposed to the stand-alone suspended chain.
Hanging chair with stand doesn't have that feeling of lightness as a free-floating basket chair, which is suspended from the ceiling or a beam. Anyway, it seems like a trendy alternative thanks to its simple installation and flexibility. Indoor hanging egg chairs with stand are usually made of steel or synthetic materials, and principally available as one set. You also have an option too chose a hammock chair stand separately, in materials and design of your choice, fitting your decorating idea.
Wicker Egg Basket – Made from Different Materials
Natural Rattan
Contrary to what many people assume, wicker is not a material kind. It is a process of weaving together the material into a shape. Rattan, a relative of the palm tree, is very strong due to its solid core and vertical grains. While its sturdiness could definitely resist outdoor use, it tends to fade when exposed to direct sunlight. That makes rattan hanging chairs not suitable for prolonged outdoor use.
Synthetic Material
The original look of the rattan basket, however, can be preserved even when using other materials. The same wicker process and look can be accomplished with other material, such as polyethylene. By using this synthetic material, the egg chair is more resilient to moisture and weather.  That makes it a perfect choice for a hanging egg chair with exterior applications. The look of the original design is maintained without the fear of fading.
Other Materials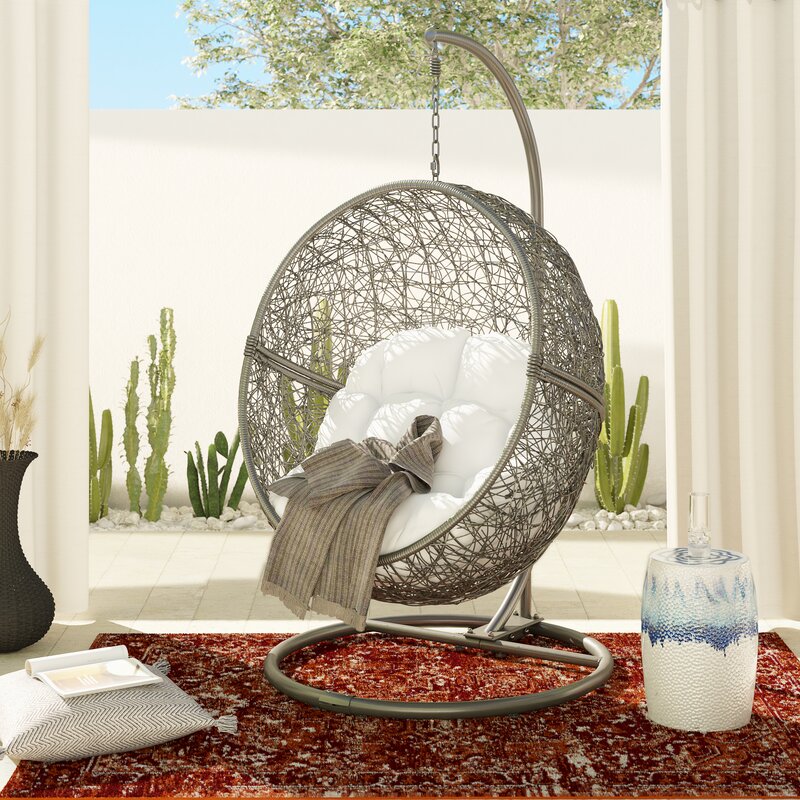 The hanging wicker egg baskets made of cane or bamboo tend to have a more open look. The weave is broader, and the baskets allow more airflow. While this removes some of the pod-like privacy characteristics of the original design, it does make the egg chair more practical for areas where improved air circulation is desired. The new, more transparent look is a part of the overall airy design scheme of the room.
Even the seagrass can be used for making an egg swing- read here our Review: Hand-Woven Egg Swing Chair with Stand by Jo-Liza.
Contemporary Style Hanging Egg Chair
Hanging egg chairs can also be made using a process of sculpting and moulding synthetic materials, such as acrylic and fibreglass (as bubble chair) into solid forms. That creates a robust basket that replaces the natural look obtained from rattan, or other wicker weaved material, with the cleaner and cooler look that comes from a smooth solid surface. The end result does not deter from the original comfort and stylish properties of the original egg chair. It simply adds another element of style and design, which creates further options in using such a chair.
Read here our Review: Contemporary Hanging Egg Chair in White
Excellence in design comes from creating an original concept that continues to perform its function in a timeless manner. Simultaneously, it must also continue to inspire new and useful variations derived from the original while staying true to it. That is what Nanna Ditzel's iconic hanging egg chair achieved.
Whether you select the original design or any of its variations or derivatives, an indoor hanging egg chair will always bring with it impeccable style. It will also demonstrate adherence to a function that will make it the most talked about and the most used piece of furniture in any room that it is placed.