Any indoor hanging chair could be used as an outdoor hanging chair if you simply move it out and hang it on your porch for a while.
Some people like to put their hanging chairs on their balcony in the spring, and then move them back into the living room during the winter, putting them next to a huge window or in front of the fireplace. But no matter how lightweight they are, taking it indoors or covering it with a furniture cover every time you notice the clouds turn gray becomes a bit of a nuisance.
There would be no harm in taking a look at hanging chairs you can let in your garden during the summer even when it rains.
There are three basic types of hanging chairs for outdoor use:
Outdoor Swing Chair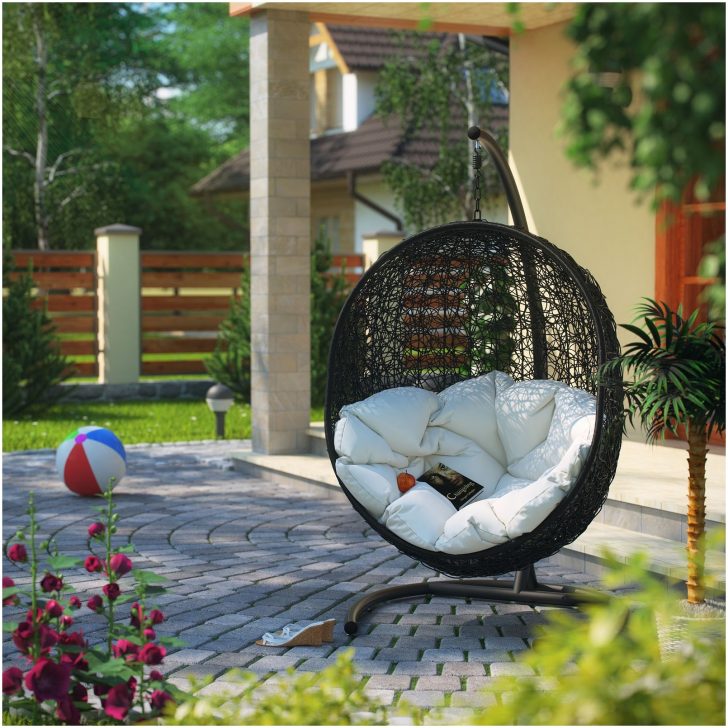 Some people love to have a big swing on the porch or in the garden and some prefer a few beautifully designed outdoor swing chairs. This fashionable piece of furniture doesn't require much space and is just perfect for garden, poolside or balcony. Of course, you can use almost every indoor hanging chair outside for a while. However, there is a lot of swing chairs specifically designed for outdoor use, made of a weather-resistant material which is much more durable. The most popular are swing chairs made of synthetic rattan also called "all-weather wicker". As their name suggests it is generally durable, less sensitive to the sun and water. The other big advantage of synthetic rattan swing chairs is that they are very easy to clean.
Here you can find more about swing chairs and read some great reviews and our recommendations.
Outdoor Hammock Chair
People often ask, which is the best hammock chair for outdoor use. If you want a pure cotton hammock chair woven from organically grown cotton free from chemical residues, then you can use every indoor model you like. Note, however, that your cotton hammock chair will last longer if protected from sun and rain because cotton is not fade resistant. It is advisable to protect this type of swing chair with some form of covering if left in the open. Outdoor fabrics and materials are offered in a wide variety of choices. High-quality weather resistant hammock chairs are made of fast-drying polypropylene which is very durable, so they can be left outside all summer long. This synthetic fabric looks and feels like cotton and is very soft and comfy. The spreader bar is also weatherproof and very sturdy, mostly made of robust high-quality bamboo.
If you hang your hammock chair from a stand, you can move it in your garden as you please.  But also without a stand using a simple suspension kit, there are many enjoyable spots where you can hang your hammock chair – show off your creativity!
Just to give you an idea of what it was like, here are the 7 best spots to hang a hammock chair outdoors.
Patio Swing
A patio without swing is like a living room without bookshelves. It is not essential but it makes life more fun. The big difference is that books are meant to be read alone, and a patio swing is typically big enough to seat about three people. Therefore is a patio swing favorite place for a family gathering during the warm months.
Of course, you can enjoy your swing alone, put your feet up and just relax with a book from that bookshelf in your living room, or even for stretch out and sleep.
Anyone interested in buying patio swings can choose from many different styles, sizes and configurations. The classic porch swing is bench-like seat hung from the porch beam of a porch by chains or rope. Freestanding porch swings with or without adjustable canopy are also very popular.
These days patio swings come in many materials such as wood, metal, synthetic wicker or fabric mostly decorated with some colorful cushions made of weather-resistant material so occasional rain or strong sun cannot destroy them.
A patio swing finds its place today not only on the front porch or in the yard but even inside the home
Conclusion
An outdoor hanging chair can add a sense of harmony and relaxation to any garden or terrace and is an ideal alternative to a traditional thousand-pound seat, which may appear visually heavy and old-fashioned.
A big patio swing, a soft hammock chair or a wicker hanging chair with a comfy cushion would give your home a bohemian or contemporary feel, depending on the style you choose.
Read here: Swing Chairs for Outside- All You Need To Know About