The most beautiful place for a hanging chair in your own garden. What a feeling, when the sun is shining and you can let yourself go with a cool drink in your hand while gently swinging in a swing chair. However, if you want to buy a swing chair for outdoor use, you should consider a few things. Here we will explain which hanging chairs are particularly suitable for the garden, where is the best place to hang it, and what else to look out for when using a hanging chair outdoors.
Types Of Outdoor Hanging Chairs
There are surely many different types of hanging chairs. Only when you look into Pinterest, you will see that in the meantime a cult around hanging chairs has been created because hammock chairs are not only simple patio furniture, they are a symbol for easy-going lifestyle.
CHECK ON AMAZON CHECK ON WAYFAIR
In the meantime, there are hundreds of different hanging chairs in the market, in different colors, made of various materials. Here we will divide all outdoor hanging chairs into two basic categories, which depends on whether the seating is hard or soft:
Hanging basket chairs: All hanging chairs made of some hard material, in which you can sit upright, and lean back like in a normal classic chair.
Hammock chairs: All soft hanging chairs made of some kind of fabric, rope, or netting.
And there is also a special category- swing loungers –  for all those comfortable chairs that are big enough allowing a person to recline.
Outdoor Hanging Basket Chairs – Hard Material
The hanging basket chair is, like its name says, a hanging chair that is weaved like a basket and looks like a basket. Generally liked are hanging egg chairs. And the most popular are those made of wicker. They look great and make every simple apartment and every simple terrace a special and stylish area to relax. But what is so special about the wicker hanging chairs?
Wicker Patio Swing Chairs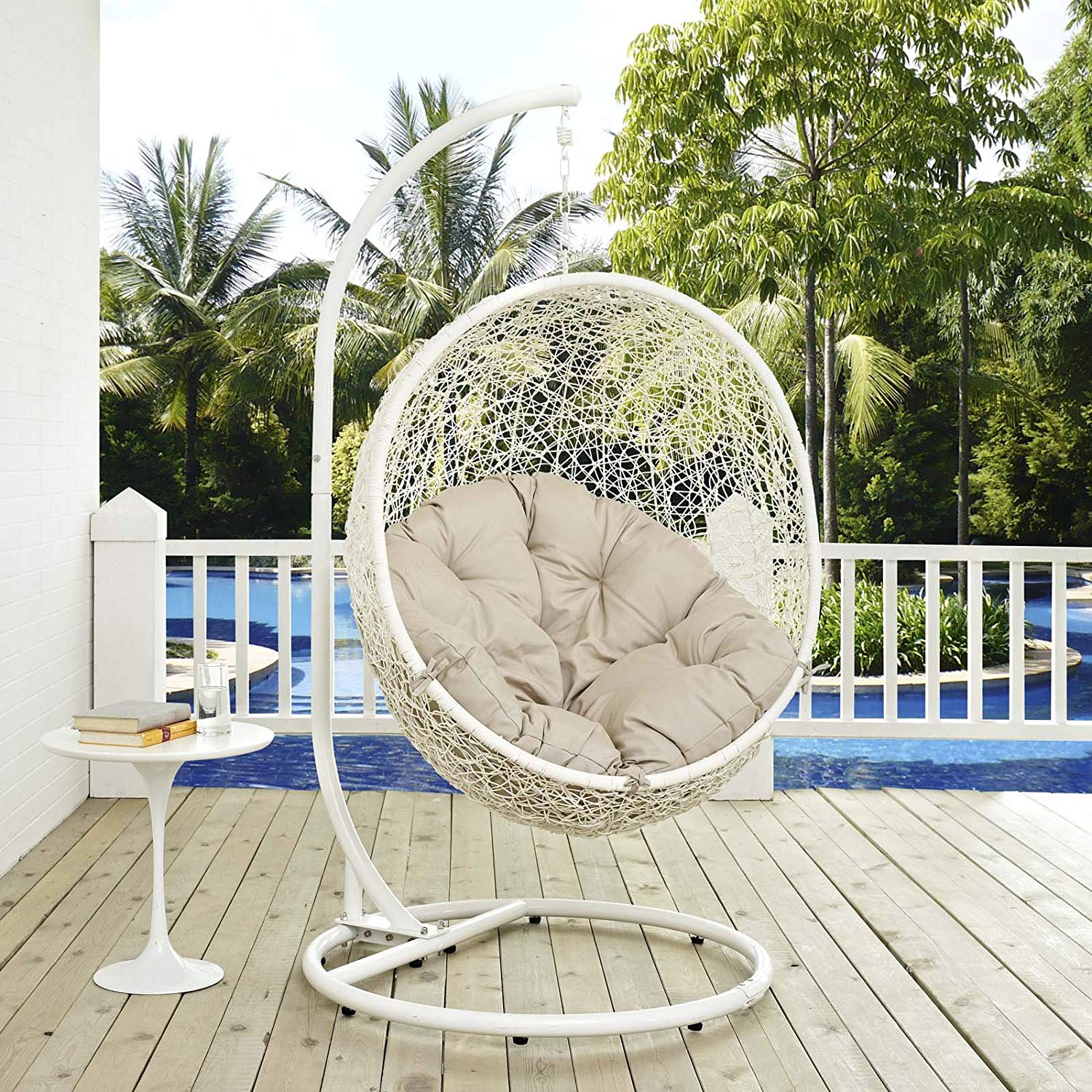 CHECK PRICE ON AMAZON CHECK PRICE ON WAYFAIR
According to Wikipedia, a basket is a container which is traditionally constructed from stiff fibers, which can be made from a range of materials. And the technique for making products woven from any one of a variety of materials is called wicker.
Wicker is light yet sturdy, making it suitable for items that will be moved often like porch and patio furniture. A hanging wicker chair is thus woven from strong but flexible materials. But what kind of materials are these? Rattan, or more recently the very popular artificial variant, the so-called Synthetic Rattan, is at the top of the list for wicker hanging chairs.
Here you can find more about outdoor swing chairs and read some great reviews and our recommendations.
Rattan Swing Chairs – Suitable for outside or not?
Probably the most important question when choosing a hanging basket rattan chair relates to the material: Should I buy a natural rattan swing or a plastic imitation? We will answer this question briefly.
The main advantage of natural materials is that they look more chic and high-quality, and also feel more valuable. Although, we advise synthetic rattan for outdoors. The natural rattan looks much more beautiful, indeed, and that's why it perfectly fits in your bedroom or living room. The disadvantage is that natural materials are usually more expensive than the plastic versions, and the most important factor for not choosing them for outdoor use – they are not weatherproof.
So if you want to buy a hanging basket chair for the terrace, balcony or garden, a basket made of polyethylene (PE) or another plastic imitation is the better choice, because it is much more durable and does not have to be covered or brought in when it rains.
Hanging Patio Chair Made of Real Wood
However, if you are looking for a really high-quality outdoor hanging chair made of natural material that feels great and simply looks more expensive, then hanging chairs made of wood are the right choice. But you have to accept a slightly higher price in that case.
In addition to the wide selection of rather inexpensive, classic hanging chairs made of synthetic rattan, some manufacturers also sell the hanging chairs made of wood, which is definitely a luxury outdoor hanging seat.
The best-known wooden models, which can also be bought online, are probably the Globo Chair and Double Globo Royal by Byer of Maine.
CHECK PRICE ON AMAZON CHECK PRICE ON WAYFAIR
The Globo Chair is made of weatherproof treated spruce. The hanging chair is padded with thick cushions that guarantee you'll have a comfortable seat.
Even if the Globo could bear the weight of two rather light adults, its dimensions are simply too small. If you would like to buy a bigger model, take a look at the Globo Royal.
CHECK PRICE ON AMAZON CHECK PRICE ON WAYFAIR
The Globo Royal can carry up to 200kg and offers more than enough space for two people. The Globo Royal is not a simple outdoor swing chair, but rather a wooden hanging lounger for the whole family. We recommend he matching Globo Royal Stand. It is handcrafted and, like the accompanying hanging lounger, consists of a layer-glued construction of weatherproof spruce.
Hanging chairs made of wood are a great thing and a real luxury piece of furniture for your garden. They are of course much more expensive than the classic hanging chairs made of PE.
However, those who always place their wooden hanging chairs under a shelter in winter and do not expose them to rain too often will enjoy the high-quality models we have presented to you here for many years.
The Right Size of the Hanging Basket Chair
Since a hanging basket doesn't fit your body like a hammock hanging chair made of cotton, you need to make sure it is big enough so you can make yourself comfortable.
Look at the model of your choice to see if you can sit upright in it. If you buy online and can't try it out on the spot, almost all models show the height of the basket (if it's closed at the top). It is best to briefly measure the height of your upper body while sitting and compare the two values with each other.
Also to the left and right you should have some space to make yourself comfortable with some cushions.
Patio Swing
CHECK PRICE ON AMAZON CHECK PRICE ON WAYFAIR
Anyone interested in buying a hanging basket chair which is big enough for two or even three people should consider buying a patio swing. For small porches, you can buy  one or two of  single-seater swings. The classic porch swing is bench-like seat hung from the porch beam of a porch by chains or rope. Freestanding porch swings with or without an adjustable canopy are also very popular.
These days patio swings come in many materials such as wood, metal, synthetic wicker or fabric mostly decorated with some colorful cushions made of weather-resistant material so occasional rain or strong sun cannot destroy them. You can choose from many different styles, sizes, and configurations.
A patio swing finds its place today not only on the front porch or in the yard but even inside the home.
Outdoor Hammock Chairs – Soft Fabric
Unlike hard basket chairs, hammock chairs look like a traditional hammock, and exactly that's the reason they have the name hammock chairs. In contrast to the hammock, which is suspended between two or more points, the hammock chair is a bit smaller and hangs from the top, usually hooked only at one anchor point.
Just to give you an idea of what it was like to enjoy a hammock chair outside, here are the 7 best spots to hang a hammock chair outdoors.
In general, there are three types of hammock chair, depending on the material they made of:
Rope Hammock Chair
Fabric Hammock Chair
Macrame Hammock Chair
Rope Hammock Chairs
These tend to be simple, informal, and very affordable. They're also airy too, so they're great for the outdoors during the summer season. The breeze will feel great, and the cool feeling will help you feel relaxed and stress-free.
In this type of hanging chair, you have ropes tied and woven together so they resemble some sort of netting.
For greater comfort, many models are made of cotton or polyester instead. Some are even made of tough duracord. The rope hammock chairs generally have a spreader bar so that the netting is spread out. This makes it easy for you to take a seat right away and also keeps the netting from trapping you up inside.
The downside to the rope style is that the holes can create unsightly patterns on your skin when you sit on them for too long. They're also not quite all that comfy, compared to other hammock chair styles. Also, your fingers can get caught in the holes as you move your hands. Many customize these hanging chairs by using blankets, cushions, or pillows on them.
Different Types of Rope Hammock Chairs
These rope hanging chairs can be made from many different materials.
Cotton Rope Hammock Chairs: This is one of the most commonly used materials for a variety of reasons. It's very economical. It's also the softest material you can use for rope-style hanging chairs. It can conform to the shape of your body very well so you feel quite cradled as you relax and take a seat. On the other hand, cotton ropes don't really last for a very long time. You may also want to keep them from getting wet, as it takes a while for them to dry out.
Polyester Rope hammock Chairs: This works very well with rope hanging chairs, although they may be a bit more expensive than the cotton ones. Many manufacturers use soft spun polyester so they're also soft, but they're more longer-lasting than cotton rope. Polyester even dries faster than cotton. As a bonus, they're also resistant to mildew and mold. Nylon is soft, very light in weight, and quick to dry. It's just that it's not quite as comfy as cotton.
Duracord Rope Hammock Chairs: This is perhaps the strongest of them all, yet it is soft too. It balances the softness of cotton with the durability of polyester. It's resistant to stains, mold, and water. Even if it gets wet, it dries quickly. It can withstand outdoor weather conditions very well, and even its colors don't fade quickly. Many consider it the best material you can use for rope hanging chairs, except that it's darn expensive.
Fabric Hanging Chairs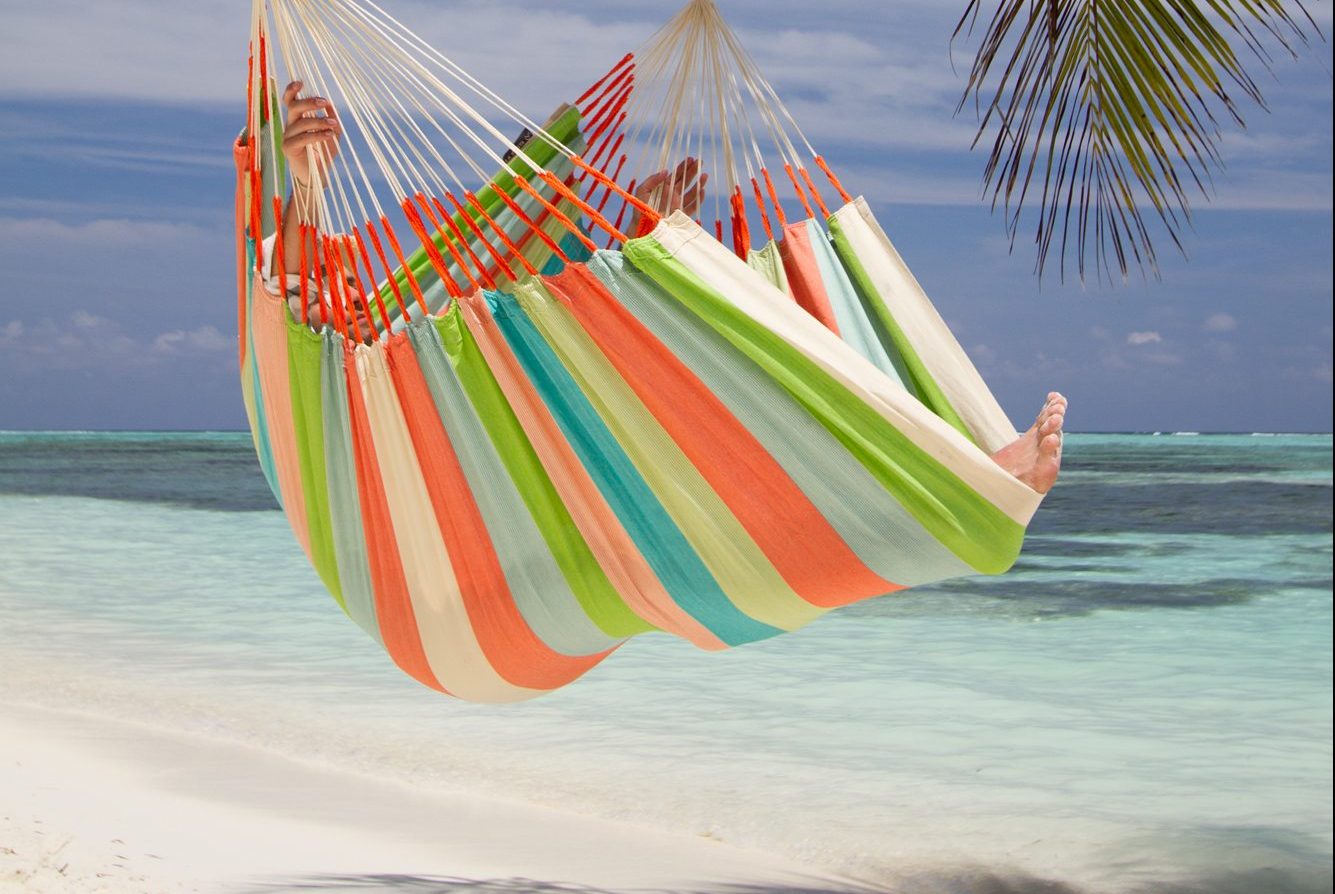 Quilted hammock chairs, but also even those ones that are not quilted, provide greater cushioning than the rope versions, so they're more comfortable. Often you have several layers of fabric, and there's also greater support than with rope hanging chairs. You're more like to enjoy spending hours on this kind of hanging chair, which does help when you're trying to enjoy a whole novel or an entire season of your favorite TV show.
It's very cushy, on account of the layers of fabric it uses. There's also no rope or cord that feels like it's cutting into your skin. So in a way, it feels like you're sitting on a cocoon-like chair that cradles you comfortably while it also lets you swing in different directions. Since there aren't any holes, you don't have to worry about getting your fingers caught.
On the other hand, this style may feel a bit warmer since may keep the air from passing through the fabrics. Also, with style you have it worse when you spill drinks while you're sitting. The same thing is true when you're wet after taking a dip on the beach or in the pool. The fabric will absorb the liquid spill or drops of water, and then it will get wet and maybe even stain.
Different Types of Fabric Hammock Chairs
People often ask, which is the best hammock chair for outdoor use. If you want a pure cotton hammock chair woven from organically grown cotton free from chemical residues, then you can use every indoor model you like. Note, however, that your cotton hammock chair will last longer if protected from sun and rain because cotton is not fade resistant. It is advisable to protect this type of swing chair with some form of covering if left in the open.
We recommend buying an outdoor hammock chair. Many types of fabrics can be used for this kind of hammock chair. Aside from the materials for rope hanging chairs we've already mentioned, there are some other possibilities.
Textilene. This is a special kind of polyester mesh coated with PVC. It is non-stretch, flame-retardant, resistant to mildew, and stable even under hot or cold conditions. This is extremely durable and doesn't need much maintenance. The colors of the fabric can last for years outdoors.
Dyed acrylic. This is a very tough fabric and it's expressly suitable for outdoor use. It has a feel that's similar to soft cotton, and it's breathable too. It's great when it's dyed because it can keep its colors from, fading for a very long time. Additionally, it is recommended for poolside use cause it can be used even in water. It's also resistant to mildew.
Sunbrela. This is a special line of proprietary fabrics which can be used for hammock swings too. It's expensive, but the features are often worth the expense. They can be as soft as cotton. They endure outdoors regardless of the weather conditions, and they're also resistant to mildew and mold. The colors on the fabric also last for a very long time.
Macrame Hammock Chairs
The macrame is an ancient tradition that originally came to us from the Orient. Macramé can be used to make bags or belts, decorative wall hangings, but also the hanging macrame hammock chairs are totally trendy. Th his type of hammock is actually very expensive. But with a bit of craftsmanship, something like this can be done easily by yourself. If you're looking for a more detailed guide, you'll find it here. How durable they are, is depending on the material they made of.
What models are durable outdoors?
The durability of an outdoor hammock chair is actually not all that simple to determine. It's a combination of several factors all together:
First, you need to check the weight capacity. It stands to reason that a hammock swing that's rated to accommodate 500 pounds of weight is tougher (and therefore more durable) than its counterpart that's only able to hold 200 pounds.
Then you need to check the fabric used. Cotton and real rattan are not really all that strong, especially when you compare it to many modern synthetic materials. DuraCord and synthetic rattan are especially durable.
You also have to find out what kinds of materials are used for the spreader bars and for the stands. That goes for the hanging accessories as well.
You should also check for features specifically for outdoor use. The hammock seat should be water resistant, especially if you're going to use it by the pool or if you're going to leave it outside during the rainy season.
There should be some sort of UV protection
Check if the colors are supposed to last for a very long while. Some fabrics can keep their colors from fading or bleaching.
Can it handle kids? Kids can be very imaginative when they're hell-bent on destruction.
Can it handle pets? If you have pets, make sure that the hammock swing can withstand nail scratches and bouts of gnawing. Some of these hammock swings are even designed to carry pets too, so your pet dog can cuddle with you while you're sitting.
You should find out how long the warranty is, as well as the quality of the customer support. Generally, a longer warranty denotes a more durable hanging chair. But that won't matter if the customer support doesn't really act on its warranty promises.
Read the reviews, especially the updated ones. You may find rave reviews have been updated with additional complaints about how the hammock swing didn't last for long.
How to Hang the Chair Outside?
The summer is coming and you would like to install a hanging chair in the garden? Here you will find out how to do that. If you want to hang up your hanging chair outside, there are basically two options:
A sufficiently large tree with a sturdy branch
A hanging chair frame
Who has a big sturdy tree with a thick and strong branch in the garden, saves a lot of money. A hanging chair frame for the garden is, of course, a bit more expensive, but brings a lot of flexibility. So you can always put the hanging chair in the sun or in the shade, wherever you like to. Frames made of weatherproof treated wood (e.g. impregnated spruce, larch or ash) are particularly suitable. But no matter how weatherproof your frame is: please take it to a dry place during winter!
Tree hanging hammock chair
Suspending a hanging chair from a sturdy branch is easy, requires no drilling and is cheap. But first, you should check if the branch is really stable enough. Unfortunately, we can't make any statements about the required branch thickness, because it depends on the type and age of the tree.
If you are worried about the sturdiness of the tree, you can either support the tree with a scissors support or divide the weight of the hanging chair evenly over several branches, using a clever rope construction.
Outdoor swing chair with stand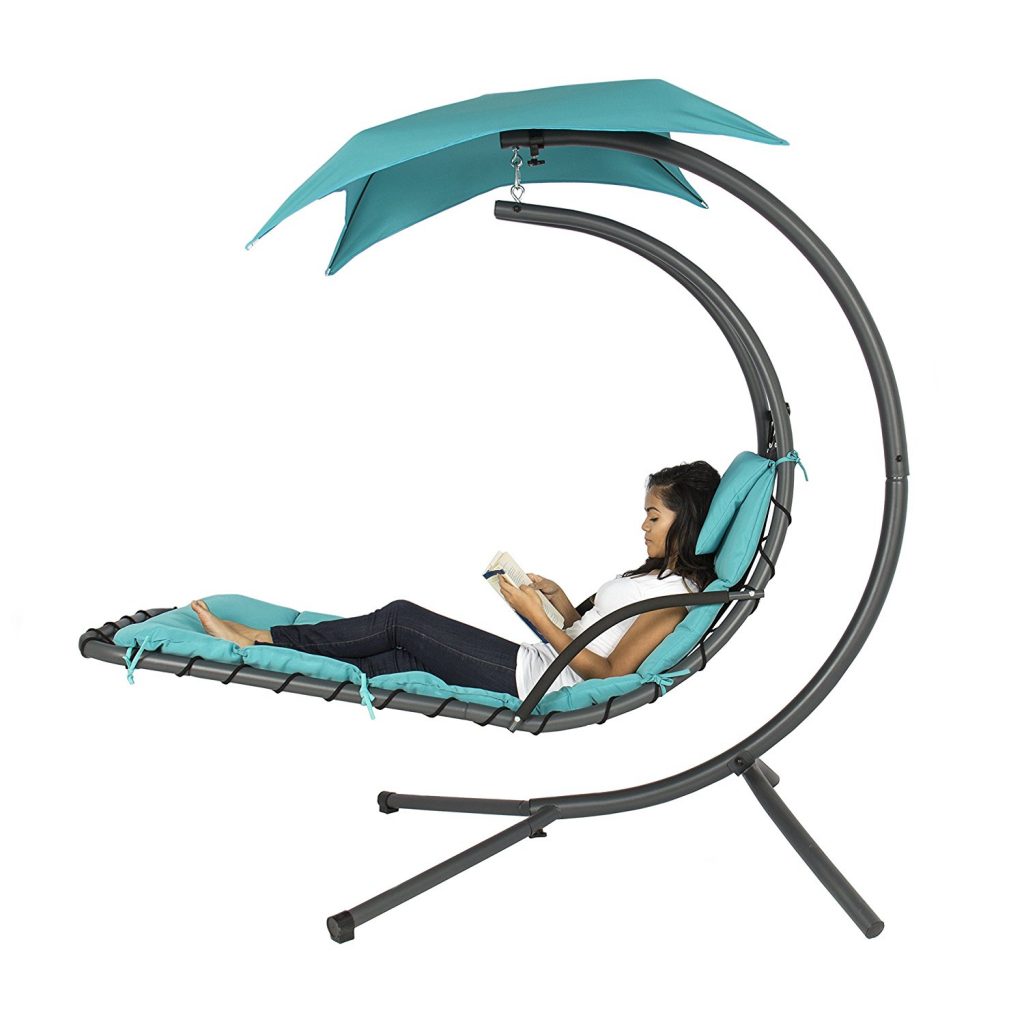 A hanging chair frame is suitable for attaching a hanging chair if it cannot be attached to the ceiling of a room (for various reasons), or if you simply want to make the hanging chair a little more flexible and do not always want to have it in the same place.
Handing chair stands are available either in metal or wood and from various brands, as well as some inexpensive models from no-name suppliers.
Maintenance Tips for an Outdoor Hanging Chair
Once you've bought your hammock chair, it's up to you to make sure that you don't have to buy a replacement or it anytime soon. Here are some tips to keep in mind:
Find a shady spot for the hanging chair. No matter of which material is it made, it will last longer.
When its winter time and you know you're not really going to be using the hammock swing, disassemble it and then store it away in a dry place. Make sure that it's an area where bugs and rodents can't get at it.
Take care of the rope by cleaning it regularly. You can just use a scrub brush with soft bristles, plus some warm soapy water. Don't worry if it's a cotton rope and it shrinks, as it will stretch again when you use it.
The wooden hanging chairs or even small wooden parts, like the spread bar for hammock chair, will benefit from refinishing from time to time. Just don't detach the spreader bar from the chair. Leave them all tied together and just work around the rope.
Conclusion
An outdoor hanging chair can add a sense of harmony and relaxation to any garden or terrace and is an ideal alternative to a traditional thousand-pound seat, which may appear visually heavy and old-fashioned.
A big patio swing, a soft hammock chair or a wicker hanging chair with a comfy cushion – no matter which type of hanging seat you choose, it would give your home a bohemian or contemporary feel, depending on the style you choose. Visit our reviews page with the ultimate list of the best hanging chairs.
So buy a really good outdoor hanging chair and take care of it properly! It should give you a great spot to relax in for years to come!