The feeling of being in a swinging chair is impressive. It is a relaxing way to end your evenings after work or just relaxing beside your pool or in the sunshine. Here are the ten swings that will prove chairs are overrated. They are shaped to suit your body shape and provide relief to your body muscles. The design will make it very appealing both indoors and outdoors.
1. Natural Basket Rattan Swinging Chair by Kouboo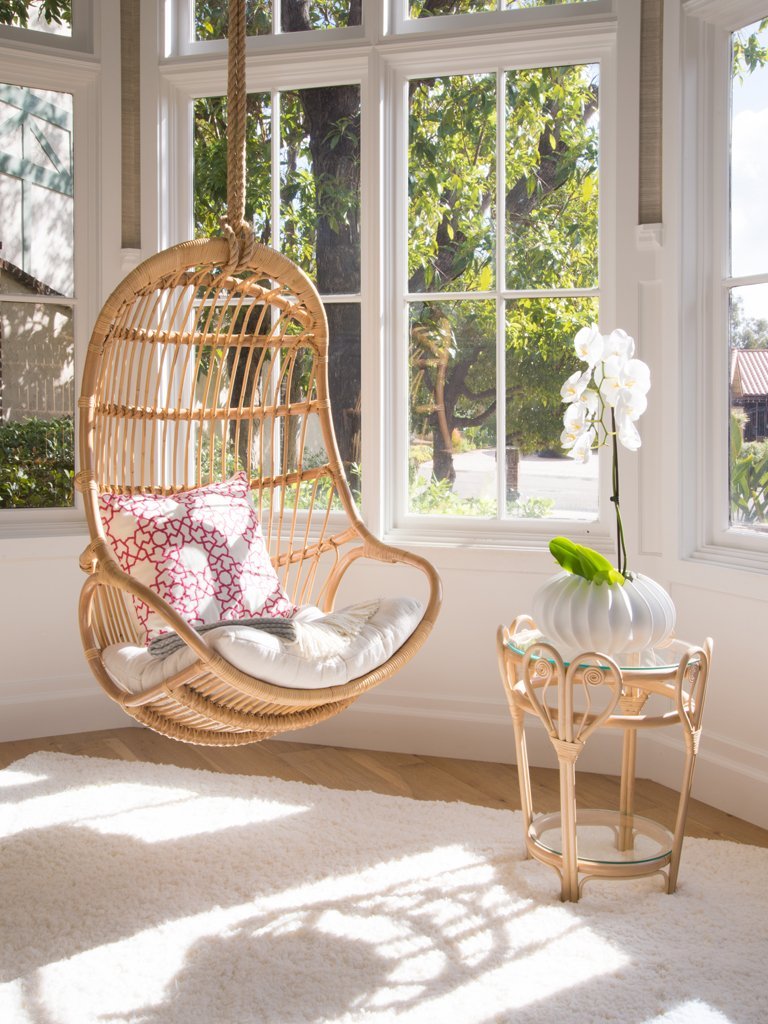 CHECK PRICE ON AMAZON CHECK PRICE ON WAYFAIR
The Kouboo swing chair is made from natural, eco-friendly rattan material . The hemp hanging rope is strong to handle the different weight. The size (29cm by 30cm by 47 cm) is right for one person for the best comfort. The design of the chair resembles a massage chair. It's also appealing in your indoor area.
It comes with a soft cushion underneath that makes it comfortable when relaxing on it for a long time. The pillow is removable. It can be used only indoors. It is suitable for relaxing in the evenings after work or reading a book during your free time. The color of the swing chair, brown, will be in harmony with any other furniture you might have in your room.
Here you can find our review: REVIEW: Natural Rattan Swing Chair by Kouboo
Pros
   Natural Rattan material

   Strong hemp rope

   Soft removable cushion

   Good for relaxing indoors

   Appealing design
Cons
   Not suitable for outdoors; the material will be affected by the weather vagaries   
2. Wooden Lounger Porch Swing with Stand
The wooden lounge swing with thick cushion can provide a sense of protection and playfulness. This version is similar to the Luxury Wooden Hanging Lounge Chair Wave Exaco by Jagram Lifestyle we reviewed. The lounger is available with or without stand. It can be placed on the ground as a simple chaise longer or suspended from the ceiling and swing gently creating a soothing excitement.
Read here more about double swing loungers.
This shape is inspiring, unique, and will be the best piece of furniture on your porch. It can also be used indoors and can improve the interior appearance of your room. We recommend to place it indoors during the winter days so that the vagaries of weather won't be able to damage the materials.
It will make it long-lasting. The weight capacity is 375 pounds, and this makes it suitable for only one person. The swing and the longe basket structure are made from solid wood. It is treated for outdoor exposure and built to last long. You can move it to any location in the garden or inside the house and relax in it.
Pros
   Made from solid wood material

   Weight capacity of 375 pounds

   Suited for one person

   A unique design of a waves

   White cushion

   Free delivery
Cons
3. Handmade Swinging Hammock Chair in Macramé
This macrame hanging chair is an excellent choice for all fans of boho swing seats. It can fit in small places like your balcony or even terraces. It is made and designed by various artists working for "Hang a Hammock Collective."  Most of the materials are handcrafted, which gives the hanging chair its clear natural finishes. This is what makes it unique in the market.
More about this beautiful macrame hammock chair and designer you can read here: Review: Stylish Macrame Hanging Chair by Hang A Hammock Collective
It features cotton chords that are soft and thickly spun by the artisans. The macrame swing chair is suitable for those who like relaxing on the balcony while reading a book or socializing with a friend on the terraces. It can support weights of up to 175 pounds. The size of the chair (61cm by 40cm by 38cm) is right for one person for comfort.
Pros
  Soft cushion

   Beautiful design

   Handcrafted materials

   Thick spun cotton chords

   Weight capacity of 175 pounds

   Small in size, can fit in many areas
Cons
   It can only sit one person at a time                                                                   
4.

Hanging Papasan Bowl Swinging Chair with Cushion
For those of you who seek for a modern variation of an old bowl chair also known as papasan, this is the perfect wing chair for you. Its round shape and thick cushion make it appealing in the background. Its round aluminum frame is connected to a sturdy chain that suspends it. You don't have to worry about the ability of the whole structure to handle different weights.
It can seat more than one person. The cushion is thick for added comfort. It is well-suited for the outdoor environment and an ideal spot for viewing the landscape while enjoying a glass of juice for the best experience.
If you have an old papasan chair and would like do it yourself, here is a guide the step by step instructions for this easy DIY project
Pros
   Strong structure and chains

   Thick, soft cushions

   Round design

   The chains can support different weights

   Suited for outdoors
Cons
   You need a shade over it to prevent rain from soaking the cushion

   After some time, the chains will develop rust and turn in color
5.

Natural Hanging Basket Swing Chair
CHECK PRICE ON AMAZON CHECK PRICE ON WAYFAIR
If you love swing chairs that are made from natural materials, then you should settle for this cocoon wicker swing. It is made from a natural substance known as rattan. This material is eco-friendly made of a naturally renewable palm that has multiple uses, such as for furniture, craftsmanships, and building material. It is strong enough to handle your weight even while swinging. For added comfort, the swing chair comes with a soft white cushion.
The swing chair also comes with a 6-meter hemp rope that suspends the swing chair to your desired height. The manufacturer provides no hanging hardware. The dimensions of this swing chair are 52 inches high, 28 inches in depth and 33 inches in width.
You also get to enjoy sipping a glass of wine in the evenings while having a good time in the cocoon swing chair. Delivery is free up to the entrance point of your building.
Pros
   Made from eco-friendly materials

   Most people can fit inside it

   6-meter hemp rope

   Soft cushion for added comfort

   Handcrafted
Cons
   Not for outdoor use as the rattan material will degrade in the weather
6. Original Cobble Mountain Swinging Chair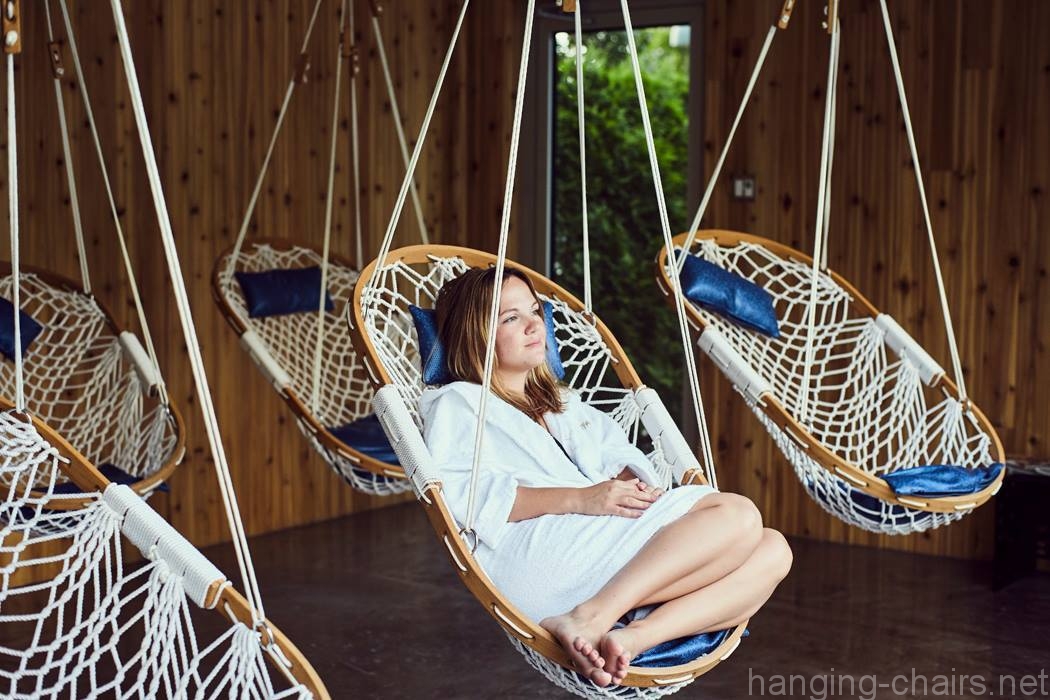 These stylish hammock swing chairs are made in America from natural oak tree timber. This material is bent into shape after steaming it. The hanging ropes are made from blended cotton and poly material. The chair also features the stainless steel rings. These chairs come in three types to choose from. It comes with a head pillow, and you can freely select the cushion.
The cushion is either made from natural cotton and polyester, which is available in green color. This chair can be used both indoors and outdoors. One unique feature is its ability to adjust both the recline and the height of the chair. This gives you the best comfort you can think ever think of.
You can also opt for a chair with a foothold for added support. It comes with the necessary instructions manual, which is easy to understand when setting it up.
Here you can find our review: Review: Cobble Mountain Hanging Chairs with Stowaway Foothold
Pros
   Stainless steel rings

   Three types to choose from

   Cotton-poly blended ropes

   Head pillow

   Natural cotton and polyester cushion

   Made in the USA
Cons
   The material can be degraded by weather outdoors.

    You will need to build a shade over it
7.

Lounge Swinging Chair Set with Stand
CHECK PRICE ON AMAZON CHECK PRICE ON WAYFAIR
The Modway lounge swing chair provides you with a supportive place to rest. The steel frame is powder-coated to avoid rust from forming as well. The inside is woven using the synthetic rattan material for an excellent inside look. You can place this hanging chair anywhere as it comes with a stand, and the cushion materials are fade and water-resistant. This cover is also removable if you want to machine wash it.
The design is what makes it unique and a must-have. Its teardrop design makes it a good swing to have beside your swimming pool or garden. It comes with a steel frame support that makes it easy to move it to any part of your house whether you are indoors or outdoors. 
Pros
   Woven with synthetic Rattan material

   Stand-alone steel frame

   Fade and water-resistant

   Teardrop design

   Removable cover
Cons
   Only available in one color
2. Contemporary Teardrop Patio Hanging Pod
This modern luxury patio hanging pod is like a dream. It's quite large, so it doesn't come with a stand. It's meant to be hung from a patio or strong tree cause it would be hard to find a stand that could support the chair with someone sitting in it. But even on the ground, this piece of furniture looks great, and it offers a cozy spot to curl up with a good book.  It is made from synthetic UV resistant rattan which is best suited to any weather and perfect for outdoor use. This means it can last for long outdoors without degrading.
The coated aluminum frame provides the strength to handle the weight. Strictly speaking, no one is excluded from using this hanging pod. It also comes with three pillows and a soft cushion inside.
What is impressive about this piece of furniture is the design. It is shaped like a teardrop, and you will find it very appealing, especially when it is hanged indoors or outdoors. It works well in complementing your house décor with its black and silver aluminium frame colors.
Pros
   Aluminium coated frame for added strength

   All-weather material

   Teardrop design

   UV resistant material
Cons
   Expensive, but you should consider the quality of the materials used.
9. Hanging Basket Egg Chair by Nanna & Jørgen Ditzel
This iconic hanging egg chair was designed in 1957 and is known for its timeless design portrayed by soft female rhythm and the durable rattan material. This unique design is attributed to Danish furniture designer Nanna Ditzel. It comes with a soft removable cushion for comfort, and it is made from natural rattan material and blends well with both the outdoor and indoor environment due to its brown color.
The basket shape appears oval and can sit only one person. The hanging rope is sturdy to support your weight, so you don't need to worry about its safety. You can also purchase the stand separately, and the shipping is free. It is suitable for relaxing on the balcony or beside your swimming pool while reading a book in the evenings.
No single creation expressed this spirit more than her Hanging Egg Chair, designed 1957, which was often featured in interior and fashion magazines. Suspended by a chain from the ceiling, this no-gravity chair suggested a liberated lifestyle, free from earthbound fears.

Read more here: The Iconic Hanging Egg Chair : by Nanna & Jørgen Ditzel

Read here: Different Types of Hanging Egg Chairs
Pros
   High-quality Rattan material

   Removable cushion

   Unique oval design

   Small in size. You can fi it anywhere

   Strong hanging ropes
Cons
   Does not come with a stand
10. White Swinging Wicker Ball Chair
CHECK PRICE ON AMAZON CHECK PRICE ON WAYFAIR
The design of this outdoor swing chair is eye-catching. It comes with or without stand, is round-shaped and curved inwards to accommodate one person comfortably. There is some soft cushion inside. The whole structure is crafted from synthetic rattan material, which is best suited for outdoor use. But this chair combines function, fashion, and fun, and will look great also inside every home.
The white color creates harmony with your indoor or outdoor background and makes it the focal point of every space.
Here you can see A Comparative Review: 7 Best White Wicker Hanging Chairs
Pros
   Round curved design

   Weather-proof material

   Affordable

   White color

   Soft cushion

   With or without stand
Cons
   synthetic rattan

   No stand         
Conclusion
The description above will help you choose one of the best swinging chairs. They provide an excellent way to relax after work in the evenings or maybe during the weekends. A good hanging swing chair should be comfortable and good for the back, with soft inside cushions to reduce pressure points in your body. So the design matters a lot, as it provides support and comfort to your back area. 
No doubt, a swing seat is not only a piece of furniture to sitting in. It is an innovative chair designed to complement an easy-going lifestyle and will make every room special. But did you know that hanging chairs can relieve pain and stress? These chairs mould to your body shape and weight; in the process, they reduce the pressure points. The muscles relax, and blood flows freely to any part of your body.
You can purchase one today to take advantage of this health benefit.
For more ideas visit our reviews page with the ultimate list of the best hanging chairs.