If you a classic hanging chaise lounger is too small, and you need a little more room to unwind – or a chaise that is comfy enough for two, a double chaise lounge is the way to go. Double hanging chaise loungers are an ideal addition to any outdoor space, and as most are weather-resistant you can rest assured that they will last for many years to come.
Here are some of our favorite double hanging lounge chairs:
Zero Gravity Reclining 2 Seater Chaise
This 2 Seat Big & Tall Swing is a great addition to your backyard. It is covered with a canopy
Each swing seat can be reclined separately, with 5 possible reclining positions. It had a center storage console and cup holder – perfect for holding your phone and beverage!
The frame is constructed using powder-coated steel to resist rusting and is tested to hold up to 350 pounds per seat.
This relaxing and comfortable piece of outdoor furniture is a combination of a recliner, lawn chair, and hammock.
The very well crafted and sturdy lounger swing you can see in the video above is one of the best double chaise swings on the market. It shows quality and luxury in each motion.
Feel the Difference! Pendulum swings provide a calm and relaxing motion. This swing chaise lounger has a solid frame, which ensures a secure movement without lateral motion. Seats 2 people.
It stays in motion a long time, so you don't have to continuously push. It is gentle enough to rock you to sleep.
Double Hanging Chaise Loungers With Stand
The version below is similar, but it's a double version, perfect for a  cuddling couple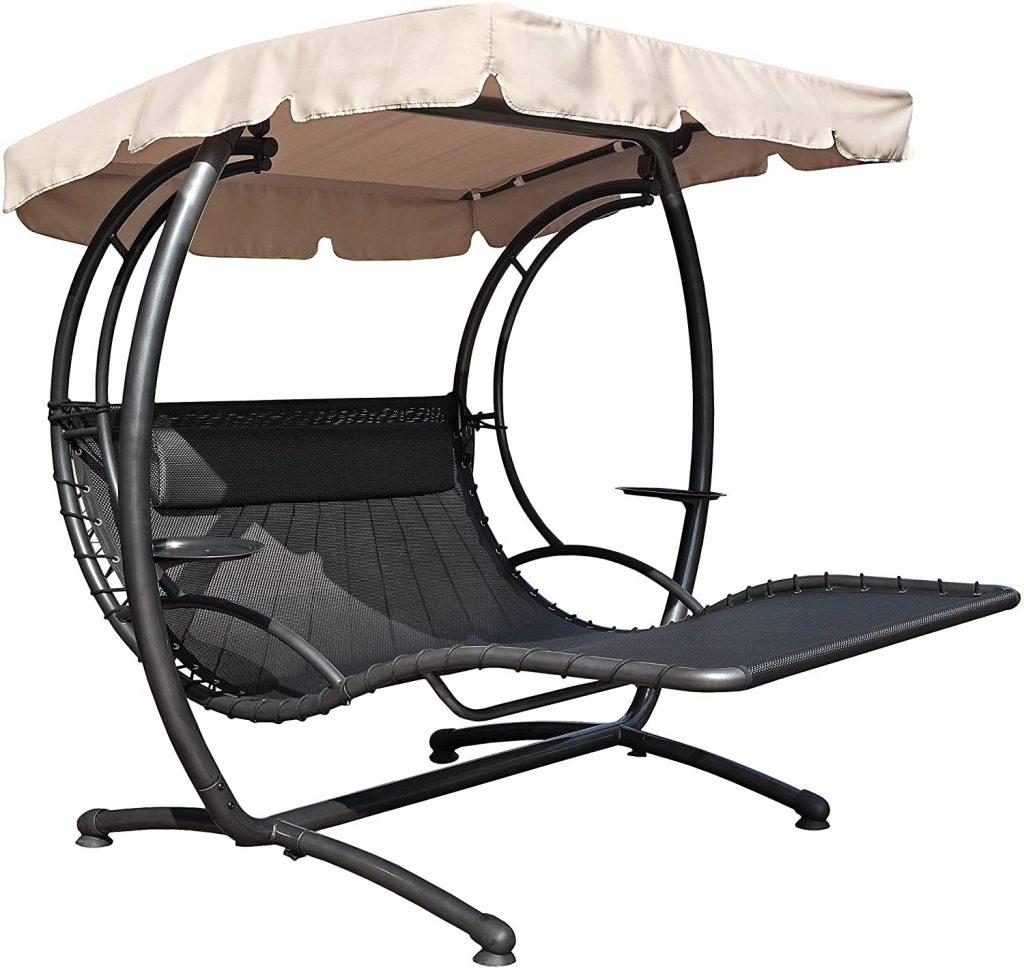 For those ones who prefer sitting in a chair, but wich is big enough to use it as a lounger, The Luxury 2 Person Hanging Egg Chair with stand by Island Gale could be the right choice. It is made from high-quality rattan and comes with a powder-coated steel frame. Ideal for patios!
CHECK PRICE ON AMAZON CHECK PRICE ON WAYFAIR
For a colorful design, we'd recommend the Flower House Hanging Pumpkin Loveseat Chair which also comes with its own stand. All the cushions and covers are machine-washable making it easy to maintain.
CHECK PRICE ON AMAZON CHECK PRICE ON WAYFAIR
For more ideas, read our  review: Hanging Loveseat Swing with Stand
The famous Globo Royal Double Chair by Byer of Maine could easily become the centerpiece of your outdoor living space, but thanks to its extraordinary spruce wood design and deep plush cushions, you can install it in your living room as well.
CHECK PRICE ON AMAZON SIMILAR PRODUCT ON WAYFAIR
Here you can watch a short video:
Double Basket Rattan Chair Hanging Indoor or on the Balcony 
This beautiful double hanging basket chair lounger is made from environmentally friendly PE rattan material, which is also suitable for outdoor use. It is very sturdy and easy to clean. Skin-friendly cushion fabric is comfortable, breathable and suitable for outdoor use

Double Hanging Chaise Lounger Without Stand
The YYBFG Double Hanging Chair offers comfort and portability. You can easily relocate this chair and thanks to its lightweight design it's easy to hang in just a few minutes. It's also unique in that it can be stored away without taking up too much space.
Double Papasan Chair
This macrame swing longer is a double version of the classic hanging saucer swing.It is available for little money and is a good choice for bohemian style lovers.
It combines easy-living leisure with freewheeling fun in our handcrafted double saucer swing. Its sturdy wrought iron frame is dressed up with white ropes that have been knotted macrame-style to form a laid-back design.
Double Hanging Rattan Lounger Bench
This hanging bench lounger for two, made of natural rattan, is inspired by a Scandinavian design from the 60s. With some comfy pillows, you can add softness to this dreamy double chair. A heavy-duty ring and strong rope suspension ensure that it's super strong.
Soft Double Hammock Chair Loungers
There's nothing quite like relaxing in a classic hammock lounger made of cloth, whether it's on the beach or just on the front porch. The best hammocks are those that are sturdy, soft, and of course, easy to maintain. Bright colors look great too, especially in the pool area. Whether you need a hammock just for yourself, or one big enough for the whole family we've got you covered. These are our premium hammock chair choices:
XXL Hammock Chair With Wooden Stand
For those who are looking for a hammock chair that will allow them to sit up and lie down, we'd recommend the LA SIESTA Organic Cotton Lounger.
This chair is adjustable, features tearproof fabric, and comes with a sturdy spruce stand. The brand is German and in the best quality, unlike many other cheap options available online.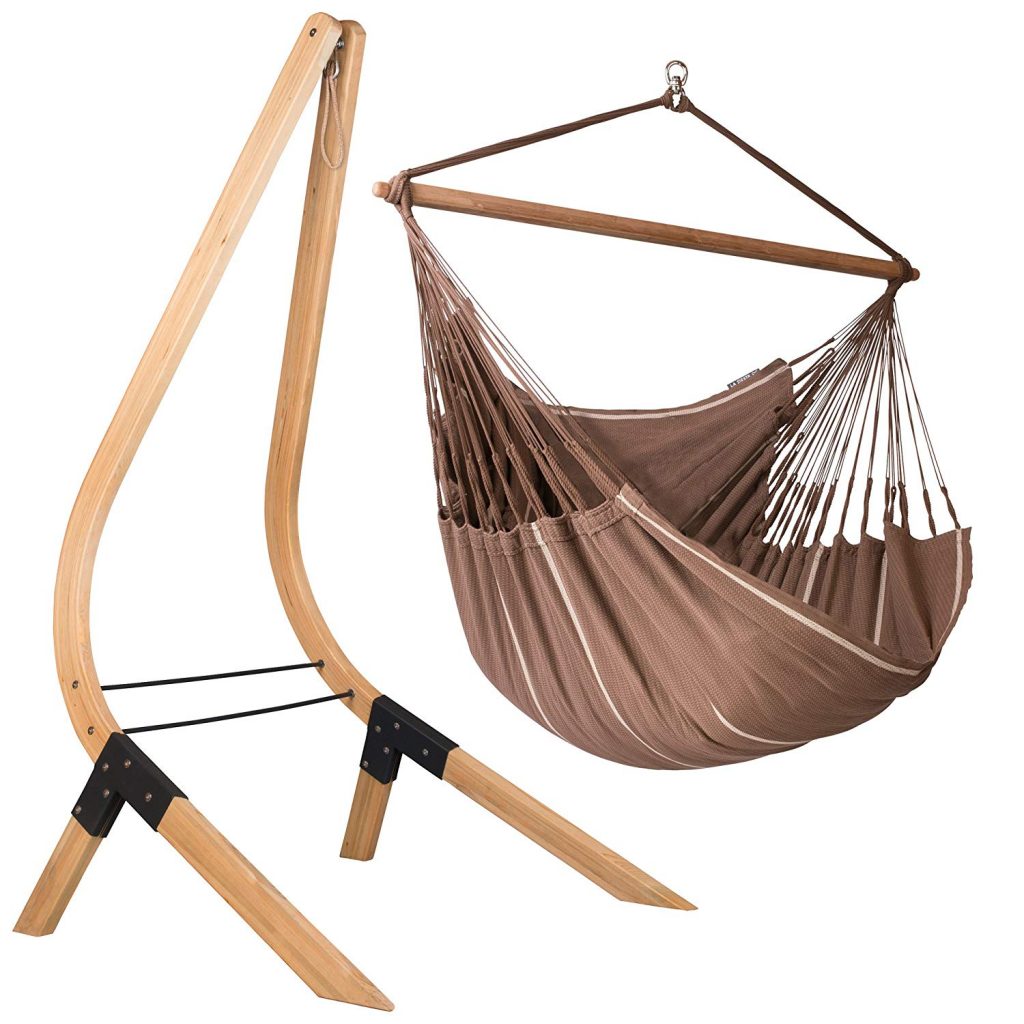 CHECK PRICE ON AMAZON CHECK PRICE ON WAYFAIR
The LA SIESTA Organic Cotton Lounger is also available in with an eye-catching coral striped pattern
Family Hammocks With Stand
The LA SIESTA Bossanova Bordeaux Kingsize Classic Hammock with hand-woven fringes is one designed for the whole family! It boasts a weight capacity of 440lb and features a canoa-style wooden stand.
Double Hammock Budget Buy
If you're looking for a cheaper option but don't want to compromise on quality, we'd suggest the Holyoke Double Camping Hammock with Stand also has an impressive weight capacity of 400lb and an attractive curved wooden stand and costs much cheaper
Hanging Lounger Bed
Hanging lounger beds and swings are ideal for outdoor spaces such as porches or poolside. They provide a comfortable place to relax and even catch a few zzz's! Most of them can comfortably seat more than one person, making them an excellent solution if you are short on space.
If you're looking for top-quality craftsmanship and sturdy design you won't go wrong with the handcrafted Outdoor 6′ Traditional English Swing Bed / Oversized Porch Swing.
CHECK PRICE ON AMAZON CHECK PRICE ON WAYFAIR
However, you will need to purchase your own soft furnishings for this swing and mount it yourself. 
The Modern Cottonwood Deep Seating Porch Swing Bed is made of eucalyptus wood with a driftwood finish and will lend a cottage-type feel to your outdoor living space. This swinging bench does not come with a stand but does include a chain for installation.
Rocking Chaise Lounger – an Excellent Alternative
If you are looking for an alternative to a hanging lounger you might consider a rocking chaise lounger instead. The curved rocking chair design of these loungers makes them ideal for outdoor use, perfect for relaxing in. Plus their lightweight design means they are easy to reposition too.
Rocking Chaise Lounger With Canopy
The Vivere Aluminium Double Chaise Rocker will provide you with a cool shady place to get away from it all. This lounger features a rust-free, lightweight aluminium frame ideal for outdoor use and is made with acrylic mesh fabric which is simple to clean. And it's big enough for two – this lounger has a total weight capacity of 450 pounds.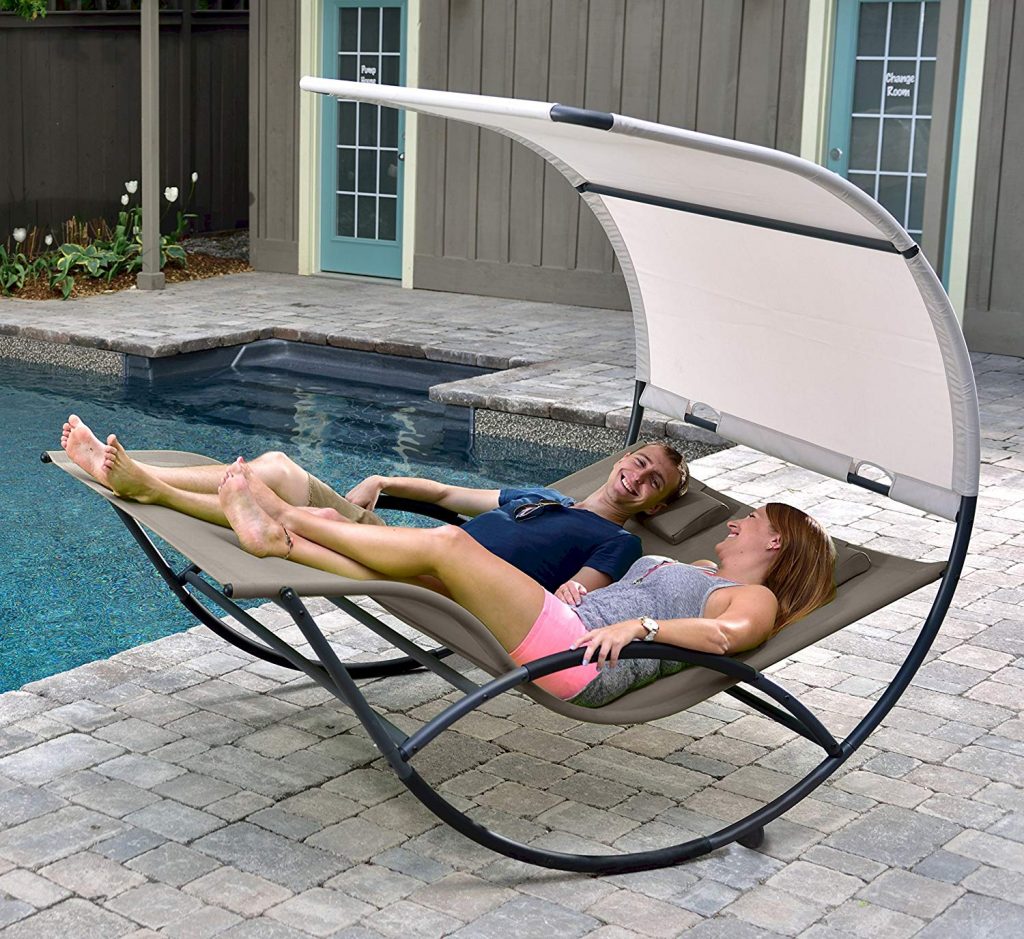 Hope this guide will help you to find the best chaise lounger for two.