If you need a suspension set for hammock chairs, you can choose between a metal chain or a strong rope. Hanging a hammock chair with rope always a better solution, if you are going to suspend your hammock chair from a tree, cause the tree damage is usually minimal. For indoors, a rope hanging kit is more suitable than a chain for soft fabric hammock chairs or those one made from natural rattan.
For a bubble chair, a chain is a must-have, but for soft hammock chairs made of cotton, a rope is much better cause it looks natural. The same case is if you want to hang a natural rattan swing chair.
Strong Rope for a Hammock Chair from the Ceiling or Beam
So if you decide to suspend your hanging chair with a strong rope, from the ceiling or beam, we recommend the patented suspension set by La Siesta. It includes an ultralight multi-spot wall hook, which distributes the weights to three drill holes that provide an optimal grip. Thanks to the optimized weight distribution, this suspension hook makes it excellent, and the chair is easy to suspend or remove.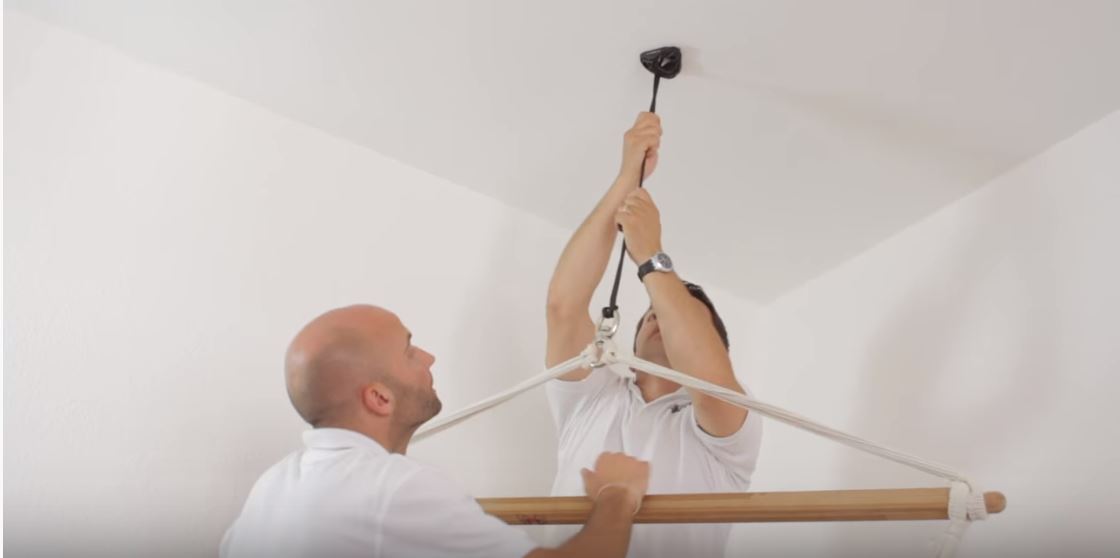 The hooks can be installed using only a power drill, a screwdriver, and a pencil and are suitable for attachment to various surfaces such as wood, concrete, etc. on walls, beams, or from ceilings.
The set consists of the:
1 hook for ceiling
3 screws
3 dowels
1 two meters long polyester rope
Technical details:
Carrying capacity: 160 kg
Rope length : 200 cm
Country of origin: Germany
Material: Hook: Fiberglass Rope: polyester
Guide – How to suspend the hammock chair from the ceiling with a rope?
Step 1: Find the perfect spot for your hammock chair
Step 2: Mark the spot where you'll drill the holes with a pencil
Step 3: Start drilling
Step 4: Place the dowels. After placing them, you may use a screwdriver for mounting the hook.
You're done!
Due to the Smart Hook, the adjustment of rope length is effortless.
Now you only need to attach the rope to the hammock chair and suspend it.
Relax!
Here you can watch the video with instructions:
Guide – how to hang a hammock chair from a tree with a rope?
The rope suspension hanging kit named above is universal. It is weatherproof and UV-resistant, which makes it suitable for permanent outdoor use. Using this suspension simplifies not only the adjustment of rope length but also ensures a fast and easy mounting and demounting of your hanging chair.
But if you don't want the black one, this tree swing ropes  for hammock chair are the right choice: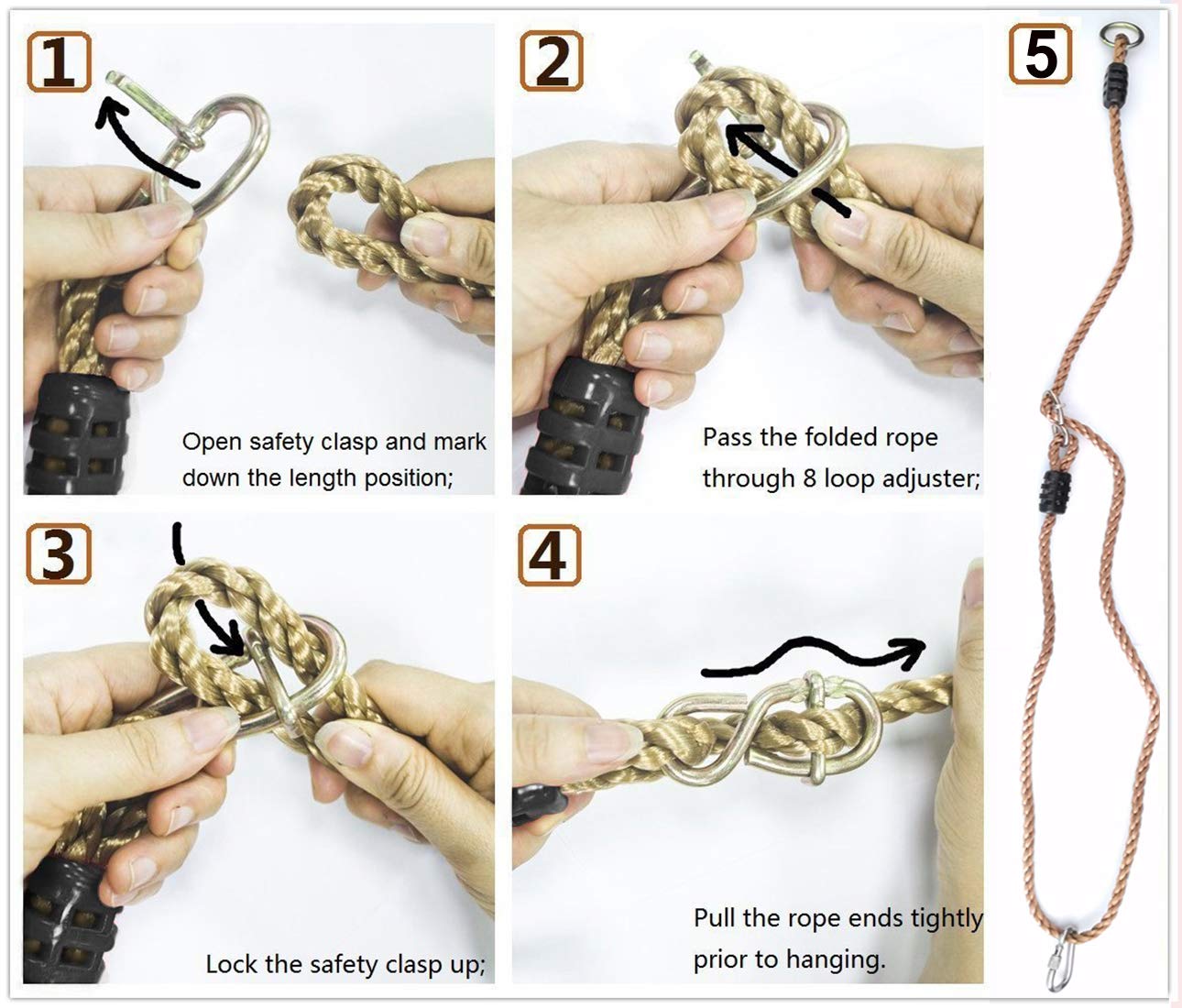 Technical details:
PREMIUM QUALITY: Heavy-duty swing ropes made of 0.39″(10mm) nylon material of Ultra-strong and ultra-light, anti-corrosive & weather resistant, rope end wire harnesses intertwined first and cover with soft plastic is safer to use, each strap with metal carabiner and stainless steel buckle is designed to hold up 2,000 pounds, won't stretch under pressure and always keep your children away from danger and injury.

MULTIFUNCTIONAL: Perfect multifunctional strong ropes are not only to be the tree straps hanging, but also to be the replaceable ropes to the swings/ hammocks/ hanging chairs which had been broken, or to be the extendable ropes to the suspension system for the tall tree branch, patio beam, frame stand, or playground equipment.

ADJUSTABLE LENGTH: Adjustable suspension rope system is more excellent than others like daisy chain or polyester webbing, you can adjust size from 2.62-4.46 ft to fit your spinner swing, outdoor hammock, aerial flying yoga, hanging rope chair, garden swing, tire swing, disc swing, webbing swing, classic tree swing, toddler swing and porch courtyard swing, Indoor swing, and children nest hanging swing seat, etc.

EASY TO USE: This hanging kit is very easy to use. You need just to throw it over a tree or beam and attach the hooks to your swing or patio furniture Second: Adjustable usage, open the safety clasp, pass the rope through the metal buckle, locked up, then pull the rope ends tight.