Looking for the perfect swing chair for your home can be a bit difficult considering all the options out there. Despite the market being literally flooded with all sorts of designs and models, there are a few that you can never go wrong with. One of these is the Kouboo hanging rattan chair for bedroom, living room, library.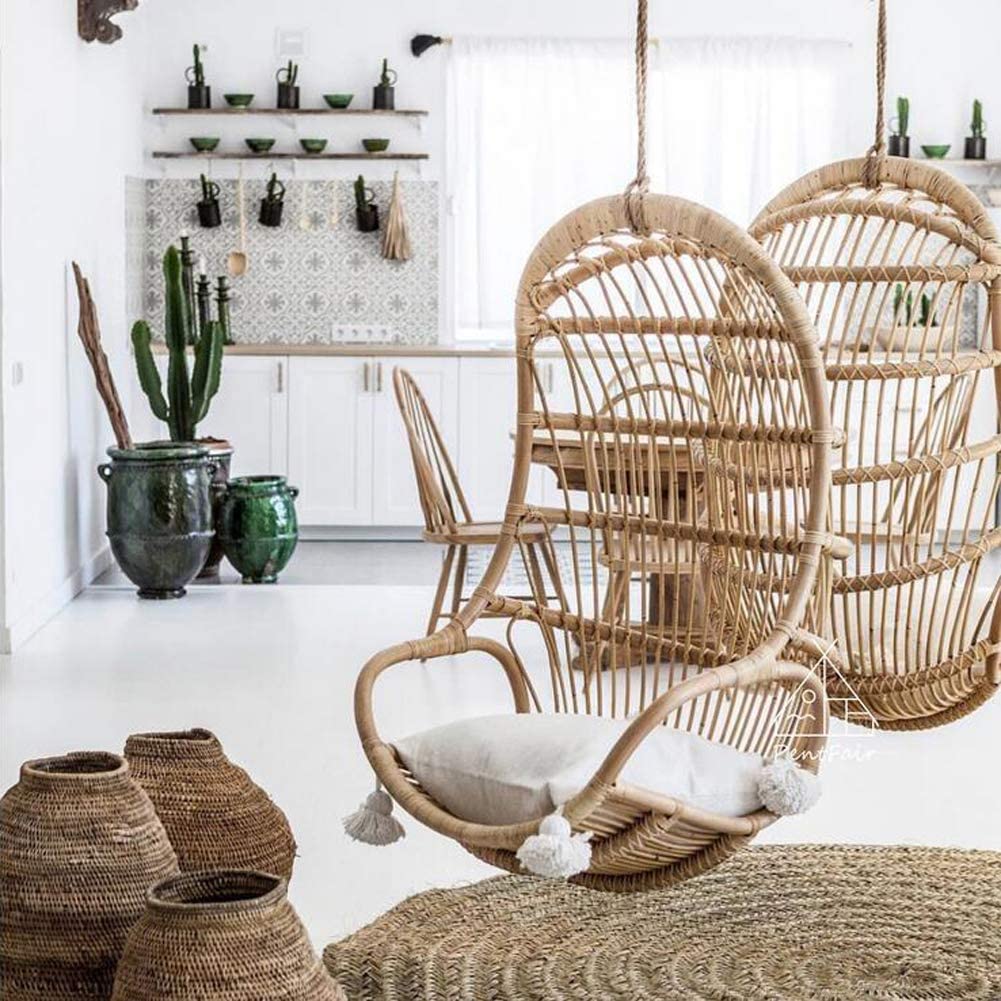 Swing chair for your living room
Key features of the chair:
This particular model is designed for indoor use. That means that you could hang it in your bedroom, your living room, your home library or even in the kitchen. The beautiful design makes it a great addition to any space in terms of aesthetics. Below are a few of its key features and design specifications.
The betting is made from hand-crafted rattan fibers.
It comes with a removable seat cushion for the bottom of the chair.
The seat measures 29 inches in width by 30 inches depth by 47 inches height.
It comes with strong woven hemp rope for strong and stable hanging.
It has a maximum weight limit of 265 pounds.
It can accommodate one person.
hanging hardware not included
Designed for comfort
With all the features highlighted above, there is no denying the fact that this natural rattan chair is worth considering. One of the best things about its construction is the fact that it is geared towards ensuring your comfort as the user. Below are a few specific features responsible for this.
The seat bottom slants backward with a curved back
With this basket chair design, you literally get to disappear into your own little cocoon. It is super comfortable and ensures that you do not have to worry too much about foot support. The comfort offered by this design means that you can use it for anything. It could be your reading chair, your meditation haven or just a nice place to grab a quick nap.
It is cushioned and you can add more pillows
The seat comes with its own bottom cushion. This contributes to the comfort in a big way and ensures that you can sit on the swing for long without getting tired. The large seat also allows you to add a few cushions at the back or side for some added comfort.
There is plenty of space to move around and sit in different positions
This hanging rattan chair might just accommodate one person at a time but this does not mean that it is tight on space. The dimensions again come in handy ensuring that you have enough space to move around as you try to find the perfect position to settle into.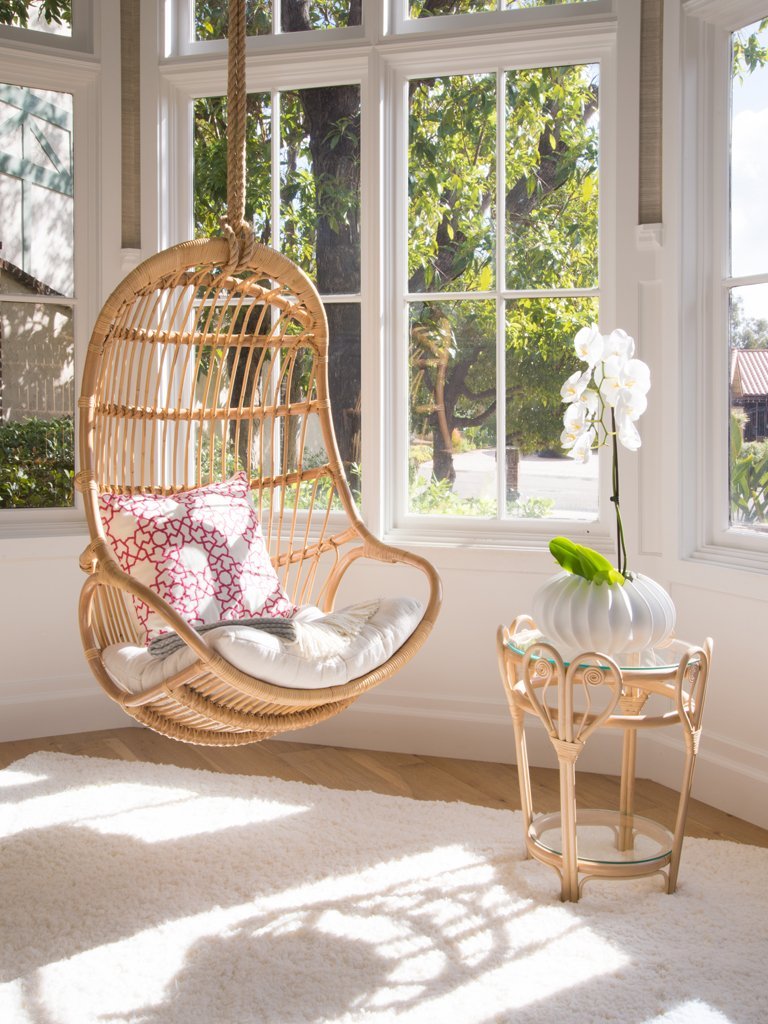 Pros
It has great aesthetic appeal
The lovely brown and cream earthy tones give this natural rattan chair great aesthetic value. This means that wherever you put it the chair will be the centerpiece of the room.
The net design makes it breathable
This ensures that you are comfortable while you enjoy your personal downtime on the chair.
It is comfortable
This is especially important if you wish to use the chair for long periods of time. The comfort features ensure that you get to do this without straining in any way.
It is easy to clean
All you need is soft cloth and some soapy water to wipe the rattan every once in a while. The cushions have removable covers that are also machine washable. All this makes maintenance of the chair a breeze.
Cons
It cannot be used outdoors
This is a hanging chair for a bedroom, library, living room and any other indoor space use. The material is not resistant to harsh weather elements including UV light and rain. That means that installing it outdoors will lead to damage within no time.
Installation is difficult
First of all, it does not come with the tools required for this installation meaning that you will have to get them yourself. The manufacturers also recommend that you use a professional to set it up for safety purposes. Anyway, here you can find some excellent suspension sets. And here you can find hanging chair stands, but for aesthetic reasons, we recommend to suspend it from the ceiling.
Alternatives to consider
Luna Hanging Indoor Chair by Serena&Lily
Inspired by a Scandinavian design from the 60s, this high-quality rattan indoor swing is hand made of bent rattan with a bailed seat that cradles you as you swim. A heavy-duty loop and rope keep it secure.  Add your favorite pillow to give it your personal touch and make it your ultimate hangout in your bedroom, living room or even office.
Anthropologie hanging rattan egg swing
This one is from Anthropologie hanging chairs collection.
Although made of natural rattan, it is sealed with clear lacquer for protection and therefore suitable for indoor or outdoor use. As for all the hanging chairs we
Cover or store indoors during inclement weather or when not in use
No assembly required
Double Hanging Rattan Chair by Serena & Lily for Dining Room
Why not buy a rattan hanging chair that is big enough for two person. This one is very similar to Kouboo natural model, but with a crisp white trim and an large seat to fit two. Add a comfy cushion of your choice for a pop of color. A heavy-duty loop and rope make the indoor swinging super silent and sturdy.
Nya Swing Hanging Rattan Chair for Bedroom
It is similar to the Kouboo swing chair, with its  vintage swing look,  it also has the woven rattan breathable mesh design. It comes with its own installation tools including clamps and the rope and is a lot easier to install. However, it has very small dimensions measuring 24 inches by 28 inches by 40 inches. It might, therefore, be uncomfortable for some people especially if you are tall.  Design is inspired by Scandinavian hanging chairs from the 60's, The neutral rattan for a boho look is very good choice in small living rooms, sunrooms, and bedrooms alike. It arrives with 3′ of rope and a clamp to hang, but mounting hardware is sold separately.
Gaige Grid Rattan Swing Chair
This hanging rattan chair woven in grid design adds a modern and refreshed styling and brings a new dimension to your house design. The basket is hand crafted from naturally grown rattan and is suitable only for indoor use.  The 6 meters (19.6 feet) long hemp rope is included. , but the anging hardware is NOT included.
Panama Jack Hanging Chair with frame (Sunbrella Canvas Vellum)
If you are not convinced of natural rattan and prefer a weather-resistant hanging chair with stand, this could be your choice. It features a hollow aluminum frame. This design makes it lightweight, strong and rust resistant. The seat part features woven synthetic fiber Viro. This material is strong and resistant to UV and water. As a result, you can very easily use it outdoors without any problems. This seat has a beautiful dark espresso finishing for aesthetic value and is very easy to clean with just a brush and water.
Bottom line
With all these features and factors considered, the Kouboo chair is without a doubt worth investing in. It looks great, is super comfortable and is designed to last and serve you for a very long time. We recommend this chair, but depending on personal flavour, there are some really nice alternatives available.  It's up to you.
With all its pros and the great design, you can rest assured that you will be getting full value for your money.
Read here: Different Types of Hanging Egg Chairs
Read our reviews:
Read Reviews and Guide: The Best Hanging Chairs
Natural Rattan Swing Chair by Kouboo
https://www.hanging-chairs.net/go/kouboo-rattan-wayfair/