When it comes to outdoor swings, nothing beats the beauty and charm of a white wicker hanging chair. The wicker gives a vintage feel while white allows it to blend in with any outdoor theme or setup. In terms of functionality, the woven wicker design also offers the benefits of comfort, flexibility and aeration.
There are many different types of wicker swings out there in terms of design and features. Here is a comparative of 7 of the best of these and what makes each one of them special.
Round White Wicker Hanging Chair with Stand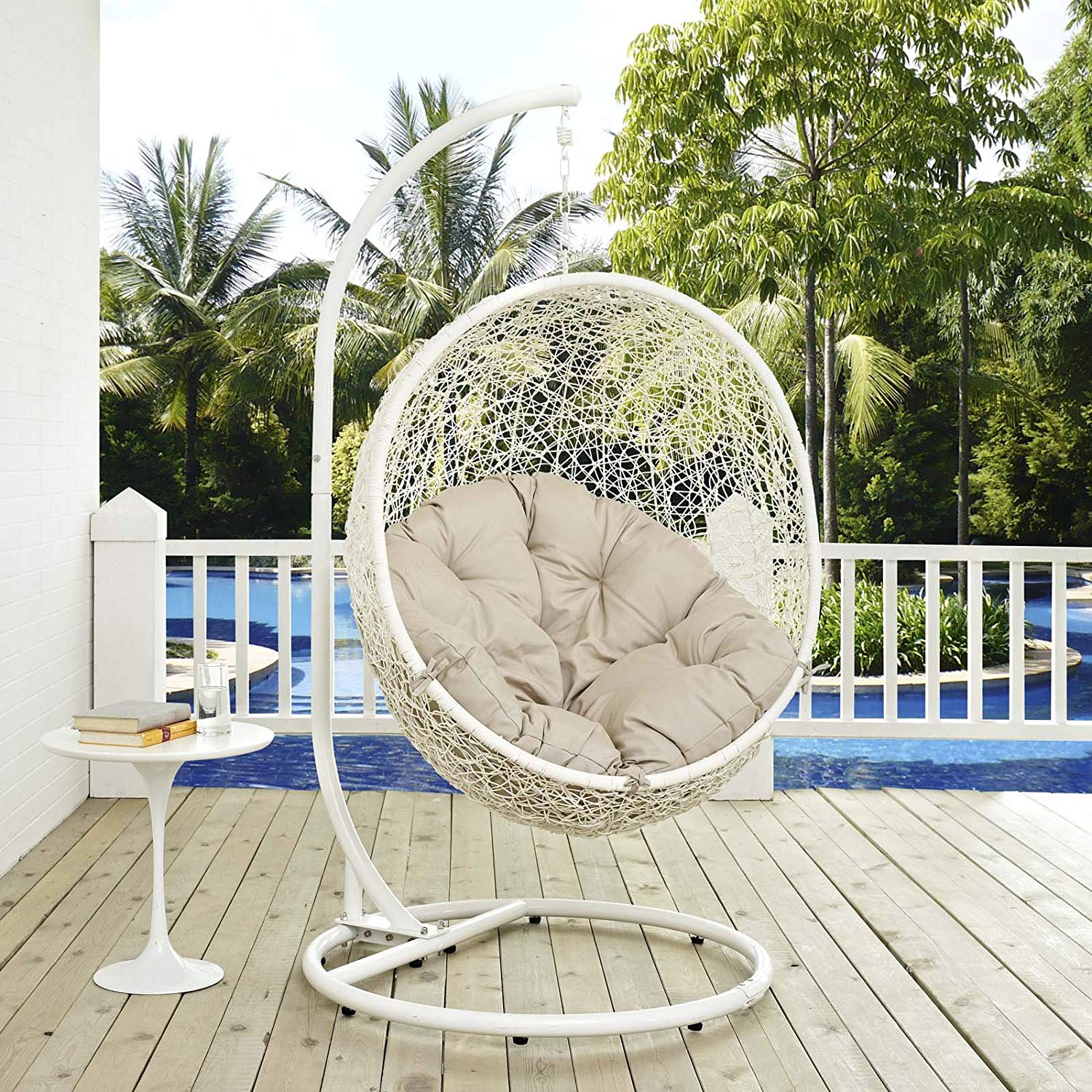 CHECK PRICE ON AMAZON CHECK PRICE ON WAYFAIR
Design and key features
This outdoor patio swing chair with stand is an excellent option if an aesthetic appeal is a major priority for you. It has a wide egg shape with wide woven white wicker all around. It also comes with a large seat cushion that covers the base and most of the back and sides. This sets it apart in terms of comfort from the other swings on this list with only base cushions.
The seat is designed for both outdoor and indoor use. It features weather resistance reinforcement including powder-coated steel frames and waterproof cushion covers. Finally, it has a stand design which makes it easier to set up and safer than the suspension swings.
Final verdict
The great aesthetics, sturdy design and comfort features make this one of the best hanging deck chair. However, it also happens to be the most expensive model for one person here. You, therefore, need to be willing to let go of a few extra tens of dollars to enjoy its features.
Here you can read our review for this model: REVIEW: Valletta Round Swing Wicker Chair with Stand
 2 Person White Wicker Hanging Chair with Stand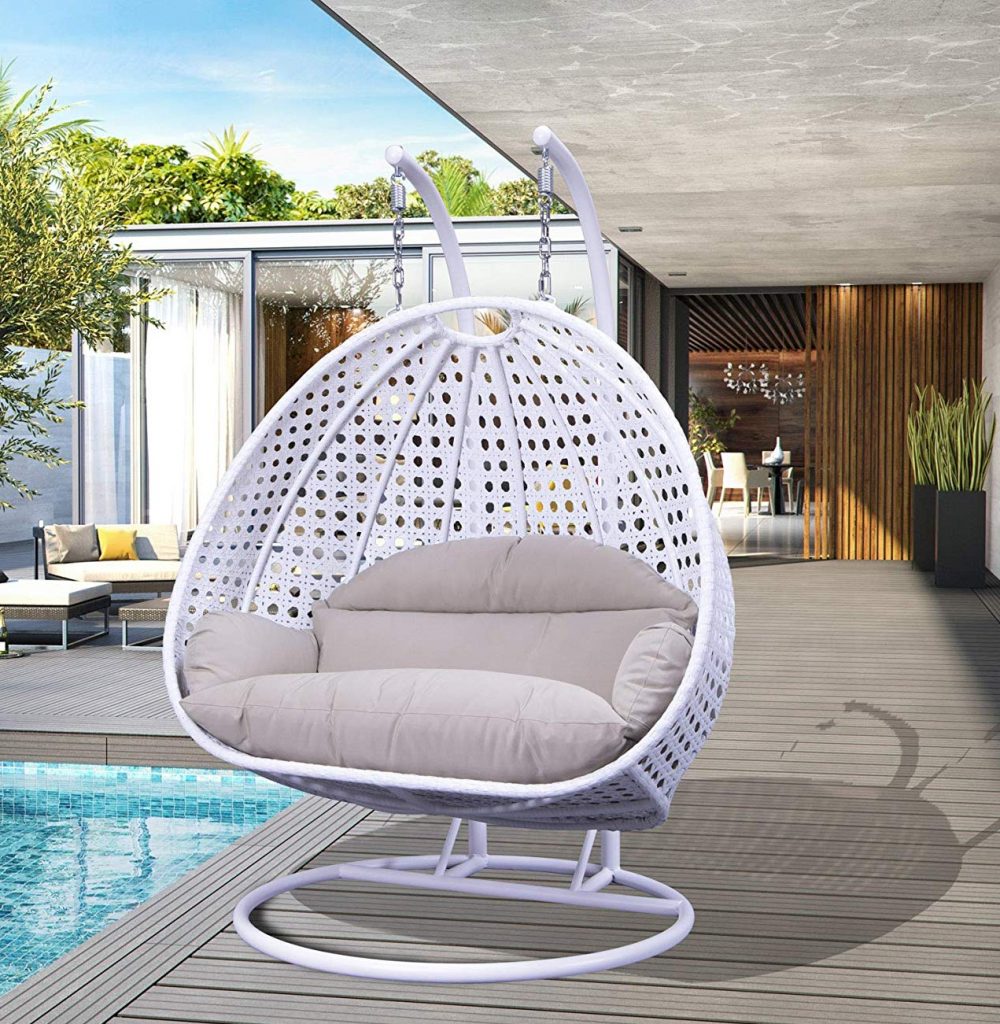 CHECK PRICE ON AMAZON CHECK PRICE ON WAYFAIR
Design and key features
This two person hanging egg double swing has a sunken egg shape. The design is ideal if you are looking for a double egg swing for two that offers privacy. The egg shape combined with the grey seat cushion provided also ensures that you are super comfortable while on the swing. Finally, this design offers a natural shade allowing comfortable use outdoors. You might, however, have to place it in such a way that the sun is behind you as the top part doesn't offer full coverage.
Alternative product – large white basket swing with stand in white
It is another white wicker hanging seat on this list that comes with a stand set up. The base has a circular frame for increased stability.
Final verdict
This is the hanging chair you buy when you want a sturdy swing for two people. Or if you have children. With the stand set up, you can put it either indoors and or outdoors for those moments you just want to relax and have some leisure time together.
Here you can read our review: Review: Outdoor Swing Chair with Stand by Island Bay
Read here: Different Types of Hanging Egg Chairs
 KOUBOO White Rattan Hanging Chair
CHECK AT SERENA&LILY  CHECK PRICE ON WAYFAIR
Design and key features
This swing is right off the bat one of the most aesthetically appealing white wicker swings. It has a slightly curved high backrest and a sunken seat base. It also features woven wicker arm rests and is made from natural rattan.  All these contribute to the optics making it a home décor masterpiece. It comes with a white seat cushion for added comfort. The cover on this cushion is removable for easy maintenance.
The swing has a suspension design and comes with strong hemp ropes. In this case, you need to find the right place to set up with overhead support. The challenge here is finding a room in the house with ceiling structures that are strong enough to support the swing and the user.
Final verdict
If you are looking for an aesthetic masterpiece for your indoor spaces, then this is the seat for you. The main con is the fact that it is not suitable for outdoor use so if this is what you want then keep looking. The setup is also a little challenging and is best left to professionals. Here you can find the best hanging kit.
Here you can read our review: REVIEW: Natural Rattan Swing Chair by Kouboo
White Outdoor

Chaise Lounge

 Wicker Rattan Hammock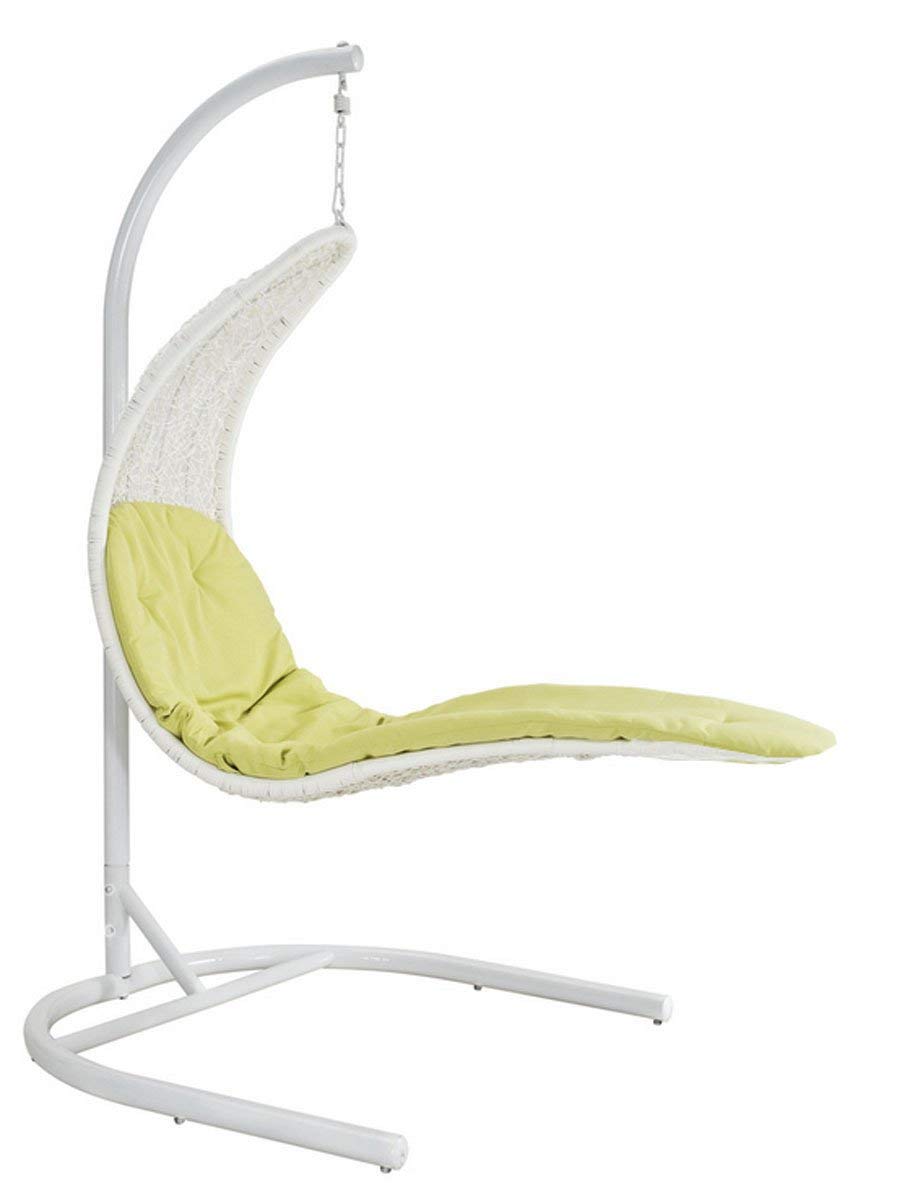 CHECK PRICE ON AMAZON CHECK PRICE ON WAYFAIR
Design and key features
This model has a lounge chair design. It is therefore ideal if you want a porch or patio swing you can fully stretch out on. It comes with a padded lime green cushion for comfort. That way you can rest on your swing for as long as you wish without getting numb. However, the cushion cover is not weatherproof. This means you need to invest in a swing cover to protect it mainly from precipitation.
The hammock swing has a steady curved stand for guaranteed stability. It also gives you the freedom to set it up in locations without overhead support both indoors and outdoors. Finally, it has a one person capacity and can support a maximum of 275 pounds.
Final verdict
If you are looking for the lounge chair design this is definitely worth considering. It is perfect mostly for outdoor setup including on pool decks and rooftop balconies. However, it takes up a lot more space than most other swings on this list which makes it unsuitable if you have limited room.
Read our buying guide: Best Hanging Chaise Loungers and Ten Reasons To Have One
White Wicker Hanging Chair Porch Exterior by Sika Design
Design and key features
It seems that every inch of this white swing is designed for outdoor use. It features waether resistant woven wicker made of dyed and hard-wearing polyethylene, which is resistant to both water and UV. It also prevents fading of the frame and the wicker despite being outdoors all the time. The removable seat cushion is also resistant to these harsh elements of weather.
It has a suspension swing design and comes with strong woven fabric cords. If you do not have a strong ceiling over your patio or trees in the yard you will not be able to set it up. Unless, of course, you are willing to bear the extra cost of having to buy a separate frame.
The swing is stronger than most others on the list. The seat portion is designed for one but can comfortably accommodate two children. Finally, it comes with an aluminum frame which makes it durable and strong but at the same time very light.
Final verdict
This swing is ideal for full-time outdoor use. It is also a great option if it needs to be shared especially by children. The chair is manufactured by Sika Design and therefore is a bit pricey, but it is worth considering if you want a designer piece and want to spenda little bit more on this investment.
Here you can read our review for this model: Basket swing chair without stand by Sika Design
Modway Outdoor White Wicker Hanging Chair Patio Set
CHECK PRICE ON AMAZON CHECK PRICE ON WAYFAIR
Design and key features
In terms of aesthetics, this swing set looks a lot like the KOUBOO model reviewed. It has the same long backrest and sunken seat base. One key difference is that the Modway has a stand design making it easy to set up pretty much anywhere. It also has a thicker and larger cushion ensuring that it is a lot more comfortable.
The seat is outdoor-friendly with weather-resistant resin wicker, cushion covers and stainless steel frames. Finally, it can only accommodate one person with a weight limit of 265 pounds.
Final verdict
There is nothing especially outstanding about this seat. It does, however, combine the best of most models on this list including comfort, aesthetics and ease of setup. So if you want all these from one model then consider this option. It also happens to be one of the cheapest of the 7 making it a great option when shopping on a tight budget.
White Wicker Porch Loveseat Swing with Thick Cushion
Design and key features
This large bench swing can sit up to 3 people comfortably. It comes with a removable base cushion for comfort. The arm rest and straight back also contribute to comfort on the swing.
It has a suspension design which though stable is difficult to set up. However, the stainless steel chains used to suspend are strong and durable. This ensures that the swing remains strong and steady for a very long time.
Final verdict
What is easily the most important feature with this swing is the high number of people it can accommodate. Consider choosing it if you want something you and your family can enjoy outdoors at the same time.
These are the 7 most beautiful white wicker swing chairs available on the market. No matter which you choose, you're making the right choice and the whole family will love it.
See also: 10 Unique Hanging Chair Models 2019 You Will Love
For more ideas visit our reviews page with the ultimate list of the best hanging chairs.