Do you want to give your home a touch of nostalgia without the interior looking old-fashioned? The answer is – a vintage hanging chair!
Hanging chairs and swings are trendy. And with reason – the hanging chairs are among the comfiest seats and promise a feel-good atmosphere with a trend character. In the house or in the garden – it is a piece of furniture that speaks for good taste and a self-confident but relaxed lifestyle.
Vintage hanging chairs – our selection of the best on the internet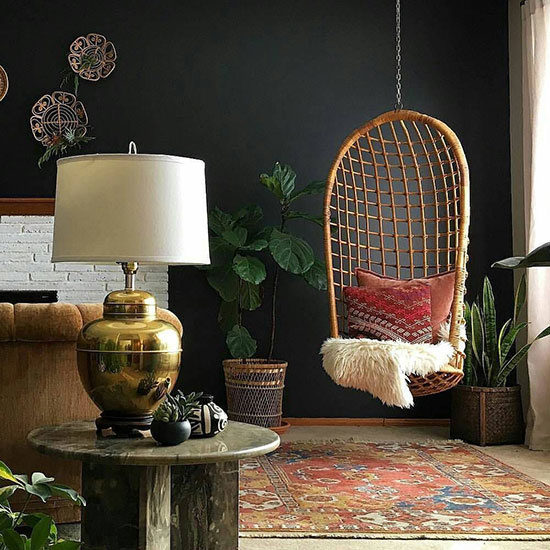 three-retro-rattan-swing-chairs-in-a-shop
vintage-hanging-wicker-chair-in-bedroom
vintage-hanging-egg-chair
vintage-hanging-basket-rattan-swing-in-living-room-hanging-from-ceiling
Whether in the living room or the balcony, the vintage hanging chairs look like an artwork and will always invite you to chill out. Vintage hammock chairs give you the feeling of floating and swinging forward to the future, and then back to retro. Fort and back, hanging out in style.
A balcony or terrace is like a second living room today. A cozy seating area should not be missing. Hanging chairs are just right for relaxation and for furnishing the living room so harmoniously.
There are two different ways to attach these cool pieces of furniture: either with a frame or to the ceiling with a suspension kit for example in the living room or bedroom
Where can I buy a vintage hanging chair?
If you want to buy an original old hanging basket chair, you can find it on eBay or in specialized antique furniture stores. One of the best is 1stdibs. Every now and then a good piece dives in.
But if you don't want to wait long for such an opportunity and want to buy something with an old retro look but still new, have a look at Jays on Home
Different types of vintage swings
Vintage hanging chairs are available in many different variations and designs. Most in demand are vintage rattan hanging chairs, with a woven rattan basket.
vintage-swing-chair-retro-look
vintage-swing-chair-with-stand-metal-made-in-marokko-oriental
vintage-hanging-papasan-chair-bamboo
vintage-hanging-basket-chair-rattan-egg
vintage-hanging-chair-with-stand
But do not forget the hanging chairs from the 60s. One of the best known was and still is, the transparent bubble chair by Aarnio Eero. The retro bubble chair is nowadays available in the original or as a cheap version.
Also, the original vintage egg rattan chairs by Nanna Ditzel are a must-have on this vintage swing chairs list
Vintage hanging egg chair is a real eye-catcher and best combines style and comfort
Vintage hanging double chairs in the form of a porch swing are also worth mentioning, offering comfort for two people.
The wide range of vintage hanging chairs has the right model for every individual style.
What is the charm of vintage swings?
Vintage interior design means a sense for the rare, for unique pieces and things that money can't simply buy. Vintage furniture is commonly referred to as used furniture from the 20s to 70s of the 20th century. Dealers specializing in vintage furniture offer these mostly restored or reconditioned. Nevertheless, signs of aging are typical for vintage pieces – you can look at their past. Worn-out surfaces, faded colors and small scratches are evidence of authenticity.
Nowadays is retro style furniture so trendy that many manufacturers are trying to make new products look old. These are not "real" vintage furniture pieces, but new products in the so-called used look or shabby chic.
But what makes real vintage furniture so popular?
First of all, quality and history: classic originals from the 50s and 60s were partly handmade, you can see the good workmanship and the high-quality material (e.g. solid wood). Many pieces were produced in limited editions and have also survived for decades.
Patina and traces of usage make the charm of vintage furniture.
And last but not least, the design of sought-after vintage pieces proves that it is timeless and always modern.
Rarity is also an important factor, because it is not always and everywhere available. Second-hand stores, galleries and auction houses have a constantly changing assortment.
This is another reason for the fascination of vintage furniture.
Furnishing with Vintage Furniture
To ensure that a room with more than one piece of vintage furniture does not look like a museum, it is the mix that counts – the mix of epochs, materials and styles.
The mixture of several epochs succeeds when the pieces of furniture do not steal the show from each other. An "Hanging Egg Chair" by Nanna Ditzel, for example, should be given enough room for itself and not stand next to similarly dominant vintage furniture.
If you group several pieces of retro pieces of furniture, the floor, walls and colors should be kept neutral. If several woods are used, similar and particularly contrasting colors will match. Very courageous ones cover their vintage sofa with an eye-catching fabric or paint the old floor lamp from the flea market in a gaudy shade. A stylish vintage furniture can cope with all this.
Combining old and new
Old favorite pieces remain young when they are staged in a modern way. Combine antiques with a new design and you will be rewarded with the good feeling of living together with friends.
Cherishing family heirlooms
The special thing about heirlooms is their history and charisma. Those who combine them with contemporary design and decoration, create rooms that are as multi-layered as life itself.
Everything you look at with love is beautiful. When you combine pleasant memories with a piece, you like to have it around you. The same goes for found objects from the flea market or junk goods that you just couldn't pass by. Such things, with their patina, are a charming break in all too perfect staging.
Last but not least
Don't be afraid to try it! Everything works. You alone must like it. And: A high-quality vintage furniture can handle a lot, because it has character. If you like a vintage hanging chair – go ahead and bring it to your home. With so much presence, modern pieces often take a back seat or suddenly simply no longer fit in with the rest of the furniture.
Some points to consider when buying a vintage hanging chair
You have to consider beforehand which shape and which material you like best – rattan, metal, transparent acrylic – and whether it can be adjusted in the desired place in terms of dimensions.
If you prefer a frame, you should consider which frame fits to a retro hanging chair and if there is enough space for a frame.
Accordingly, an eye should be kept on resilience. For the hanging chairs, there is always a load capacity in kilograms.
For about 10 years hanging chairs are on the bestseller lists. After a decade is the time for retro, and we notice that after the demand – there is more and more demand for retro hanging chairs.
There is a suitable vintage hanging chair for everyone. And off goes the happy rocking.