The macrame swing chair is the latest trend in home decor. Apart from their admirable style and aesthetics, they are pretty handy and can be used in the living room, the bedroom, the kids' room, or even outdoors.
Here we will show you the best options when shopping for a macrame hanging chair and where you can buy really wonderful unique items, that are made with great attention to detail.
Double Macrame Hanging Chairs for Indoor and Outdoor
There are so many different styles of macrame hanging chairs on the market. And only a few of them are good for the dogs or cats owners, or families with children. And those are the ones who like to swing the most. So, we start here with the selection of the best swings for 2 people.
1. Big Swing Macrame Chair with Wooden stand
The chair is beautiful and comfortable, which is something that usually does not go hand in hand. According to the customer reviews, this chair is going to be the best you've made for your patio!! Swing cover available too, very easy to put on!
The build quality and construction are top-notches. You can choose your favorite cushion color! The wooden stand is very sturdy and beautiful as well, but you can buy this huge hanging macramé chair also without a stand.
---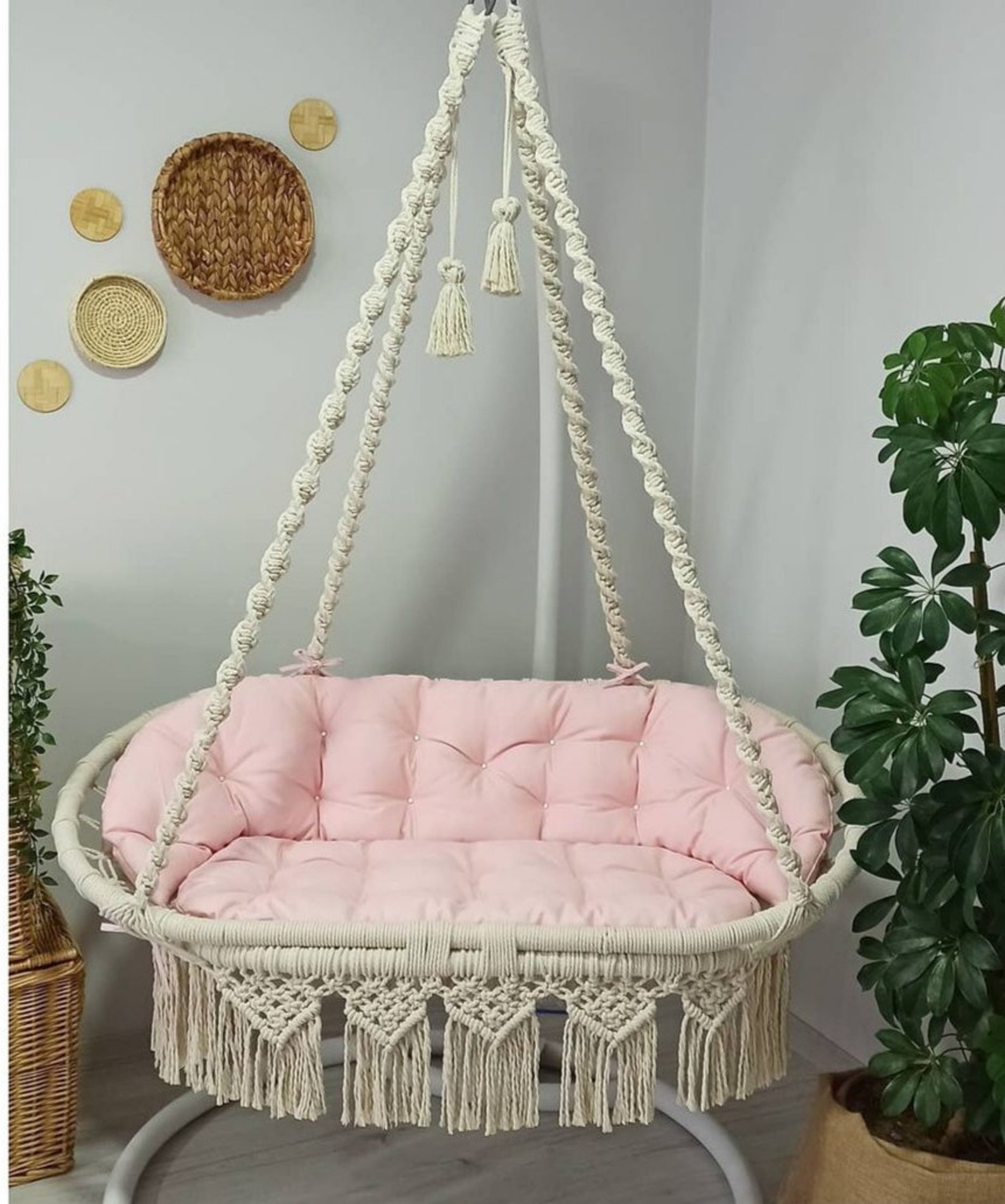 Macrame hammock swing for two, with comfortable soft pink thick cushions, for a cozy sitting and rocking. Available in different colors
Macrame hammock swing for two. A fairly simple variant of the previous double hammock swing, with a little less frills, accordingly also a little cheaper.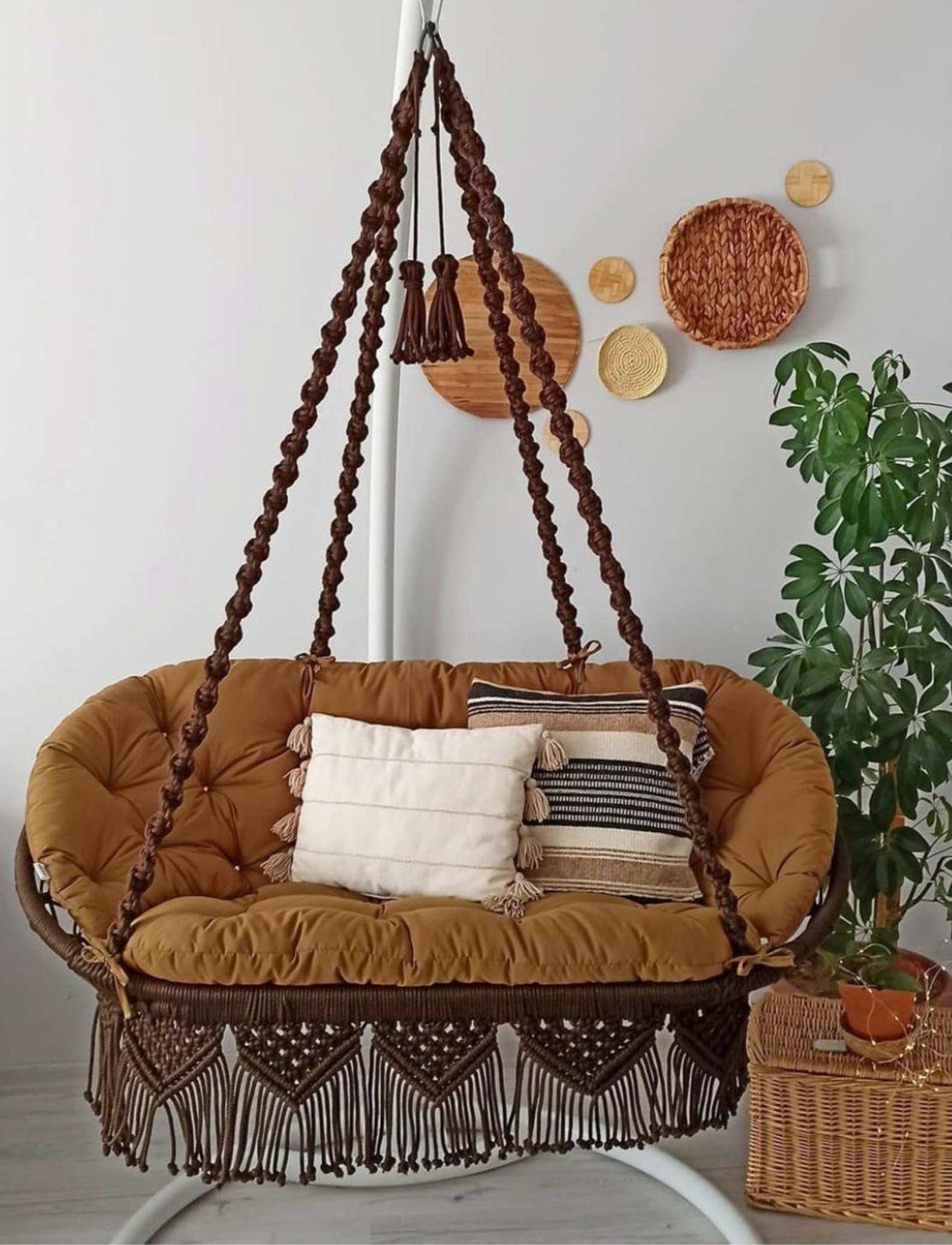 if you prefer more autumnal colors than soft pink and beige, here is the right variant for you- macrame hanging seat for 2 persons in 70's style,
CHECK PRICE ON AMAZON CHECK PRICE ON WAYFAIR
Handcrafted and hand-woven, the Macrame Saucer Swing Chair is made from wrought iron, polyester and cotton and with its bowl shape reminds on a papasan chair. The strong iron frame is knotted with ropes to give it a comfortable and laid-back design. This makes it perfect for both indoor and outdoor use. The chair has a width of 39.37", height of 46.46" and depth of 31.50" making it easy to assemble upon shipping. A double version – double macrame swing for two people is also available.
CHECK PRICE ON AMAZON CHECK PRICE ON ETSY
e
SHOULD I BUY IT?
It is the perfect chair for relaxing after a hard day's work. Everyone has a quiet place they go to for relaxation on a bad hair day. Whether it is the lounge, the bedroom or the porch. Whichever place it is, indoors or outdoors, you need to have the swing chair in it. Reduce the stress levels by relaxing in this chair. It takes the pressure off your back by supporting your body and calming down the muscles. It is the perfect chair for muscle relaxation. Let your mind drift away and unwind in this chair. When you come out, it is a guarantee you will be in a better mood. But let's take a look at the pros and cons.

Macrame Hanging Saucer Chair – Pros
Style up your home
Are you thinking of impressing your guests with artistic decor around your home? Then the Macrame Saucer swing chair should be on top of your list. This stunning piece of furniture will definitely decorate your lounge or front porch and leave your guests impressed. The Macrame Saucer swing chair is style and comfort put together, with impressive results.
Revolutionize your outdoors experience
Spending some time on the front porch is great. But this chair is guaranteed to take your outdoor experience a notch higher. The cotton layer ensures that you have something soft to lay your back on as you enjoy the serenity and fresh air. Artistically crafted and hand-woven, the Macrame Saucer swing will turn your front garden into the perfect place to take a selfie for the Gram.
Once in a while, it is good to meditate and harmonize the mind and body. Besides, who doesn't like a little Yoga once in a while? This piece of furniture will enable you to reach the inner peace you are looking for. Sit back, relax, and focus on improving your concentration levels. Or just sit quietly and enjoy your glass of lemonade.
Macrame Hanging Saucer Chair – Cons
The only downside to this amazing piece of furniture is that it is not cut out for the wet weather. So leaving it out in the rain could have you running back to the shops sooner than you expected hence ruining your budget. But it comes with a cover for the bad weather so this really should not be a problem.
It also doesn't go well with heat and humidity, so having the swinging chair near a fireplace is out of the question. Therefore, if you want to swing away when the weather is cold, a fur coat or a cup of tea would do fine.
You might experience a slight variation in colour and shape. This is because they are handcrafted. Talented artisans give their all to ensure the best results, which is the Macrame Saucer swing chair that lights up your room.
ALTERNATIVES WORTH CONSIDERING
There are other alternatives you can try out, such as the Macrame Big Hanging Chair with its cotton chords that are thick and softly spun; and the Hacienda Mayan Hammock DeLuxe Chair that's all about style and comfort with its virgin cotton rope.
Take a look at our review:
REVIEW: Macrame Cotton Rope Hammock Swing Chair
The hanging saucer below is made of natural jute. Perfect for small areas and with boho appeal. It is handcrafted swing saucer chair woven from sturdy natural jute and ready to hang. Inspired by vintage hammock swings found in India, it delivers comfy extra swing in informal style.
CONCLUSION
With the benefits mentioned above, it should be a question of whether you need to buy the swinging chair but when. Who wouldn't want to have one in their living room or front porch anyway? Create a beautiful interior with these chairs and change the outlook of your place. Where you decide to put it, whether the living room, lounge or front garden, is up to you. Whichever way, a macrame hanging saucer chair will add a classy look to the space.
Macrame Saucer Swing by Pier1
Check Price