Comfort and relaxation go hand in hand, and this round swing chair with stand was designed with both in mind. After working hard through the week, you want to pamper yourself, and what better way to spend your free time than on the deck, sipping your favorite beverage and catching up on a novel or with friends and family to replenish your energy levels.
The bird's nest design of Valletta swing chair with stand brings the wow factor to your patio and lures you into spending more time outdoors. Eccentric in style and color, it adds style and elegance to your outdoor space.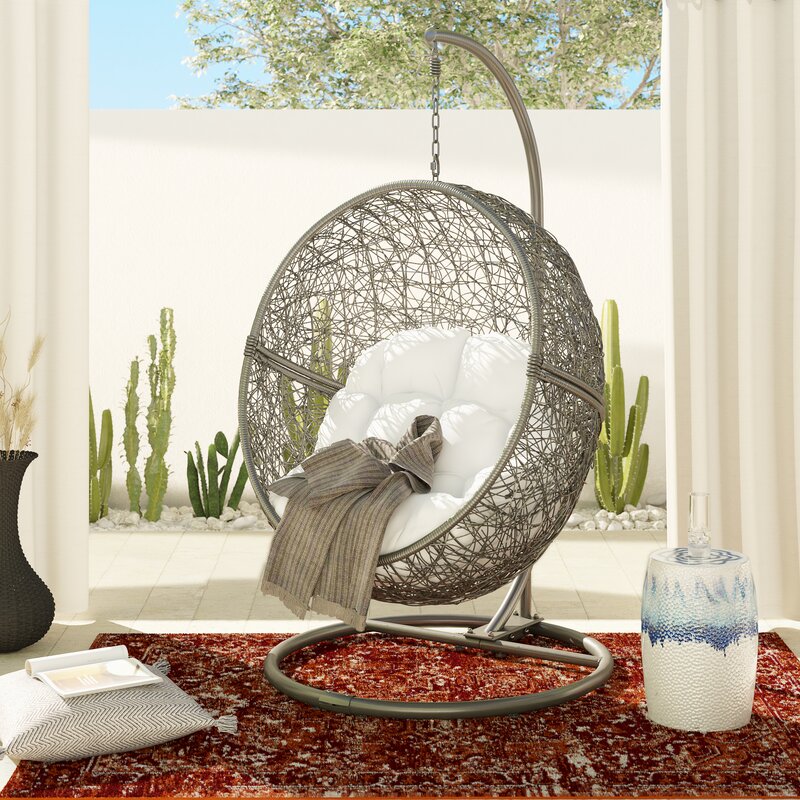 CHECK PRICE ON AMAZON CHECK PRICE ON WAYFAIR
ROUND HANGING CHAIR FOR OUTSIDE
With a size of 77" H x 43.5" W x 40" D, this spacious hanging chair is made for the optimal comfort of one person so you can turn and twist as you like, and can handle the weight of up to 265 pounds easily.
The included hammock stand improves so you can shift positions as you please with minimal physical exertion. The solid color blends seamlessly with the décor of your home to glamorize your home. The 78.5-inch steel chain holds the hammock securely and improves the swinging angle so you can rock back and forth for ultimate enjoyment, while the 97 pound weight is easy to shift around.
ROUND WICKER SWING – COMBINING COMFORT AND DESIGN
CHECK PRICE ON AMAZON CHECK PRICE ON WAYFAIR
You can let your thoughts drift away laying down for days on end on the soft seat made of woven synthetic rattan and layered with a soft pillow.
Thanks to the 6-inch thick pillow, your back or neck support is guaranteed, and the polyester fabric doesn't fade with time to keep looking brand new for longer. The cushion has faser vlies fillings to offer a soft yet firm surface where you can rest your head and back.
The expansive round base ensures stability, enhanced by riveting on the ground, so you don't have to worry about tipping over or something equally embarrassing or potentially injurious. Enjoying your drink or placing your book doesn't have to be a hassle with the stand. Cleaning swing chair wicker easy with a dry cloth, thanks to the smooth exterior.
Embellished in white and blue patterns, it acts as your portable bedside stand so everything you need for an easy weekend is within arm's length.
You know you have furniture that will take you to the end of time when it has a weather-resistant finish. This is perfect for porches as it avoids the damage of the harsh elements to ensure long-lasting use.
SHOULD I BUY IT OR NOT?
CHECK PRICE ON AMAZON CHECK PRICE ON WAYFAIR
Pros
The mesh design lets you enjoy the breeze of fresh air without compromising on aesthetics or functionality and makes for a lightweight swing chair that is easily portable.
The weatherproof synthetic rattan construction improves durability so you can rest easy in the knowledge that it will withstand all seasons without even slight discoloration.
It is easy to overlook the stand but it adds to your personal comfort in subtle ways.
Cons
The floor installation takes a lot of space compared to a ceiling-hanging design and requires a flat surface so it can hold on firmly.
The polyester fabric of the pillows are not necessarily the best in the business but for this price range, and because they are fade-resistant, this looks like a huge bargain. Polyester also dries quickly compared to other materials.
ALTERNATIVES
CHECK PRICE ON AMAZON CHECK PRICE ON WAYFAIR
If you are a little hard up on floor space but looking to luxuriate in the pampered relaxation of hanging chair then the Bungalow Rose Harrisonville swing chair is an option you might want to consider. The free floating design occupies less space
A Comparative Review : 7 Best White Wicker Hanging Chairs
CONCLUSION
Leisure time will never be the same again with Valletta hanging wicker chair with stand. It offers comfort and convenience while basking in the sun or catching a breeze with a stand just beside you so you can sip beverages or read a novel. The round space allows you to curl and rock yourself into a nap. At the going price of $505, it is a cost-friendly choice and valuable addition to your outdoor furniture. The one-year warranty ensures you are covered should it come with manufacturer's faults or fail for one reason or the other that is not of your own making.
Read our reviews:
Valletta Round Swing Wicker Chair with Stand
Check Price