If you've been shopping for furniture or thinking about it, you're probably not experiencing a lot of enthusiasm about chairs. Oh, they're interesting, some of them, but at the end of the day, a chair is a chair, right?
Um, no. A chair can be an experience. Or a work of art. An idea, perhaps, or a spectacularly cool hanging chair. Or any number of other things, as you'll see in this list of the coolest hanging chairs ever. Seriously.
1 Sling hanging Chair by Studio Stirling
This company's hanging chairs scream style and elegance. It would be gauche to scream, though, so think of them more of a subtle but audible whisper.
Stylistically, this cool sling chair runs the gamut, including some that mimic Mother Nature-e.g., the teardrop accents of the Leaf really do have an autumnal feel. And the Wheel is exactly that- a wheel, one that doesn't even look "sittable" until you realize how cleverly it's made a wheel hanging chair.
One other thing is certain, too. Buy from this company and your hanging chairs WILL get noticed. Read more about Studio Stirling hanging chairs collection
---
2 Teardrop Hanging Chair by Urban Outfitters
Available at Urban Outfitters
You don't need the two cats in the featured photo to get that the idea behind this hanging chair is coziness.
But let's face it, it never hurts to have photos of cute cats around-or even the cats themselves, if you're of a mind or you already have a few.
Seriously, though, it's hard to look at this chair without thinking about curling up with a good book and gazing out the window. The curling rattan strands look so inviting, and the basket is woven seat just increases the effect.
It's hard for a piece of furniture to be both spare and intimate, but this hanging chair nails the combination. For real.
A similar option, for little money, is the following hanging nest chair, available in UK too:
---
3 The Hive Hanging Chair by Raw Studio
Available here
Hives are usually busy places, and the Hive is a busy chair. At first glance it doesn't even feel like a chair-it looks more like a private pod you can crawl into and be hidden away and safe from the world.
Which is part of the idea, of course. But there's more to the story than that. The Hive is actually made from high-end Baltic birch plywood that's augmented with a natural Oslo oil finish, and the hanging ropes are marine-grade.
The wooden loops that make the Hive feel so private also speak to its versatility. It's easy to see this chair from a ceiling beam or a tree, but either way it definitely wants to be the showcase piece in whatever space it occupies.
"I came up with the Hive Chair while working at the Bauhaus.

The challenge was to create a 3D space out of 2D shapes. The first version was a Hive that was double the size it is now, but when we made it I ended up chopping it in half and turned it into a chair it is now.

Made from sustainably sourced hardwood plywoods, the hidden detail I like about the Hive chair design is that it is over 90% efficient on materials because all the cuts are concentric."

-Nick Rawcliffe
Moreover, the Hive is part of a collection that also includes the analogous Circa Chair along with the Circa Double Seater. And rest assured,the latter is every bit as wild as its name implies.
As for the company, it doesn't quite do justice to the concept to say that Rawstudio is cutting edge. And how can you not love a company that also makes a Tupac Chair and a Biggie Bench? As far as we know, though, Kanye's still waiting for his piece.
---
4 Cool Indoor and Outdoor Hanging Chair
Available at Amazon
When is an aluminum chair not really an aluminum chair? When the dark colored looping strands that form the back of this chair create an enticing feel, and when the aluminum gives it the versatility to work indoors or out. The concept may be deceptively simple, but it definitely works with this hanging basket chair.
---
5 Elliot Swing Chair with Stand
Available at Wayfair
It's easy to mistake this chair for a work of art when you first see it-the intricate strands create a net-like effect that's both mesmerizing and inviting, with the contrast provided by the graceful curves of the aluminum stand. The effect is subtle, but this is an appealing piece that will certainly grow on you over time. Read more about this ball shaped wicker hanging chair
---
6 BYER OF MAINE Globo Chair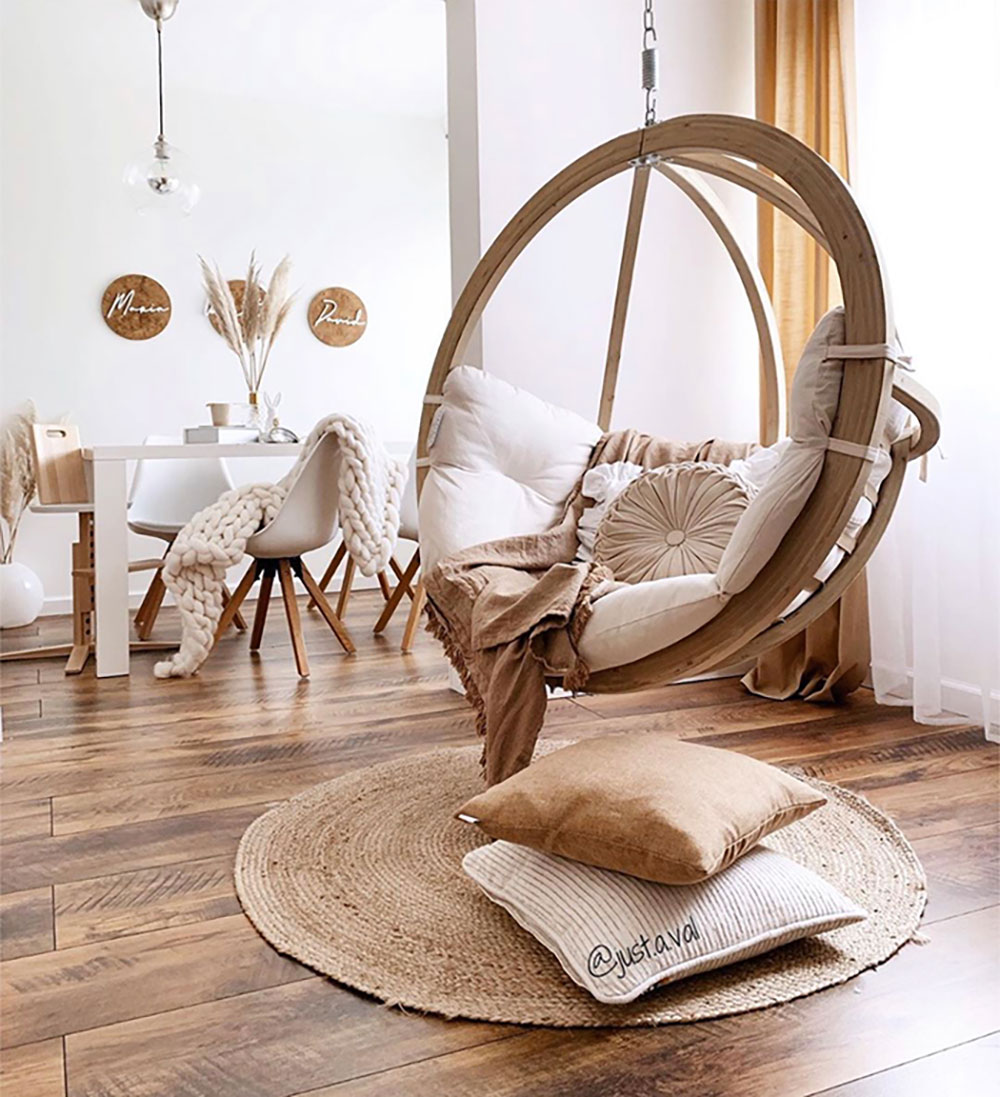 Available at Amazon
Spare is the first word that comes to mind when you see this chair, but that's not necessarily a bad thing.
The roundness of it is absolutely transfixing, to the point where it almost looks like a work of art. The spruce construction adds a natural touch, and the Agora cushion provide warmth and intimacy. And what else could you want from a chair besides all of that? Maybe a stand? The Globo hanging chair with stand is available too.
---
7 Nanna Ditzel's Egg Swing Chair
Available at Wayfair
Hard to expect anything short of design perfection from the company that came up with the original Hanging Egg Chair back in 1959, and Sika delivers in spades with this piece, which can be used indoors or out. Or hang in a museum, too, if you wanted to turn your home into one.
What's unique about this egg chair update is the material. It's described as ArtFibre, an artificial Swiss fiber made of polyurethane that's built for comfort and durability.
Not surprisingly, a similar level of detail is applied to the fabrics in this piece. They're described as Design Umbrella and Tempotest, and they're hand-made. The cushions feature a moisture-repellent liner that also resists mold and mildew to ensure years of wear even with outdoor use.
"THREE STEPS FORWARD AND TWO BACK STILL MEANS I'VE TAKEN A STEP IN THE RIGHT DIRECTION!"

Nanna Ditzel (1923-2005)
One small word of warning, though: the price tag is more than a little eye-popping. But this is a chair you'll own and use for life, and it's a veritable work of art, too. Once again, what more could you want from a chair?
---
8 Copa Blue/Gray Hanging Chair by Made
Available at MADE
This is a "wow" chair. That's the first thing you'll say when you see it, unless you're simply rendered speechless.
On the real, though, the Copa is a whimsically unique piece of garden furniture that gets it point across with the most creative use of blue strands you'll ever see.
It's made of metal and rattan and built for durability-the only thing you'll have to take in is the cushions, although the chair is so stunning that you may want to haul it inside for four-season use as well.
It's a special chair that's made from some special folks, who are otherwise known as the design team from MADE Studio.
---
9 Eero Aarnio Originals-Bubble Chair
White. "Space age" is the first word that will come to mind when you see this chair, and the term will be accurate.
This bubble chair dates back to 1968, and it's based on the same concept as the company's iconic Ball Chair.
The desired effect here is transparency, so that light is coming into the chair from all directions. The idea was to make the chair into something that looks like a soap bubble, and the acrylic material is even designed to create a kind of acoustic isolation.
'The most interesting piece for me is the Bubble Chair which is made like a soap bubble, air is blown to a heated acrylic sheet,' explains Aarnio. 'Therefore there is no need for a mould and the form always comes out the same, following the laws of nature (like a soap bubble).'

Aarnio Eero
The sole luxury is the soft leather seat, so there is comfort here along with the sheer spaciness of it. Hmm. . . there's that word again.
---
10 Anthropologie Knotted Melati Hanging Chair
Available at Anthropologie
The lacy, feminine feel of this particular chair makes it a unique addition to any room, and the knots at the top give it a funky feel to add a bit of counterpoint.
This unique piece of furniture from Anthropology hanging chairs collection made of polyester, but the macramé effect gives it a sophisticated look that tells you it's designed to add elegance to whatever room in occupies.
---
11 Cageling- Bird Cage Hanging Chair
Ever thought about swinging away some idle free time in a bird cage? No? That's too bad, but this chair might make you consider it.
It's definitely a piece that will get noticed, especially if you hang it in a window, even if it is a bit on the spare side.
Available Here
If you're a creative type and your tastes run toward innovative or art deco, this might be just the piece you're looking for. The turquoise cushions add an intimate touch, but the cushions come in multiple colors if turquoise isn't your thing.
---
12 Kodama Zome Hanging Daybed
Kodama refers to its furniture concept as "zomes," and yes, they really are that different.
The first thing you'll think when you see one of these pieces is a geodesic dome, but the spectacular stands create a shell-with-a-shell effect that can either be warm and intimate or high tech and austere, depending on where you place the chair and how you use it.
Unlike most manufacturers, Kodama bills the Zome as being suitable for hotels, offices and even therapeutic settings, and it's made of durable stainless steel that makes it suitable for all these environments.
And then there's the fact that you can swing on it. Or in it, depending on your point of view. If the price tag doesn't scare you off, you'll probably fall in love, so be forewarned about that part of it.
13 Tom Raffield Amble Hanging Seat
Spare and funky, this hanging chair is designed to create a feeling of weightlessness, and it definitely succeeds.
It's artistic and conceptual enough to look like it belongs in a museum, and its environmentally-friendly, too, built from sustainably source ash that's steam bent with the pieces joined by hand.
This is yet another chair that contains a caveat about the price tag. But if you like the concept, you'll likely love the piece, and then you get to spend endless periods of time enjoying its beauty, both physically and metaphorically.
FAQ
Q These chairs are amazing! I've never bought anything like this, though, so I could use some help with the shopping process.

A. Not to worry, we've been there. It can be a little overwhelming but start by determining your budget and matching it up with the specific look you want, assuming you have one.

That will eliminate some of the contenders. But if you're open to every concept and idea in this list and you have the budget to afford all of them, give yourself a well-earned pat on the back. You've earned it!
Q Ok, that part about the shopping process sounds doable. But some of these companies aren't in the US. What if the company that carries what I want is one of them? How do I figure out the details of the purchase?

A. Another good question. You'll have to get a little creative, and you may need to contact the company. Most of these companies have delivery and installation policies and procedures, not to mention return policies, so be sure to get the lowdown on all of those.

Also, ask for testimonials, especially for customers whose needs match yours. And if they happen to have photos that help you do some comparison shopping, so much the better!
Q What if I want a particular piece but don't quite know how to design a room or an outdoor space around it? What then?

A. Two recommendations here:

(1) Do some research on the particular look your after. There are plenty of photos of similar or analogous rooms, so much so that it's easy to get a little overwhelmed.

(2) Call the company (again). Some of the best chairs here are designed by architects and other specialists, so they know how this works.
They'll be able to tell you how to get where you want to go, and they may even be willing to recommend specific products or fashion ideas to help you through the process.
Good luck, and whatever it is you want, feel free to go for it!
This outstanding selection of unique and cool hanging chairs will convince you, hanging chairs are more than just chairs.