Are you looking for a hanging chair for a teenager? Well, you've come to the right place. Today we are zooming in and exploring some of the best hanging chairs on the market – with teens in mind.
Whether you're shopping for a teenage girl who loves everything pink or a football-obsessed teen boy, we've picked the top choices for you. With everything from macrame and soft woven chairs to hanging saucer and sphere chairs, you're guaranteed to find something your teen will love.
CHECK PRICE ON AMAZON CHECK PRICE ON PIER1
And to help you make the best decision we've even included a super-helpful 10-step guide to choosing the perfect hanging chair for your teen. It doesn't get any easier than that.
So let's look at 13 hanging chairs your teen will love – and how to choose the ideal one!
Classic Hanging Chairs For Teenage Girls
Teenagers rarely want the same things as their parents and this is also true when it comes to their furniture.
Teen girls are looking for chairs that match their personalities – they don't want the same stuffy furniture that their parents have. They are looking for that unique touch – something that makes the chair stand out.
We've found a few hanging chairs that fit the bill!
This hammock hanging knitted macrame chair swing in purple or in blue will give your teen the ideal place to sit and read or (more likely) catch up on their social media. It can easily be installed indoors (great for a bedroom) or outside in the garden – for a secret hideaway. Comfy and pretty; this one is just perfect!
For a cute but sturdy hanging chair that can be used outdoors or indoors we'd recommend the Swingasan Luna Star Pink Hanging Chair. Made from a woven rattan in pink this chair's open sides give a better view, and provide extra arm support.
Does your teenage daughter love everything that glitters and glows? If so, we've got just the hanging chair for you! The Light Up macrame hammock chair comes complete with 12m of LED lighting – making it perfect for reading or just chilling. Charming and oh so pretty – this chair will truly light up the room.
Hanging Sphere and Hanging Saucer Chairs For Teens
Hanging chairs come in all shapes and sizes so it's up to you to decide what would suit your teen the best. Do they love being outdoors, swimming and playing games, or do they prefer staying inside and getting comfortable?
Check out these interesting looking hanging saucer and hanging sphere chairs we found!
Your teen will just love the way this chair looks in their Instagram photos, so it's sure to be a big hit. The transparent acrylic indoor glass ball chair, with or without stand,  is elegant, damage-resistant, safe, and just a little bit glam too. Ideal for the teen who is just beginning to appreciate good aesthetics. You can choose between soft pink cushion, yellow or grey.
CHECK PRICE ON AMAZON CHECK PRICE ON WAYFAIR
This hanging saucer swing chair boasts a large Papasan bowl-shaped seat with a thick tufted cushion for added comfort. This chair is easy to install and is ideal for outdoor use – either poolside or hidden away in the garden. A great place for your teen to relax after a long day of socializing!
CHECK PRICE ON AMAZON CHECK PRICE ON PIER1
If you're looking for a unique hanging chair for your teen – look no further. The Hanging Swing Nest is a daybed, a lounger, and a hanging chair all rolled into one! It offers much more space than a traditional hanging chair and allows you to easily shift position. It's easy to install as it suspends from a single point, meaning teens can even take it with them if they travel.
CHECK PRICE ON AMAZON CHECK PRICE ON WAYFAIR
Hanging Chairs To Decorate Your Teens' Bedroom
Hanging chairs can be a great way to decorate your teens' bedroom and make it a unique space for them. These chairs can be used for reading, studying, listening to music, snoozing, or even playing games, and your teen will get to enjoy the feeling of floating in the air – which we know they will love!
We all know that teens can sometimes be messy and a little careless but this shouldn't prevent you from getting them a hanging chair for their bedroom. You just need to be on the lookout for a chair that's easy to clean and sturdy – like the Flamingo Swingasan Hanging Chair. This hanging chair is made from weather-proof synthetic rattan that's perfect for indoors or outdoors – and ideal for teens who tend to be messy.
The  White Rattan Hanging Swing Chair could easily be the centerpiece of your teens' bedroom with its clean lines and fresh feel. Made from naturally grown rattan this chair is made for indoor use only.
CHECK PRICE ON AMAZON BUY AT SERENA&LILLY
If you'd prefer a hanging chair that comes with its own stand why not take a look at the RBH Wicker Hanging Egg Chair. This chair is easy to assemble, comes with everything you need to set up (including cushions), and boasts additional footpads to protect the floor underneath from damage.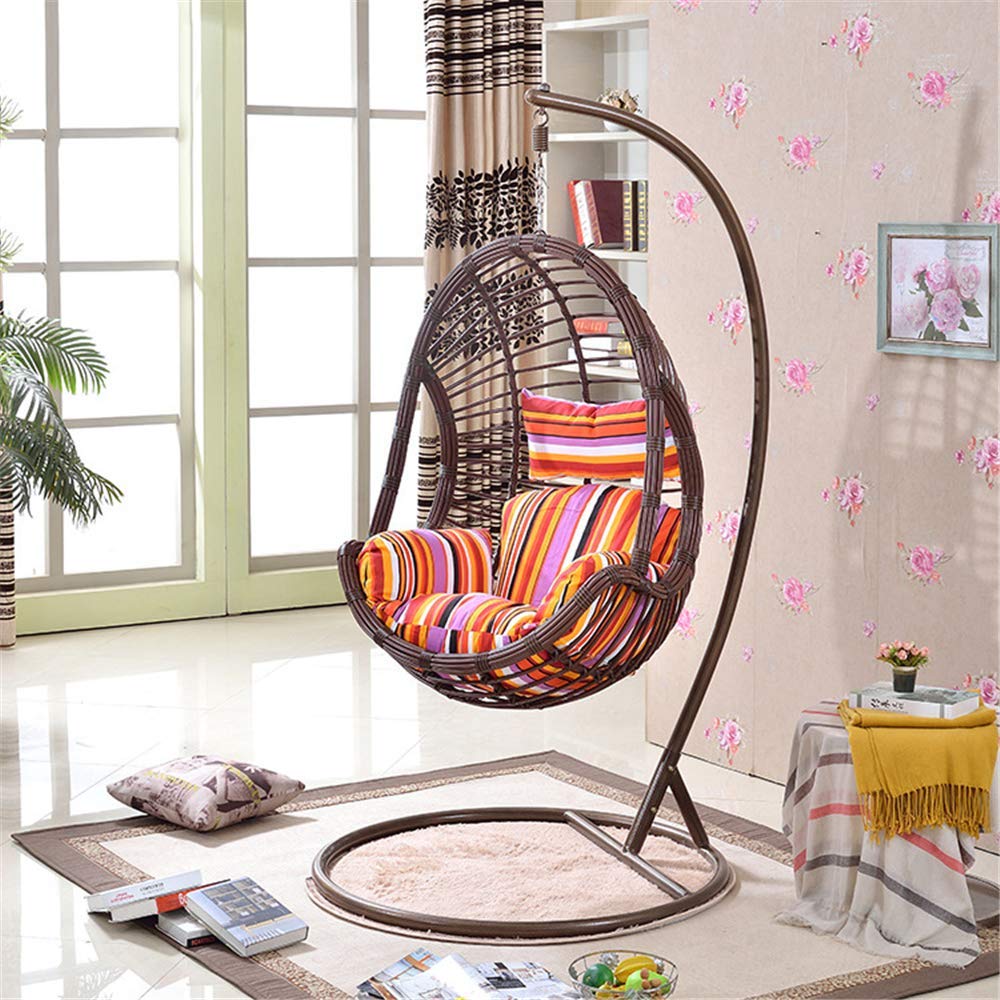 The HENRYY Wicker Hanging Basket Single Chair also comes with its own stand, and it's available in a wide range of different colors – including bright pink – sure to be a big hit with teenage girls. This one is ideal for teen bedrooms and easy to maintain. Here you can read: Create A Styling Reading Nook With Floating Chairs For Bedrooms
CHECK PRICE ON AMAZON CHECK PRICE ON WAYFAIR
Hanging Chairs For Teenage Boys
While we've mentioned various hanging chairs for girls, we can't forget about the boys who also want a comfortable place to relax and do whatever it is they love to do best.
Hanging chairs for teenage boys usually have a simple design, with more durable fabrics, and are often sport themed. Portable style hanging chairs are also popular with this age-group, especially boys who enjoy sports and outdoor activities.
CHECK PRICE ON AMAZON CHECK PRICE ON WAYFAIR
The Flowerhouse Hanging Egg Chair is ideal for teenage boys because it can be used indoors or outdoors and is easy to set up. It's made from breathable, durable material and offers ample room for relaxing.
For sports-obsessed teens, the Flowerhouse Basketball Hanging Lounge Chair seems like a natural choice. Made from durable, easy to clean material and able to carry up to 400 lbs, this chair also features a handy cup holder and comes complete with a stand.
CHECK PRICE ON AMAZON CHECK PRICE ON WAYFAIR
If your son isn't that keen on basketball, what about taking a look at the Flower House Football Hanging Chair? Like the previous hanging chair, it also comes with a cup holder and easy-to-assemble stand but features a football print on the cushioning.
How To Choose The Right Hanging Chair For Your Teen
We all know how picky teens can be when it comes to their clothes, games, hair, friends, and yes, their furniture too. It can be difficult for parents to try and choose something that they know their teenager will love.
That's why we've put together this convenient TEN-STEP guide – to help you pick a hanging chair that will make your teen smile from ear to ear!
Consider Their Interests
What sort of interests does your teenager have? Think about how they like to spend their free time and weekends. Do they enjoy playing video games? Perhaps a hanging chair that would allow them to recline and play games would be ideal? Do they love everything sports-related? Maybe consider a hanging chair with a sports theme.
Perhaps you have a teen who is a real bookworm, in that case, you might want to try and purchase a hanging chair that has its own light source. Think about your teens' interests and go from there.
Decide Where The Chair Will Go
Before you start looking at different types of hanging chairs for your teen, it's a good idea to first take a walk around your house and try and find a suitable place for the new furniture. This will help give you a better idea of what sort of chair you'll want to look at.
For example, if your teen enjoys spending lots of time outside you would want to place the chair somewhere in the garden. So immediately you know you need a weatherproof chair and possibly one that has its own stand.
Choose Between Fixed and Portable Chairs
When it comes to hanging chairs there are two basic options – those that come with their own stand and those that need to be mounted.
Chairs that have their own stands are a good choice if your teen likes to travel or spend time outdoors because they are portable. Indoor chairs with stands are ideal if you rent your property and don't want to make the chair a permanent fixture.
Consider Maintenance and Cleaning
Some hanging chairs require more maintenance than others, and it's an important factor to keep in mind. You need to be sure that you will be able to maintain the chair for your teen and keep it clean. Making sure you understand what's needed upfront can save you a lot of hassles later on.
Indoor vs Outdoor Chairs
Before you choose a hanging chair for your teen you'll want to consider which will be more suitable – an indoor chair or one designed for outdoor use? You might even want to look at a chair that can be used both inside and outdoors – it all depends on your teenager's lifestyle. If they prefer spending their time inside, a soft comfy indoor chair would be your best bet.
Hanging Chairs With Stands vs Freehanging
Hanging chairs that come with stands require less set-up and installation than those that need to be mounted to the ceiling or another weight-bearing structure. If you're not the most hands-on person when it comes to DIY, you'll probably want to consider a hanging chair with a stand for your teen.
But if the thought of a screwdriver doesn't fill you with panic – then why not go ahead and mount an eye-catching hanging chair in your teenager's bedroom?
Ask Your Teen For Their Opinion
Teens love to give us their opinions, don't they? Well, when it comes to buying them a hanging chair, these opinions will finally be useful!
Jokes aside, the simplest way to choose a hanging chair that your teen will love is to ask for their opinion. Perhaps present them with a few different options and get their feedback. This will go a long way in making the right choice.
How To Choose The Best Style
When it comes to choosing the best style of hanging chair for your teen, a good place to start is their bedroom. If this is where you plan to place the chair, have a look around at the decor to give you an idea of what will match. Here you can read: Don't Be Afraid Of A White Hanging Chair For Your Bedroom
Consider Weight Capacity
Most hanging chairs are designed to hold a single person, but there are chairs on the market designed for more than one. If your teen is very sociable or has friends that visit often, you might want to look at a chair with a higher weight capacity (because you just know they will all try and get into it!).
Hanging chairs with a higher weight capacity are also ideal for teens who like to snuggle with their pets.
Think Of The Future
Teenagers don't remain teenagers forever, in a few years they might be moving on, getting their own place and starting their adult lives.
So when it comes to choosing a hanging chair, or any type of furniture for your teenager it's not a bad idea to think about the future and whether or not they will be able to take items with them.
Benefits of Hanging Chairs for Teens
A hanging chair is so much more than just a piece of furniture. It can be a place to retreat, a work of art, and more! Let's look at just a few of the benefits that come along with owning a hanging chair.
When it comes to choosing furniture (especially for teenagers), maintenance and cleaning should always be considered. Most of the hanging chairs available today are easy to clean, with removable covers and surfaces that only require a wipedown. So if you have a teen who is a little on the messy side, then a hanging chair is a great option.
Hanging chairs offer a unique seating experience, quite unlike anything else, as well as a high-level of comfort. With the right cushions, a hanging chair can become a soft, welcoming cocoon – perfect for escaping from the world and recharging.
We all know teens love to chill in comfort – that's why hanging chairs are such a great choice for them!
Hanging chairs are unique because unlike other furniture they don't sit on the ground. Rather they are suspended – either from the roof or from their stands. This provides a one-of-a-kind seating experience as it feels as though you are floating in the air.
Hanging chairs are also eye-catching and can easily be the focal (and talking) point of the room.
Most hanging chairs have a gentle swaying motion which is perfect for aiding with relaxation.
Just like adults, teens have stresses in their lives and they need places where they can relax and unwind. A hanging chair in their room or placed strategically in the garden can easily become a place of calm for them.
As well as being an excellent place to relax a hanging chair is also the ideal place for your teen to study.
We all know that it's easier to take in information when we are in a relaxed and comfortable state, and because hanging chairs also provide a measure of seclusion, this makes it a perfect aid for learning.
Furniture is usually a long-term purchase because no-one wants to have to replace expensive items every few years. Luckily when it comes to hanging chairs they always prove to be great value for money!
Most of today's hanging chairs are built to the highest specifications using tested, durable materials which means that you get a chair that will last for many years to come, provided you maintain it. If you're looking for value for money, you can't go wrong with a hanging chair.
Portable options available
One notable feature of hanging chairs is that there are portable options available.
For parents who don't want to make a hanging chair a permanent fixture in their home, there is another option – the fold-up hanging chair. These lightweight, easy to transport hanging chairs are ideal for teens on the go and can easily be set up in just a few minutes. They're perfect for the garden, beach, camping, concerts, outdoor movies, and so much more!
Hundreds of options to choose from
With so many different styles available there is a hanging chair for every teen – no matter what their tastes! It might take a little effort to find something that they really like but with so many choices it's bound to happen.
We hope these tips will help you find the PERFECT hanging chair for your teen!