It can be difficult sometimes to find the right balance when creating the perfect interior design for your bedroom. If you have a desire to create something with a minimal colour palette, simple shape and a soft, cosy space, what do you do with the seating? I suggest choosing a stylish white hanging chair for bedroom use.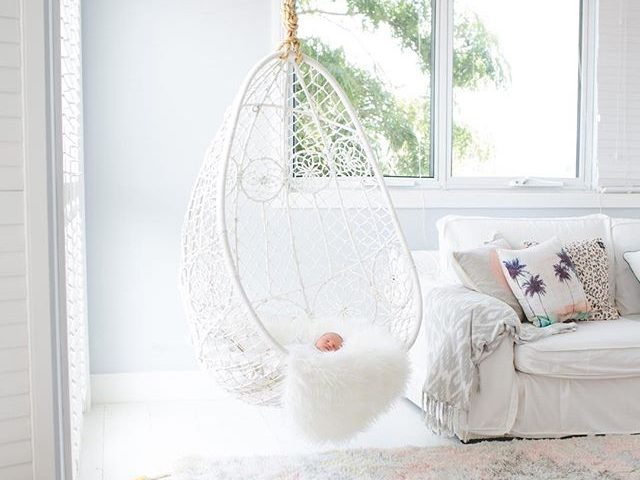 These chairs free up space for a decluttered, sleek look. At the same time, they are inviting enough to curl up in for relaxation. Below I want to explain why white is such a perfect colour for a bedroom floating chair.
1) A woven white hanging chair for bedrooms doesn't dominate the space in the same way as darker colours
One of the benefits of a floating bedroom chair is that it frees up space in a small room. But, you could shatter this illusion if the frame or the seat itself is too big and dark. A white chair can disappear against a white wall – especially if it is a floating chair with no obvious support stand. This is even more true for all those pretty white mesh and rattan chairs. Solid blocks of colour could clutter a small room if you aren't careful.
2) There are lots of great materials for hanging chairs that come in white
CHECK PRICE ON AMAZON SHOP AT SERENA & LILY
Whatever material you prefer the look and feel of, I can guarantee that it will come in white. Those light rattan chairs don't have to come in natural tones. There are just as many white wire frames as there are colourful ones. The shapes and folds of hammocks look crisp and clean in white fabric. Even those mid-century design with stark acrylic can come in white. If all else fails, you could get a cheap cane seat and paint it yourself.
3) You can pair white furniture with other colours in soft furnishings to finish off the look of the room
White is a base colour, a blank canvas on which to add pattern and colour that reflects your taste and personality. The white cane chair or fabric hammock will benefit from a colourful cushion or a faux fur throw to make it more inviting. The choice of colour and the texture of the fabric is entirely up to you. Also, you can swap items in and out as many times as you want as the room evolves. That is because of my final point.
4) White is timeless on an indoor hanging egg chair or a hammock chair
I know that there are always trends that come and go where white suddenly becomes a dominant colour. But, if we're honest, white can never really go out of fashion when used correctly. That is why these white hanging bedroom chairs are so appealing. You have a choice here. You can get a cheaper model well within your budget that you know will look great. Or, you could invest in something a little more expensive that will have that timeless quality. With that in mind, here are some of my top picks.
Some of the best white hanging chairs under $100
1) This Sorbus Swing Chair is simple and cute. The macrame design makes it appear small but there is still a large weight capacity. The tassels on the bottom are a nice touch too.
CHECK PRICE ON AMAZON BEST CHOICE PRODUCTS
2) The Komorebi Hammock chair looks incredibly cosy and supportive with its strong cords and durable fabric. It is the ideal place to curl up for a nap or read a chapter of a good book. It does also come in black-white designs, but there is something calming about this one.
Some of the best white hanging chairs over $150
1) The Teardrop wicker indoor nest chair really does look like you are about to crawl into a pretty white bird's best. There is a wire pod with a mesh basket design suspended from a white curved support. It is a space-saving option that works in bedrooms, on patios and on balconies.
UNBEATABLE SALE  CHECK PRICE ON WAYFAIR
2) A white hanging chair made of natural rattan looks beautifully and is easy to clean. All you need is soft cloth and some soapy water to wipe the rattan every once in a while.
3) Finally, if you want to go for something completely unique, you could try this white Vivere Bonsai Cacoon. A large ring creates an enclosed structure that anyone can crawl into when they need to decompression. Suspend it from the ceiling with the nylon rope and escape for a while.
Don't be scared by the prospect of a white hanging chair for bedroom use. These chairs can be smart, minimal and just as comfortable with the right soft furnishings.