If you think a classic porch swing would be too big for your porch, and a simple patio swing chair would be too small, a single seater porch swing is what you are looking for. You can choose between a wicker swing, wooden swing,  wrought iron swing, or even recycled plastic. Don't forget to get weather-resistant material and cushions, as well.
This article reviews the best single person porch swings and lets you curl up on one of them with your hot cocoa and banging playlist and escape for a while.
Let's start with wooden porch swings for one person:
Amish Single Seater Roll Back Porch Swing – Traditional Design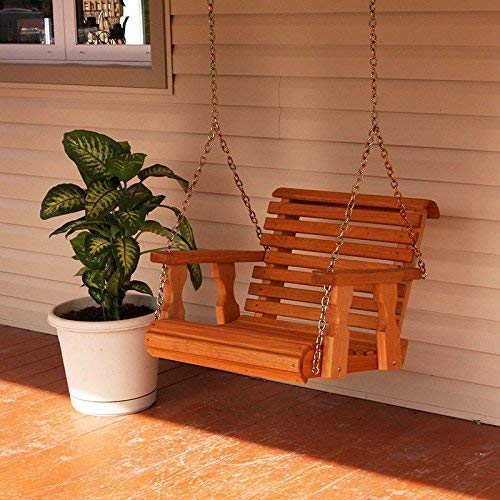 This wooden porch swing chair has the classic design and is a beautiful alternative to a bench swing.
Roll Back seat with high backrest
When it comes to porch swings, the value of a high backrest cannot be emphasized enough. This is what offers you the support you need to stay comfortable on the swing for hours on end. This Amish one-seater swing chair does not disappoint with its high back part and rollback seat. It contours to your body for comfort and ensure that you sink effortlessly into the most comfortable possible position on the chair.
Rustic Looking Pine Wood
The wood used is pine for the perfect combination of simple aesthetics and practical functionality. Pine is strong and durable yet soft and very comfortable to sit on. The swing chair is covered with a protective layer of eco-friendly coating for increased durability. This protects it from mechanical damage, including chipping and paint stripping.  It has a 500-pound weight capacity; it even can seat two people comfortably at ones.
The main disadvantage is the non-cushioned nature of the sitting surface. This makes using the swing for too long an uncomfortable experience. As with the other porch swing models without stand, there is also the aspect of limited setup options.
It is, however, a great option if you want a single seater that has a  traditional and rustic looking wooden swing aesthetic effect.
Features:
Outside Dimensions: 28W x 27D x 21H inches
Seat Dimensions: 23.3W x 19D x 19H inches.
Weight Capacity: 500 lbs.
Weight: 35 lbs.
Swing comes with enough chain to hang from a standard 8 foot ceiling.
Single Seat Wooden Porch Swing -Alternatives
The Amish swing described above is our pick, but let us show you here some alternatives:
Budget Wooden Single Person Porch Swing
If you don't have room on your porch for a more massive swing and you are looking for an affordable, sturdy, and the natural color one-seater, this one could be perfect! This fantastic porch swing is it the most economically priced and at the same time, in good quality. Thanks to the precision predrilled holes, it is easy to assemble.
We don't think you will find a single swing for a better price online.
Features
Crafted with premium acacia woods.

It is finished with a handsome natural oil stain.

Galvanized steel screws and hanging chains.

Roomy single seat for solo swinging.

Dimensions: 27.95W x 24D x 20.98H in.
Cheap  Wooden 1-Seater Porch Swing Lightweight
This one is one of the most affordable one seater wooden swing models. And how the price so is the quality.
We haven't tested the product personally, but according to the online user reviews product is poorly made, and the customer service is not the top quality. Therefore we would not recommend this product, and the quality isn't there even for the price. However, some users have another opinion, so you can read it and decide is this your buy or not.
CHECK PRICE ON AMAZON CHECK PRICE ON WAYFAIR
23.62" H x 23.6" W x 26.8" D
Weight capacity of 220 lbs
XXS- fits in small spaces
low budget.
There is something about woven wicker swings that makes them so endearing. So let's start with a single person wicker swing, which has a contemporary design.
One Person Wicker Swing -Modern Design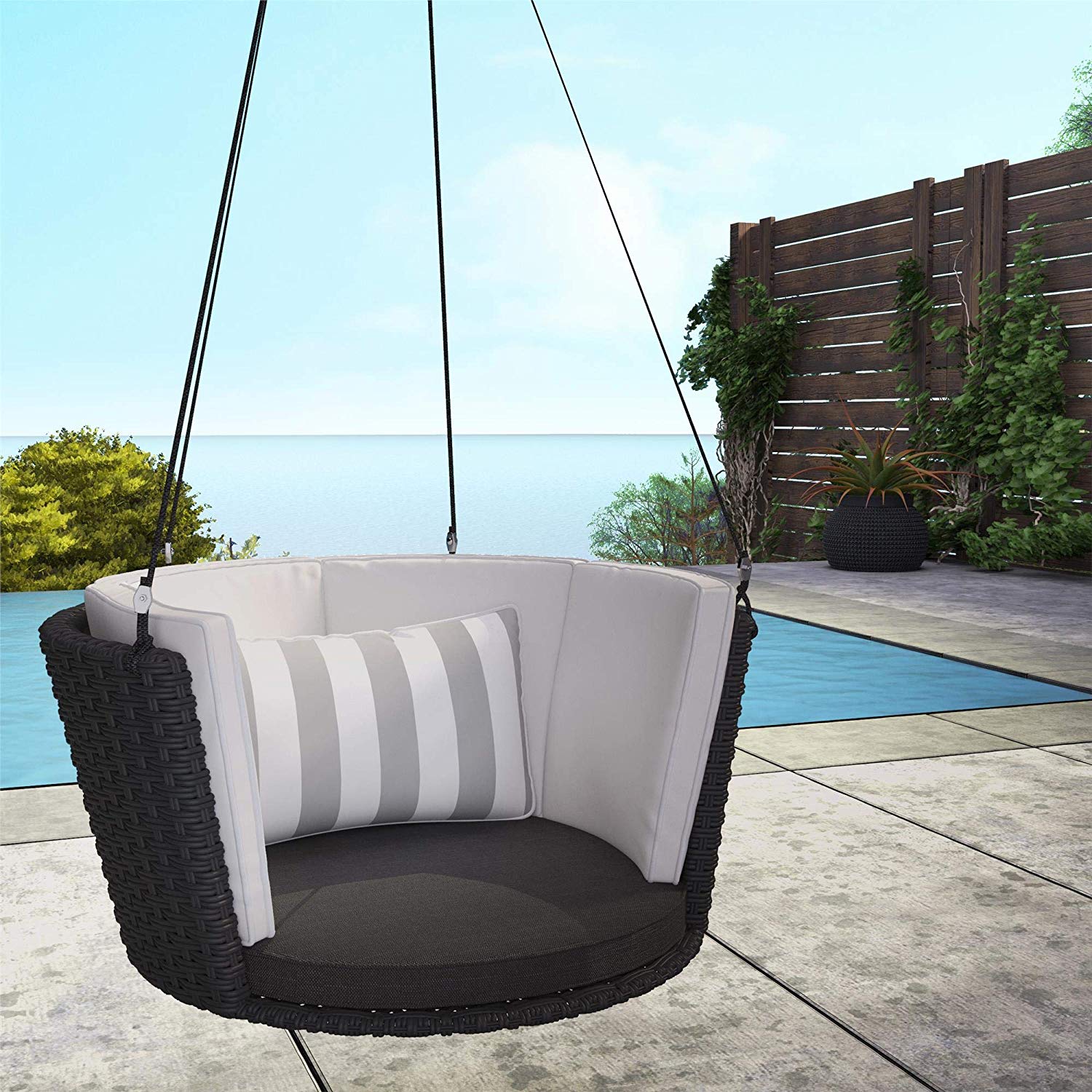 CHECK PRICE ON AMAZON CHECK PRICE ON WAYFAIR
Novogratzblack wicker swing has a perfect size for one person. With its rounded bottom, comfy cushions, and very lovely and robust rope, it is a fantastic piece of outdoor furniture.
This small compact swing doesn't take up too much space. You can buy 2 for our front porch, instead of one classic porch swing so that you can sway to your own rhythm.  The cushions are very comfy.  A darker color on the back cushion would be more practical, as the white is showing dirt after some time, but in combination with the black seat cushion and white-grey striped lumbar pillow, the design is simply perfect.
Very simple to set up, pleasant, and safe.  Adults and kids will love it!
Features
Dimensions: 15.2" H x 36.2" W x 32.3" D
For one person
Includes 2 carabiners that may be hung securely from 1 or 2 points.
Rope included
Built from durable, weather-resistant steel and wrapped in a deep black woven wicker.
Includes cushion
Weight Capacity: 250 lb.
One Person Wicker Swing – Vintage Design
CHECK PRICE ON AMAZON CHECK PRICE ON WAYFAIR
As far as aesthetics go, this one-person woven wicker seat hits all the right spots with the classy vintage appeal that all wicker porch swings possess. But is it all easy-on-the-eyes no function? Below is a review to help you find out.
With its vintage hanging chair design, especially metal scrolls on the armrest, this single seater swing is a perfect fit for the relaxed Victorian times' outdoor decor.
Unlike the contemporary round swing above, it does not have a cushion, which could make it uncomfortable. It is also smaller in terms of sitting space dimensions, especially when it comes to the width, which again affects comfort. It, however, comes with a high back for maximum comfort. It has weatherproof quality with PVC resin coating on the wicker fabric, protecting it from UV rays and damage by water.
Features
Dimensions: 24.5" H x 23" W x 27" D
Material: Resin wicker/Steel
UV protection
Sits one person comfortably
Hardware included: Yes
Hooks on both sides
Requires two hooks to install
Weight Capacity: 300 lb.
Wicker Porch Swing Chair – Minimal Design
First thing's first, below are the most important of this model's design specifications and features:
The frame is made of high-quality aluminum.
The screws are made from rust-resistant stainless steel.
The seat features a breathable woven wicker design.
It has a maximum weight capacity of 350 pounds.
The cushions are waterproof.
The wicker material is coated with a UV resistant protective layer.
It comes with strong woven fiber ropes for setup.
2-inch padded cushions
This is only available on the base of the chair. The padding is for comfort, ensuring that you don't have to suffer the discomfort of sitting on the swing's hard frame or woven fabric.
Large seat with wiggle room
The chair measures 22 inches in length and 23.6 inches in width. This makes it a pretty roomy seat for you to comfortably move around in. Another great thing about this deep seat design is the fact that it gives you the freedom to add more pillows and cushions if you want to.
They are large and comfortable
This ensures that the one person it can accommodate has a great experience on the seat. They can move around, place their feet on the chair, or even curl up to more comfortable sitting positions. The ability to add cushions and things like throws without crowding the space is also a perk to this spacious design.
They are available in a variety of colors
For the sake of aesthetics, you have a lot to choose from in terms of color. It comes in white, red, yellow, and green. This gives you a variety to choose from based on personal preferences or existing outdoor décor themes. The colors also complement the wicker design for a lively and vibrant effect.
They are easy to set up
Unlike many other swings on the market, this one only comes with the chair and some support ropes. All you have to do is to find a strong, horizontal and high-set surface from which to set up your swing. It could be anything from a tree to your front porch ceiling beams. The setup process is way easier than what you have to go through with complex frame and base swing designs.
They are weather resistant
The wicker fabric is coated with weather resistant material. This makes it both waterproof and UV resistant. The cushions covers are also waterproof with sealed zippers to prevent any water from sneaking in.
Recycled Plastic Porch Swings 2ft for One Person
Some of us like metal, others prefer wooden porch swings, but the most popular and best selling porch swings nowadays are made of recycled plastic.
This recycled plastic is becoming extremely attractive for patio furniture because of its sturdiness and versatility, and reasonably low price.  Recycled plastics, also called poly lumber, is good for the environment too, as it is made of old plastic milk and juice jugs
The material is resistant to chipping, fading, mold, and sun.
Plastic swings come in many styles,  colors, and sizes – from singles to large 5 foot long ones. Here we are going to have a look at single-seater plastic porch swings:
CHECK PRICE ON AMAZON CHECK PRICE ON WAYFAIR
Made with premium eco-friendly recycled plastic lumber, the Royal English 1 seater Porch Swing and Adirondack Porch Swingare the easy-to-care-for fashionable addition to your outdoors, built to last.
Features
Comes standard with rust-resistant stainless steel hardware
Nearly maintenance-free and wipe down with mild detergent as needed
27" H x 29" W x 27" D
Seating Capacity: 1
Outer Frame Material: Plastic
Frame Included: No
Cushions Included: No
Chain Included: Yes
Weight Capacity: 250 lb.
Wrought iron single seater porch swings
Wrought iron porch swings look like powerfully nostalgic. Their exquisite and ornamented design reminds us of old stone porches full of wrought iron furniture, surrounded with large buckets full of blooming begonias. The usually used rust-proof color makes the iron weatherproof and prevents the swing from chipping or peeling. Wrought iron porch swings are designed with curved edges for more comfort, but colorful soft cushions will add not only warmth but colors to your porch. Since wrought iron is pretty heavy, you need to make sure that you use the recommended suspension set or swing stand
You can hang your new small metal swing quickly from a large tree with sturdy branches.
CHECK PRICE ON AMAZON CHECK PRICE ON WAYFAIR
Cushioned Single Swing

with Wooden Armrest
Cushioned single seater made of heavy-duty layered spruce and lined with a weather-resistant comfy cushion, this chair is perfect for use both inside and outside. Both the chair and the pillow have been specially manufactured to withstand all kinds of weather conditions.
CHECK PRICE ON AMAZON CHECK PRICE ON WAYFAIR
We hope this article can help you find the perfect single person porch swing. Just make sure to identify the setup location before you make your purchase. If you looking for a small single-seater hanging chair with stand read: REVIEW: Small Hanging Chair with Stand