What is the standard size for a patio swing? That is one of the most common questions when someone is looking to buy a swing. Well, it depends on your needs and space you have for your new swing. Anyway, the most popular size is 4ft. swing. If this match your requirements, this review is exactly what you need to read before you go ahead and buy one.
Swings of our choice: Let's have a look at three 4 foot porch swings made in the USA.
Rustic Inspiration: Natural 4-Foot Cedar Log Porch Swing by Lakeland Mills
If you love rustic natural outdoor furniture, lead a sustainable lifestyle and are looking for a two-person porch swing, this 4-foot swing made from Northern White Cedar is an excellent choice! Even without a cushion, its specially designed contoured seat is comfortable.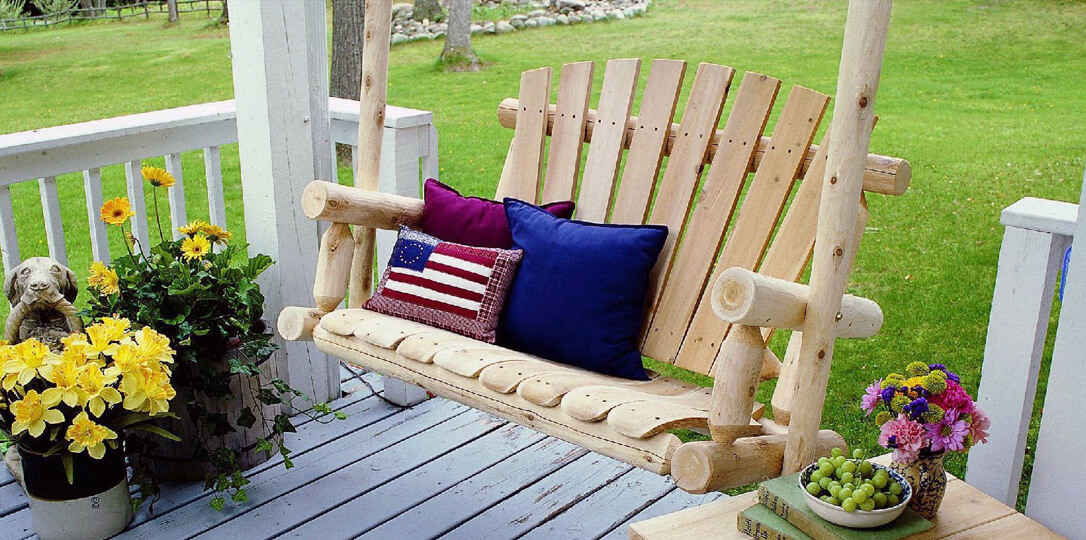 Swinging environmentally friendly
Lakeland Mills is an environmentally friendly company, which is aware of the importance of a healthy environment.  They harvest no trees to build furniture, but they make it from the treetops left in the forest to rot by the plywood and log home industry. No forests are thinned or leveled to procure the natural wood that goes into any piece of their outdoor furniture.
Made from Northern White Cedar, which is insect and weather resistant and well known for its strength and longevity. The stabilizing logs on the sides ensure that your swing stays at the perfect tilt. This gives the user maximum comfort and safety. No need to worry about kids swinging too hard and flipping backward. It grows more comfortable and charming with age
This swing is actually made in 4 ft and a 5 ft version, both of them are available online.
Please note: nowadays a lot of imported swings are available online, read things to look out when buying a swing online.
Main Features:
Made from a renewable resource and byproduct of the log home industry
Contoured seat slats conform to your body for maximum support.
Very heavy duty and durable
Everything is wrapped securely in heavy-duty cardboard cartons.
Shipped partially assembled with detailed step-by-step instructions
Easy to assemble
Made in the USA!
Wood: Northern White Cedar
Finish: Natural/Unfinished
Product Dimensions:
Length:  24″
Height:  44″
Overall Height:  44″
Width:  48″
This swing can be finished with a quality penetrating oil finish, or left alone to weather to a silvery grey color. Many or most of the logs will have cracks, which are called checks. The natural process of wood  "checking", which can seem to have the appearance of a split or a crack, happens when the logs release moisture and dry and the cells shrink. This does not weaken the wood. Checking helps give cedar furniture its rustic beauty.
How to install  Lakeland Mills porch swing
Here is a detailed video how to assemble the contoured log porch swing made by Lakeland Mills.  The log cabin porch swing will arrive partially assembled therefore is assembly is quite easy. A-Frame is sold separately. If you prefer a cedar swing with stand,  have a look at this one
About the Brand
At Lakeland Mills, the story began about a century ago. The company was founded in 1923.  With a great style at the lowest prices possible, they have managed to continue the tradition for over 80 years. A lot has changed over the years, but not their penchant for innovations and quality products. They never lost sight of the crucial value of taking care of the natural environment or their customers. Lakeland Mills sees these components as their past, today and their future. You'll find that there are second and third generation employees of the company you know today as Lakeland Mill, And that speaks for itself.
Conclusion
Summarized: this rustic style porch swing is comfortable, eco- friendly, sustainable and affordable. Quality and satisfaction are guaranteed!
There may be other wooden cheaper swings out there, but because swings by Lakeland Mills are made from 100% cedar, they can last between 10 to 20 years.
Beautiful and durable, it will be loved and admired for generations to come.
Superior

Design: Cobble Mountain Double Swing with Stowaway Foothold
With a stable wooden frame and a soft seat, this uncommon swing, more than any other, successfully combines the smoothness of a hammock chair and the steadiness of a basket chair.
Ultimate Hanging Casual Furniture
It is built for two people, so although the seat is made from rope and adaptable to the body, when two people swing together, they can both be comfortable without rolling toward the center. This is not the case with classic XXL hammock chairs. They may be as large that they almost can be used like a full hammock, though they are not comfortable enough for two persons.
You can use it with or without the footrest, which can be stored under the chair when not in use. A unique feature of Cobble Mountain hanging chairs and swings are the oak adjusting blocks.  By simply sliding them, the chair will recline and can easily be adjusted to any position or height.
This hanging rocking chair comes complete with seat cushion and head pillow, hanging hardware and instructions.
Here you can have a look at the video, which was made more than 10 years ago, but it is worth seeing now as then:
If this swing for two persons is too big for your living room, here you can find the review and everything you want to know about the smaller one.
If you are searching for a swing chair for indoors and the outdoors use, then either you will have an ugly plastic wicker chair in your living room, or you will have an awesome swing chair like this, made from natural ropes and the natural wood, but it can not last really long outside. The weather and squirrels will eat them in two seasons and the natural ropes will start to fray.  That's the way it is!
That's why we highly recommend the Cobble Mountain Double Swing for indoor use or covered porches.
This will be the most comfortable and the most beautiful chair in your home, but do not expect it to last if you hang it from a tree.
Main Features:
natural material
made in the USA
very comfortable
adjustable height
adjustable from an upright chair to a sleeping hammock
pillow and a seat cushion, hanging hardware included
420 lb. capacity
About the Brand
At Cobble Mountain Hammock Company is located in the hills of Vermont. All their products are made from start to finish the old-fashioned way: by hand. In a century-old bobbin mill located in the hills of Vermont, local folks carry on the tradition of handcrafting products. The oak they use is locally -harvested from sustainable forests and the rope is a special blend that comes from Tennessee.
Conclusion
One of the best features of the Cobble Mountain Swing is its appearance, which makes them a perfect swing for your living room too. The oak frame is steamed into shape and white cotton rope blend is high quality. But there are two more factors that make this swing unique: the adjusting blocks and the footrest.
It comes complete with everything you need for easy installation and immediate enjoyment.
The swing is extremely comfy, the design is unique and the workmanship and materials are high quality.
Smoothly Swinging: 4 Foot Cypress Porch Swing with Cupholders
This swing is excellent craftsmanship and is offered in a natural wood finish.  The seat is open and the rolled back design contours to your body. Chains going through the handles make it very stable with no 'crooked swinging'. It's a gorgeous design and is very comfortable with very smooth swinging action. As cypress wood is not affected much by moisture, a waterproof finish is not mandatory. The parts that are exposed to direct sun will normally turn to a nice silver color. Anyway, to be on the safe side you can stain it with an outdoor decking stain or you can seal it with a UV protectant type of polyurethane.
CHECK PRICE AND AVAILABILITY
 Main Features:
Wood: Cypress
With Cupholders
Solid steel Nuts & Bolts – Brass Screws
No cheap staples used
All slats attached with brass plated screws
Brass plated screws ensure hardware will not rust!
Sanded & Rounded edges on all slats
Chain & Hooks included for hanging
Contoured back and Seat for comfort
Sub-assembled for easy setup
Ready to be painted or stained
Will naturally weather to beautiful grey
Chains positioned to help prevent flipping
Lifetime replacement of pieces for a nominal charge as long as Southern Cypress remains in business
Handmade in the USA
Product Dimensions:
53″ Wide including Arms
Arm width – 5.5″
Seat depth – 20″
Seat width – 5′
Back height – 20″
Back width – 46″
Comfort and design
There is no officially approved weight capacity but it will easily support around 500-600 pounds when properly hung. Just make sure you have a solid beam to hang from and the swing arrives with no damage from shipping. Please be sure to inspect upon delivery to ensure all parts are in good condition before hanging. These are estimates only and the swing and hardware should be inspected regularly.
The drink holders are the perfect size for a bottle of beer and you can use it for your smartphone too. With a little practice, it wedges in and does not fall. With an outdoor pillow, the swing is just perfect to swing away your stress. And relaxing is definitely much easier if you feel you made a good choice choosing one fair trade product, and this one is American-made, without costing an arm and a leg.
How to assemble
The swing is packed nicely. You will need around 60 minutes to put it together and hang it up. Watch the video below with very clear directions :
If you plan to use it as yard swing rather than porch swing, you will need a sturdy swing stand. You can choose almost any stand so long as it is a few inches wider than the swing on each side. Due to the weight of shipping on most swing stands, sometimes purchasing at a local hardware store or from a local vendor can be more cost-effective, but also Amazon offers free shipping for prime customers.
The manufacturer gave great service promptly replacing a part that was damaged during shipping and is good about responding to emails. If you have any concerns, we recommend you email the seller directly.
Conclusion
The SouthernCypressFurniture swing is sturdy, well made, looks beautiful and it will last many years. It comes with the chains, screws, and everything else you'll need, and a link to the assembly video. The customer service is great and very responsive and the seller stands behind every purchase!
If you're still not sure whether to buy it or not, we recommend reading over 160 reviews at Amazon on his 5-foot model, which is almost the same one, only a foot bigger.
No matter which one you choose, the swing will be your happy place!