A Favorite Place in the Living Room is the Hanging Chair
Why? Because a Hanging Chair is a wonderful place to relax with a good book and a cup of tea.
Here is the beautiful photo von Tanja van Hoogdalem.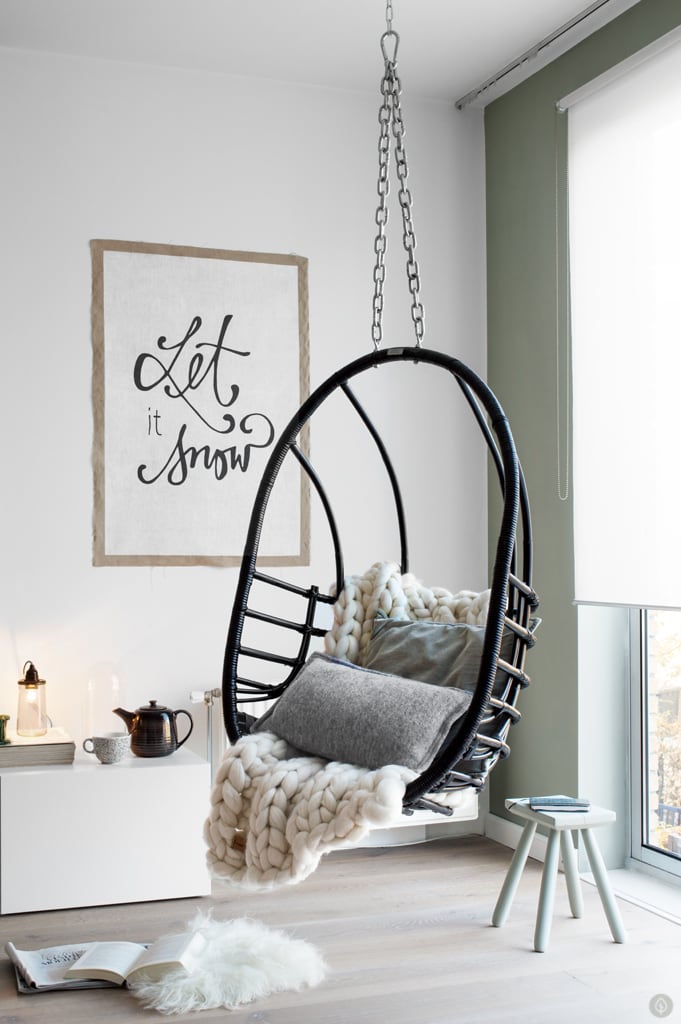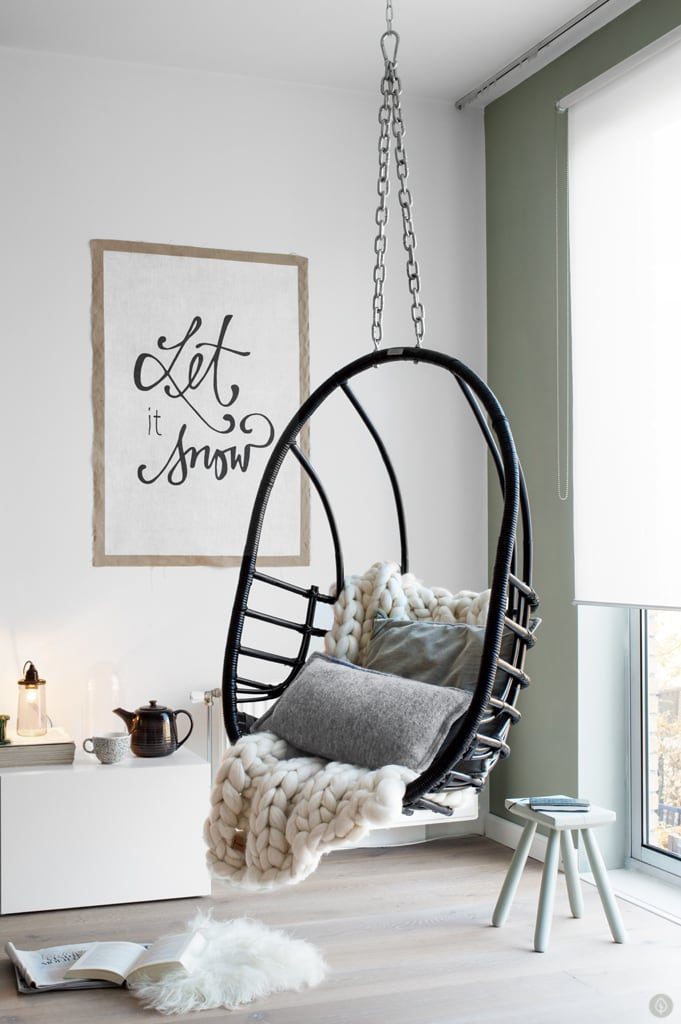 She painted the wall behind the hammock chair with the pastel green. She first chose the color "caution green", but it was a bit too light. So she mixed in some black paint to darken the color a bit. She painted the stool in the same color as the wall and bought the canvas poster that is hanging on the wall which immediately brought a winter feeling in the living room! Now let it snow
Tanja van Hoogdalem is an interior designer and loves to combine it with photography. You can read everything about it in her blog
Source: TanjaVanHoogdalem
Byron Bay Hanging Chair for a Dreamy Girls Room
This gorgeous room is light and airy soft and uncluttered. The hanging chair made of natural rattan and everything around creates a dreamy atmosphere. In this case, it is a kids room, but hanging chairs made of natural materials are perfect for the bedroom too.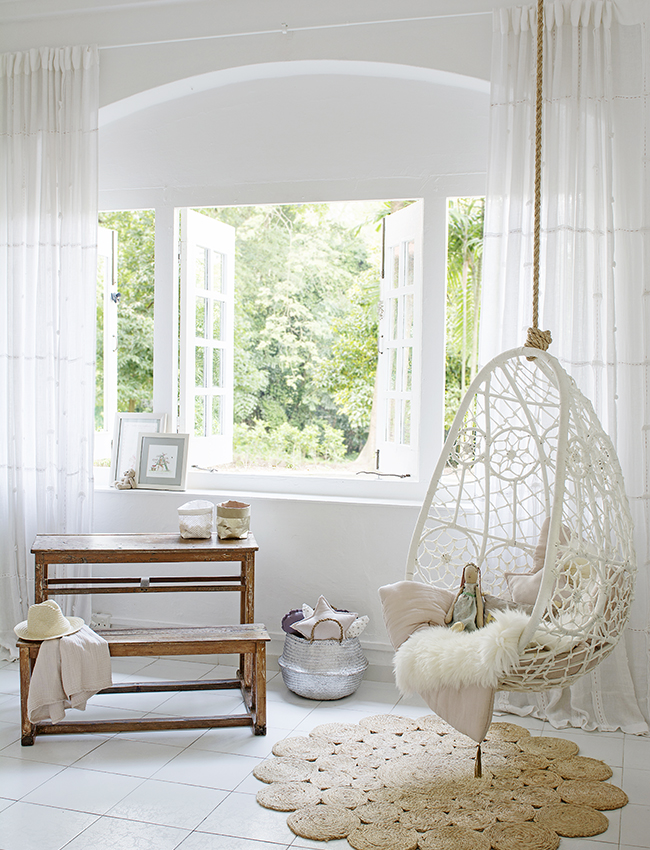 Byron Bay Hanging Chairs remind on the iconic hanging chair from the '60s and '70s. They usually have a classic shape, the raw natural material and will bring the charm to your home. More about this chair and a lot of ideas, how to make your home beautiful, you can find here:
Source: Lottie LifeStyle
Article about: Cuckoo Little Lifestyle home
Lottie Lifestyle can bring some joy to you and your home – wherever that may be.
Hanging Macrame Chairs Surrounded by Gray, White, and Brown
Although the colors bring happiness in your home, in the past decade the love for (non-) color white has grown. White and wood – this is one of the nicest combinations. The calm, the serenity, the light and a white hanging chair:
The author of the picture below says:
"Fair is fair: I have a love-hate relationship with color. I enjoy color when I'm on the street,buy my nails or buy flowers for someone – but color in my house? No. Yes, in a subtle way. That is, a different shade of wood, not black, but dark gray or so light gray that it almost turns white. I get restless with (much) color."
Source: ShowHome
The design and the photos are the creation of Mardou. If you take a look at her Instagram account or her blog, you'll understand what she's thinking. Her blog was awarded as one of the 15 best blogs in Holland. There you will find everything about interior design, minimalist living, vintage, design, and DIY. Curious about her story? I would like to introduce you to seven couches!
 Natural and Rustic and Ethical Black Hammock Chair
Werannas LOFT eCatalogue for Fall/Winter 2014-2015 published on Aug 26, 2014, is a beautiful story about Natural and Rustic and Ethical Black Hammock Chair. The photographs and the styling is the work of Paulina Arcklin for Werannas
Paulina is a Professional Photographer and Photo Stylist and here is what she says about her self on her blog:
"This is my blog about my work, passion for it and about of Behind the Scenes things. I'm from Scandinavian, lived almost 5 years in Amsterdam (The Netherlands) and currently live today in Milan, Italy."
See more beautiful Hammock Chair Photos on her blog:
Paulina Arcklin Photography + Styling
Here we will show you another Photo by Paulina for Casa Cook Rhodes in Greece in Rhodes Island
These were the most beautiful indoor hanging chairs.  Light and Airy. We hope you enjoyed it!
We respect the work of others and we have linked the source of each picture above. If we made a mistake or have posted your photo and you do not want it to appear on our site, please contact us and we will remove it asap.
For older kids and teens we recommend having a look at 13 Hanging Chairs Your Teen Will Love (And How To Choose The Perfect One)
Love & Swinging & Good vibes,
Hanging-Chairs.net