While classic hanging chairs lean more toward a feminine feel, this industrial hanging egg chair with an iron crane stand is more masculine. Chris Lutzweilers' authentic industrial style exudes that casual feminine sophistication and can come across with a strong and unfinished appearance. It is portrayed with dark metals and heavy hardware, originally made in the 1910s-1930.
But we don't mean this piece of furniture is made for men – in fact, quite the opposite.  Installing such a visually striking statement piece you're bringing a bit of history to a new environment. And that's a great way to complete an industrial-chic atmosphere.
If you are an industrial-style furniture lover, this authentic hanging egg chair could be the best purchasing experience and a perfect addition to your home. Here is the story about how this hanging chair is made, from beginning to end. Written personally by the – Chris Lutzweiler
I can truly say that I "fought" for this piece and to make it a reality.
The Canton Machine and Co. Portable Shop Cranes were used in the early 1900's to move heavy loads in various industries from railroad to manufacturing.  The cranes came in a variety of different sizes and weight carrying capacities, and this particular unit is casted with the No. 2 rating.  The No. 2 stands at 6 ½ feet tall, weighs between 750-800lbs, and had a load carrying capacity of 1 to 1 ½ tons.  The cranes were originally sold for $112-$137 when new in the 1910s-1930s.
Antique portable crane – How I got it
This particular Crane was ironically found right where it was born, in Canton Ohio.  Originally found by a fellow antique picker and friend of mine, I originally could not afford to purchase it as I had already purchased a large inventory of authentic turn of the century crank tables.  My colleague and fellow picker continued to push the crane on me until she suggested that I could pay her a few hundred dollars at a time for it until I could make the drive up to Canton Ohio (8 hours) to pick it up.  I agreed and a deal was struck, or so I thought.
In addition to a substantial finder's fee, I paid for the crane in a few short weeks and made preparations to make the drive to Ohio to pick it up.  Unfortunately for me, it had attracted interest from other buyers who recognized its significant value.  Despite the crane being fully paid for, my fellow antique picker attempted to sell my new purchase out from under me right up until the morning of my arrival and even during the loading process.  I was not able to breath a sigh of relief until the mammoth iron crane came to rest on my trailer and the lifting equipment removed.
Restoring a 100-year-old  iron
Restoring the titanic iron machine was very time consuming had to be done carefully.  It would need to be completely disassembled and each piece cleaned individually to do the job properly. Disassembling something that assumedly had not been taken apart since its conception a century ago, was tedious to say the least.  Separating the massive tower from the rolling base was hair raising, as it weighed several hundred pounds on its own. Once completely apart, many components were cleaned in a large media blasting cabinet to remove decades worth of rust, scale, and what small bits of paint remained.  After being covered in these elements for a century, the beautiful natural cast iron was slowly revealed to see the light of day again.
Simply "blasting" the iron was not enough, as bare iron immediately begins to rust, with visible rust forming in minutes.  Each piece was soaked in oil to prevent this after blasting and until the brushing process could begin (used oils were carefully collected and recycled within local guidelines and regulations).  After cleaning, the iron needed to be high speed "brushed" to bring out the color and shine that one can see on the finished product.  The individual pieces had to be sealed with a clear paint (commonly referred to as "clear coat") to prevent future rusting as well.  Uncountable hours were put into this process.  Slowly, and a piece at a time, the crane began to come back together.
Setting Hanging Egg Chair Basket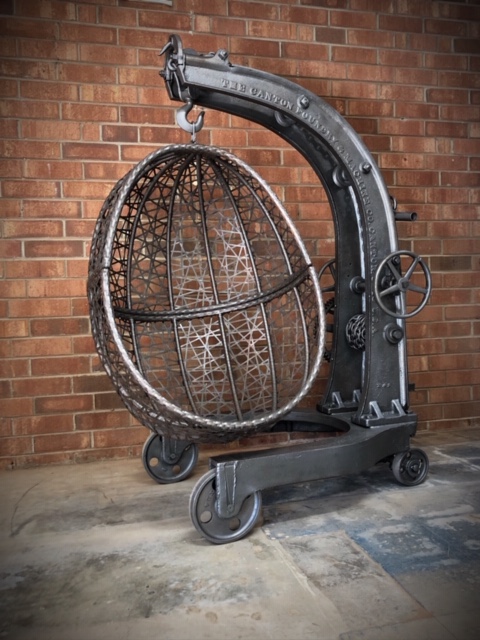 After reassembly, the challenge was to find an appropriate way to incorporate the hanging egg chair basket to the crane.  I wanted to use a very large chair, which did compromise the amount of vertical travel that is possible with lifting, but a smaller chair option is possible.  I also wanted to maintain the original lifting hook and pulley that came with the crane.  Retaining this also came with a cost of sacrificing vertical movement, but it was still possible.  In order for this to work properly, the hanging chair had to be as close to the lifting hook as possible.  After multiple attempts, a solution came from an unlikely source.  The holding device is simply a stainless-steel carabiner that fit perfectly between the hanging chair and the hook.  360 degrees of travel are still possible, and vertical movement was not affected.
Finally, the gargantuan piece was completed.
From all your pieces which is your favorite and why?
My passion in industrial furniture has been for the authentic hand crank tables that have replicated by some of the higher end furniture retailers. The authentic units sell for tens thousands of dollars and are nearly impossible to find. The Crane (as it is nicknamed locally), has become a very special part of my collection and I couldn't be happier with it.  The pain and dramatical experience what went into acquiring it made the piece so much more special as well.  As a result, I can truly say that I "fought" for this piece and to make it a reality.  In doing so, and combined with its incredible uniqueness, it has become one of my (if not the) favorites.
What comes first – the materials or the design idea?
As with most of my ideas, the vision is seen first in my mind (usually as a "eureka" moment) and then comes the hard part, actually bringing it into reality.  I would have to say that I have two favorite parts of the process in which I do this.  Initially, the chase.  It is a living treasure hunt tracking down and finding the unique pieces that can be used to create pieces like this.  The other, would be the finale, where I can look at what it was before, and what I have done with it.  The "before and after" if you will.
What makes you different/ unique from other furniture makers?
I didn't want to do what everyone else was doing within the realm of industrial style furniture.  I wanted authenticity and exclusivity with the pieces that I made.  There is a certain satisfaction in taking a 100 year old piece of iron, and bringing it back to life in a new purpose.
I hope that my Crane Hanging Chair finds its way into a very special home soon and I thank you for taking the time to read over my brief synapses of its origination.
Chris Lutzweiler
1-336-362-2626
Instagram: the_rustic_factory
Facebook The Rustic Factory
Featured Photo  Credit: Nechelle CP Photography