Some pieces of furniture in your living room or the garden can completely change your living space and at the same time reflects your lifestyle. The hanging basket chairs will have that magic effect on you and there is a huge variety out there to be picked from.
Hanging Basket Chairs with Stand
With a stand, hanging chairs are flexible, you can push them back and forth and do not have to drill holes in the ceiling. Here is our selection of the best hanging chairs with stand
Teardropp Swing Basket Chair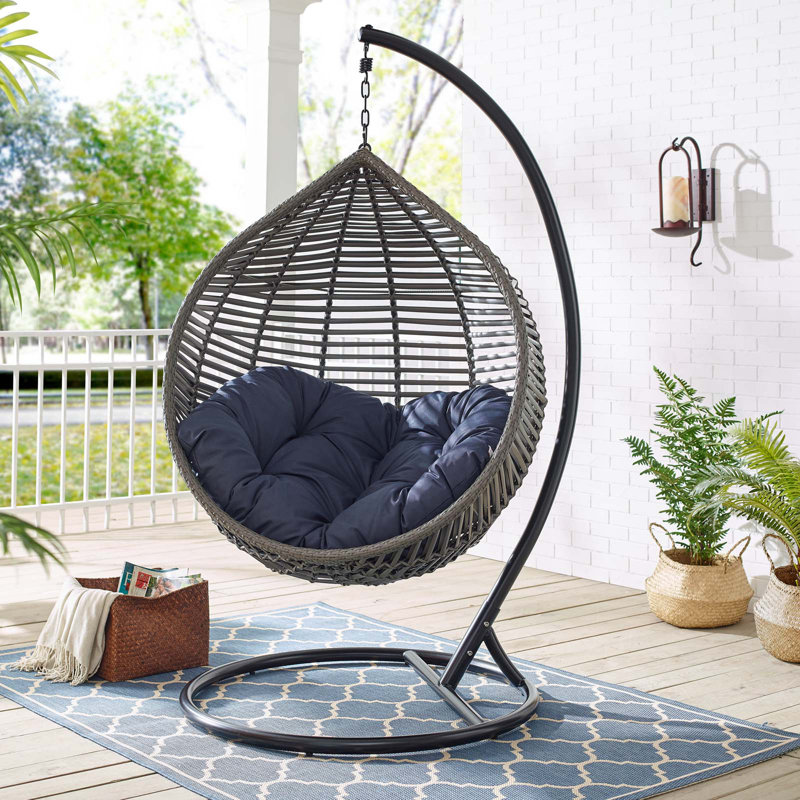 This swing chair is all style and comfort rolled into one. You can keep it indoor or outdoor. The sturdy stand and the strong chain ensure you can swing in it comfortably. It could be a happy place in your home you would want to seek. If your body structure allows, you can even fold your legs in for that cuddling feeling amidst the cushions. Drop into it when you return home tired and find yourself feeling invigorated.
---
Round Basket Swing Chair with Stand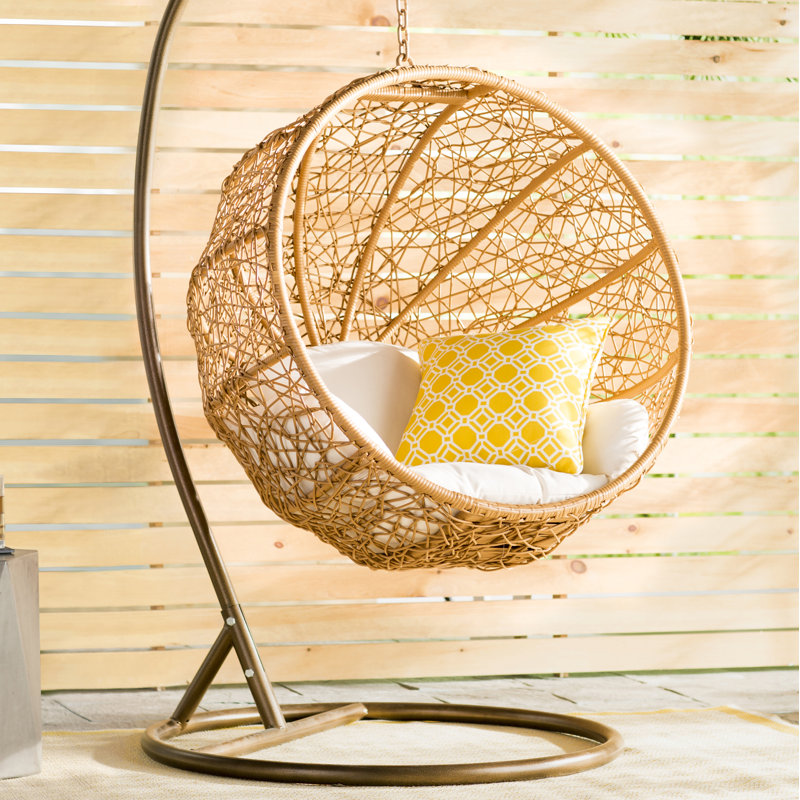 The bright colors of this Eliott swing chair with the aluminum stand will automatically lift your spirits as you drop your frame into it. With the right cushions, you can fall asleep in its cozy comfort. The stand that comes with the hanging basket chair gives the option of using it indoors as well. You could swing your way through a sporting event or a movie in your living room. It's the right piece of furniture you must have in your home.
---
Textile Double Hanging Basket Chair with Stand
This pumpkin swing chair can seat two persons with a capacity to hold up to 400lbs. The metal stand will hold firm as you occupy the chair and start swinging. If you live alone, take your pet along for the swing. Hanging swing basket chairs with a stand have this double benefit of being used indoor or outdoor. The stand and the chair can be left in the rain. It will dry fast. You will have to take the cushions out before the rain.
---
Byer of Maine Globo Twin Seater
This double seating hanging swing chair is capable of holding up to 300lbs. The product is sold as an indoor option for hanging from a beam. If you prefer the stand, you have to buy it separately. Either way, it does not take away the luxury of sitting and enjoying this piece of furniture. Better cushions can provide you the feeling of a sofa with the swinging feature added. The charm is not lost whether you hang the chair in the living room from the roof or in a stand in your garden. Single version is beautiful Globo Chair.
---
Exaco Hammock Basket Chair with Stand
---
The dual-use (indoor and outdoor) Exaco Gaya hanging egg chair has a wooden structure. The seating is wide and meant for one person to sit comfortably. It can withstand a weight of 330lbs. Choose the appropriate cushion to maximize the pleasure of sitting and swinging in this chair. The design and style are distinctly European and very nice to look at. Sit back and lift your feet for greater comfort. Good to catch up with some reading.
Hanging Basket Chairs without Stand
Hanging chairs without a stand take up little space and look much more elegant. Outside you can hang it on the porch, on a tree, or on a pergola. But especially indoors, hanging chairs without stands are popular because they simply look better. You can hang them much more easily all you think.
Chenery Patio Hanging Swing Chair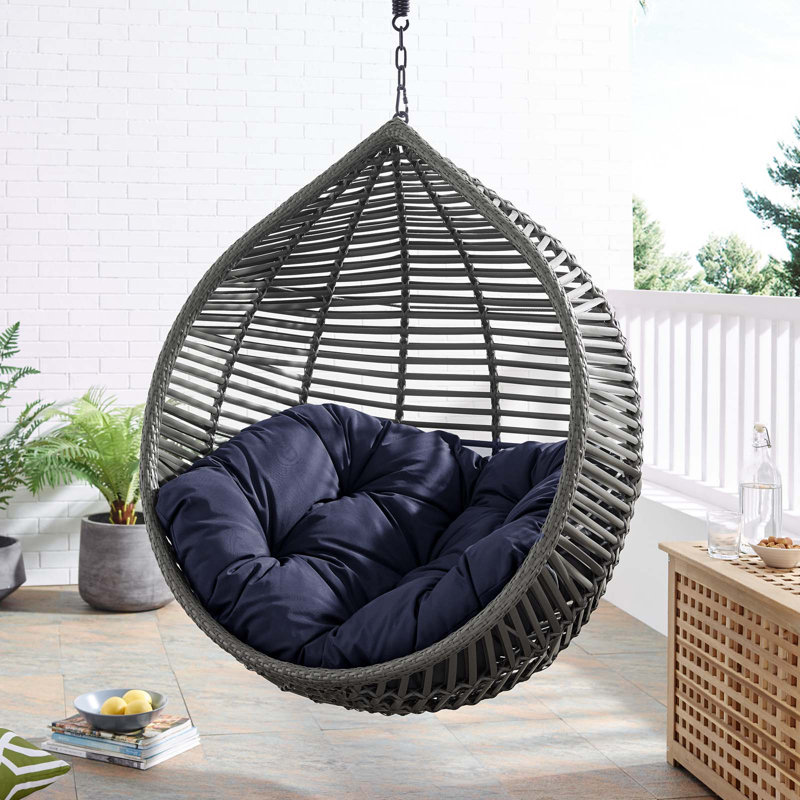 Sitting comfort has been assigned priority in this Chenery hanging swing chair. You can hang it from the ceiling in any part of your home, the patio, or the living room. Being free from any stand, you can cover a wider angle while swinging in this chair. The chain can be adjusted so that it can be used by people of all heights. The chair is supplied with a cushion but you have the option to add more cushions to cover all sides.
---
Sika Hanging Basket Swing Chair
This has the unique design of a basket to fit the contours of the body. You can just slide into the basket chair, swing and have fun. Since the supply does not include the cushion, you can select the best cushions to add comfort to your sitting posture. You can hang this cool chair in practically any part of your home, both indoors and outdoors.
---
Half Egg Basket Chair without Frame
The Gemmenne chair has an excellent combination of style and comfort. This model is without a stand, and although it is a swing chair for outdoor use, the wicker looks very fine and can be also used indoors. It is open- sided, which means, it doesn't box you in like the regular hanging chairs and allows you to sit in any position and relax. The swing can also be quite wide if you are fond of it. It's sheer luxury and lifts the look of your patio or porch. Once you start using it, you would want to have one in every conceivable place in your home.
---
Hanging Basket Chair no Stand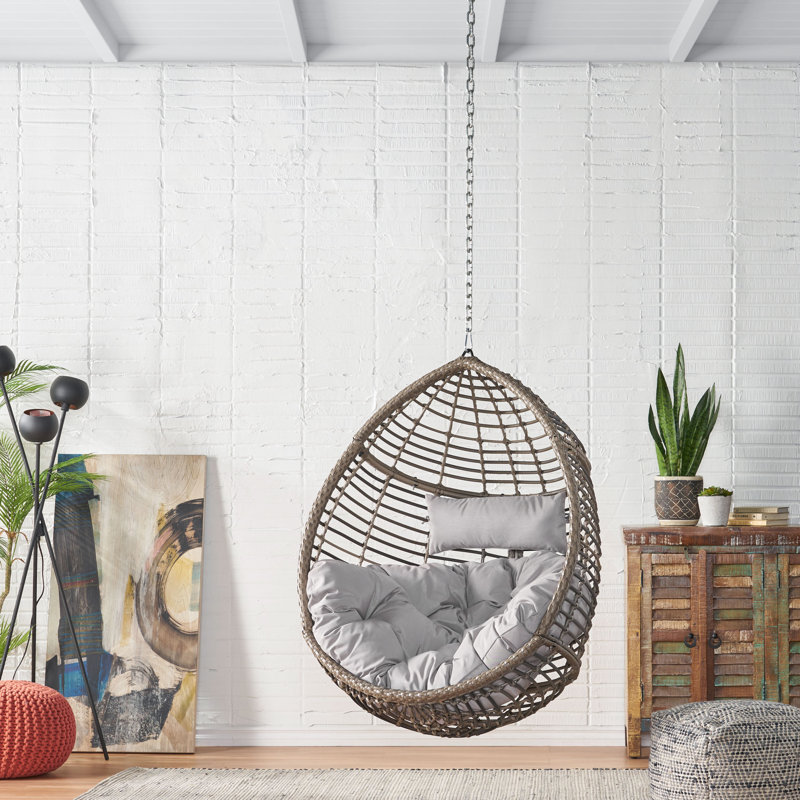 This teardrop shape hanging basket chair is meant to make you feel totally at ease as you slide into it. You can put your thinking cap on and bring out innovative ideas as you sit and swing in this chair. If you have some natural beauty to stare at in front of you, it will be further stimulating. It can bear up to 300lbs and can be used by everyone in the family.
---
Hanging Basket Chair for Bedroom
Hanging chairs in bedrooms are especially popular. While the hammock chairs, which are made out of a cloth, are more for boho fans, the hanging chairs out of a basket are available in different versions and differ stylistically very much from each other. Here is our selection, just choose the best one according to your taste
Basket Bedroom Swing Chair
This "Nautica" swing chair has this unique basket that is sunk and the cushion fills the gap for you to sit and do your work. This hanging basket chair is positioned as suitable for your bedroom. You may wish to spend time on this swinging chair before going to bed either watching TV or maybe speaking on the phone. Leave the tensions of the day behind and embrace relaxation on the ZHAOHAOJIE swing chair. Don't miss the fun.
Although it looks like a rattan hanging chair, it is actually made of aluminum, and can be used outside in summer
---
Wooden Egg Basket Gaya
If you wish to add a comfortable seating option in your bedroom and there is sufficient space, go for this Exaco Egg hammock basket chair. It can be hung from the ceiling and has a unique design that will make your bedroom look different. The cushion is very important in this chair as the design dictates that you get a thick and soft cushion to feel comfortable while seated. You can hang it in any other part of the house as well and use it.
---
Cheap Basket Hanging Chair
The Whetzel brand hanging basket swinging chair is one of a kind and can offer you a relaxed way to sit and spend your evenings. You won't feel any kind of discomfort even after sitting on it for a long time. It's a product for the lounge area and can easily be fixed to the ceiling of your bedroom. It does not come with a stand and therefore you have to use it only indoors. It's a lovely addition to your home.
---
Knotted Melati Basket Chair
This is a tremendous piece of art with the ring-like structures connected through knotted ropes to offer a basket chair that can be hung from the ceiling. The sitting comfort is unquestionable and your bedroom is one of the places you can hang this chair for your enjoyment. You can hang it at whatever height suits you so that getting in and out of the basket chair is easy.
More Anthropologie Hanging Chairs.
---
Cushion Replacement
Some hanging basket chairs are supplied with the cushions and in others, you have to order separately. If you use the chair outdoors often, you may need to replace the cushions after some time. Particularly if the cushions are exposed to rain and sun, they can lose their shine. You can order spare cushions online. If you have the dimensions ready, it is convenient to choose the correct size and order. If your current cushions have the details on the label, ordering replacement cushions is much easier.
Frequently Asked Questions
1.   Will the supplier send someone to install the hanging basket chair at my home?
 You will have to check with your supplier before ordering the chair. Some of them offer this service or at least have some local tie-up for installation. Some of them can be handled by you if the provision on the ceiling is already available.
2.   Are the chains safe even if I swing in the chair?
In most cases yes, the chains are expected to be rated for the weight they can bear and it is mentioned in the product description. If you have any questions regarding this, do check with the supplier before buying.
3.   Can I buy a stand where it is not supplied with the hanging chair?
Yes, you can order the hanging chair stand only. Before ordering the stand share the full details of the hanging chair you have ordered so that the stand maker/seller can offer the right match.
4.   Can the fully assembled hanging chairs be moved within the house through the door?
You should check the dimensions of the chair at its widest part. You can perhaps tilt it and take it through the doors. Verify the sizes.
5.  Can hanging chairs damage ceiling?
Before the installation you have to check if the ceiling is good for suspension at all. if so, there should be no problems
Conclusion
Hanging basket swings for different applications are available in a range of designs, materials of construction, and seating patterns. They all aim at providing you with a lovely way to spend your leisurely hours forgetting all your tensions and helping you relax at your home. Follow your heart and allow yourself in your opinion the best hanging basket chair out of the options presented.