What type of hanging lounger will best suit their lifestyle? What should they be looking for in a hanging chaise lounger? Where is the best place to mount it? We've taken all the most commonly asked questions and compiled them into this guide, which we hope will help you choose the perfect chair.
Here are all the different types of hanging chaise loungers:
1 Curved Hanging Lounger Swing
A curved lounger swing provides full back support, and the arched shape makes it comfortable to sit in and read, chat, or simply take in the scenery. Many designs come with shade protection, making them ideal for outdoor use, although they are stylish enough for indoor use too. Curved Hanging Loungers are available in a range of designs (both with and without stands). Here are our TOP choices for prospective buyers:
Curved Lounger Swings With Stand
If you decide to go for a curved hanging lounger with a stand we would recommend the  Outdoor Hanging Curved Chaise Lounge by Best Choice Products.
CHECK PRICE ON AMAZON CHECK PRICE ON WAYFAIR
It's ideal for outdoor use and comes with weather-resistant cushions and a removable umbrella canopy. Replacement cushions in various colors, made of durable spun polyester and over 2 inches thick are also available here.
A bit pricey, but one of the most beautiful swing loungers available is the Hanging Lounge Chair Wave by Exaco.
CHECK PRICE ON AMAZON CHECK ALTERNATIVE ON WAYFAIR
If you're looking for a classic curved lounger made of wood but with a canopy for sun protection, this wooden lounge chair boasts a clean design and also comes with a sturdy stand
Curved Lounger Swing Without Stand
If you've already got the perfect spot to mount your lounger, and you don't need a stand, then you can purchase the Hanging Lounge Chair Wave by Exaco without stand. It will cost twice as less and it is an excellent choice. It can be used both indoors or outdoors, wherever you choose to relax.
2 Double Hanging Chaise Lounger for Two
If you need a lounger with a little more room to unwind – or a chaise that is comfy enough for two, a double hanging lounger is the way to go. Double hanging chaise loungers are an ideal addition to any outdoor space, and as most are weather-resistant you can rest assured that they will last for many years to come. Here are some of our favorite double hanging chairs:
Double Hanging Chaise Loungers With Stand
The Luxury 2 Person Hanging Egg Chair with stand by Island Gale is made from high-quality rattan and comes with a powder-coated steel frame. Ideal for patios!
CHECK PRICE ON AMAZON CHECK PRICE ON WAYFAIR
For a colorful design, we'd recommend the Flower House Hanging Pumpkin Loveseat Chair which also comes with its own stand. All the cushions and covers are machine-washable making it easy to maintain.
CHECK PRICE ON AMAZON CHECK PRICE ON WAYFAIR
For more ideas, read our  review: Hanging Loveseat Swing with Stand
The famous Globo Royal Double Chair by Byer of Maine could easily become the centerpiece of your outdoor living space, but thanks to its extraordinary spruce wood design and deep plush cushions, you can install it in your living room as well.
CHECK PRICE ON AMAZON SIMILAR PRODUCT ON WAYFAIR
Double Hanging Chaise Lounger Without Stand
The YYBFG Double Hanging Chair offers comfort and portability. You can easily relocate this chair and thanks to its lightweight design it's easy to hang in just a few minutes. It's also unique in that it can be stored away without taking up too much space.
3 Soft Hammock Chair Lounger
There's nothing quite like relaxing in a classic hammock lounger made of cloth, whether it's on the beach or just on the front porch. The best hammocks are those that are sturdy, soft, and of course, easy to maintain. Bright colors look great too, especially in the pool area. Whether you need a hammock just for yourself, or one big enough for the whole family we've got you covered. These are our premium hammock chair choices:
Hammock Chair With Wooden Stand
For those who are looking for a hammock chair that will allow them to sit up and lie down, we'd recommend the LA SIESTA Organic Cotton Lounger. This chair is adjustable, features tearproof fabric, and comes with a sturdy spruce stand. The brand is German and in the best quality, unlike many other cheap options available online.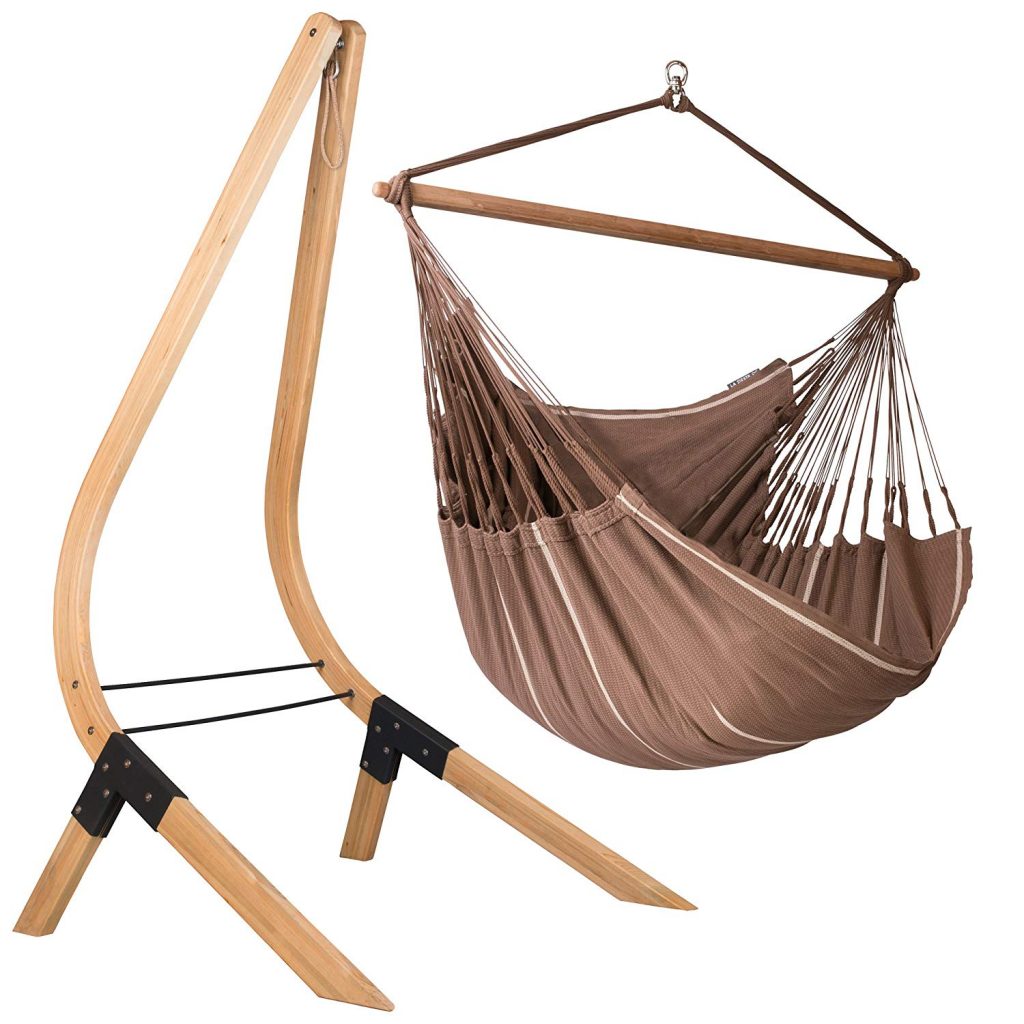 CHECK PRICE ON AMAZON CHECK PRICE ON WAYFAIR
The LA SIESTA Organic Cotton Lounger is also available in with an eye-catching coral striped pattern
Family Hammocks With Stand
The LA SIESTA Bossanova Bordeaux Kingsize Classic Hammock with hand-woven fringes is one designed for the whole family! It boasts a weight capacity of 440lb and features a canoa-style wooden stand.
Budget Buy
If you're looking for a cheaper option but don't want to compromise on quality, we'd suggest the Holyoke Double Camping Hammock with Stand also has an impressive weight capacity of 400lb and an attractive curved wooden stand and costs much cheaper
4 Hanging Lounger Bed
Hanging lounger beds and swings are ideal for outdoor spaces such as porches or poolside. They provide a comfortable place to relax and even catch a few zzz's! Most of them can comfortably seat more than one person, making them an excellent solution if you are short on space.
If you're looking for top-quality craftsmanship and sturdy design you won't go wrong with the handcrafted Outdoor 6′ Traditional English Swing Bed / Oversized Porch Swing.
CHECK PRICE ON AMAZON CHECK PRICE ON WAYFAIR
However, you will need to purchase your own soft furnishings for this swing and mount it yourself. 
The Modern Cottonwood Deep Seating Porch Swing Bed is made of eucalyptus wood with a driftwood finish and will lend a cottage-type feel to your outdoor living space. This swinging bench does not come with a stand but does include a chain for installation.
5 Rocking Chaise Lounger – an Excellent Alternative
If you are looking for an alternative to a hanging lounger you might consider a rocking chaise lounger instead. The curved rocking chair design of these loungers makes them ideal for outdoor use, perfect for relaxing in. Plus their lightweight design means they are easy to reposition too.
Rocking Chaise Lounger With Canopy
The Vivere Aluminium Double Chaise Rocker will provide you with a cool shady place to get away from it all. This lounger features a rust-free, lightweight aluminium frame ideal for outdoor use and is made with acrylic mesh fabric which is simple to clean. And it's big enough for two – this lounger has a total weight capacity of 450 pounds.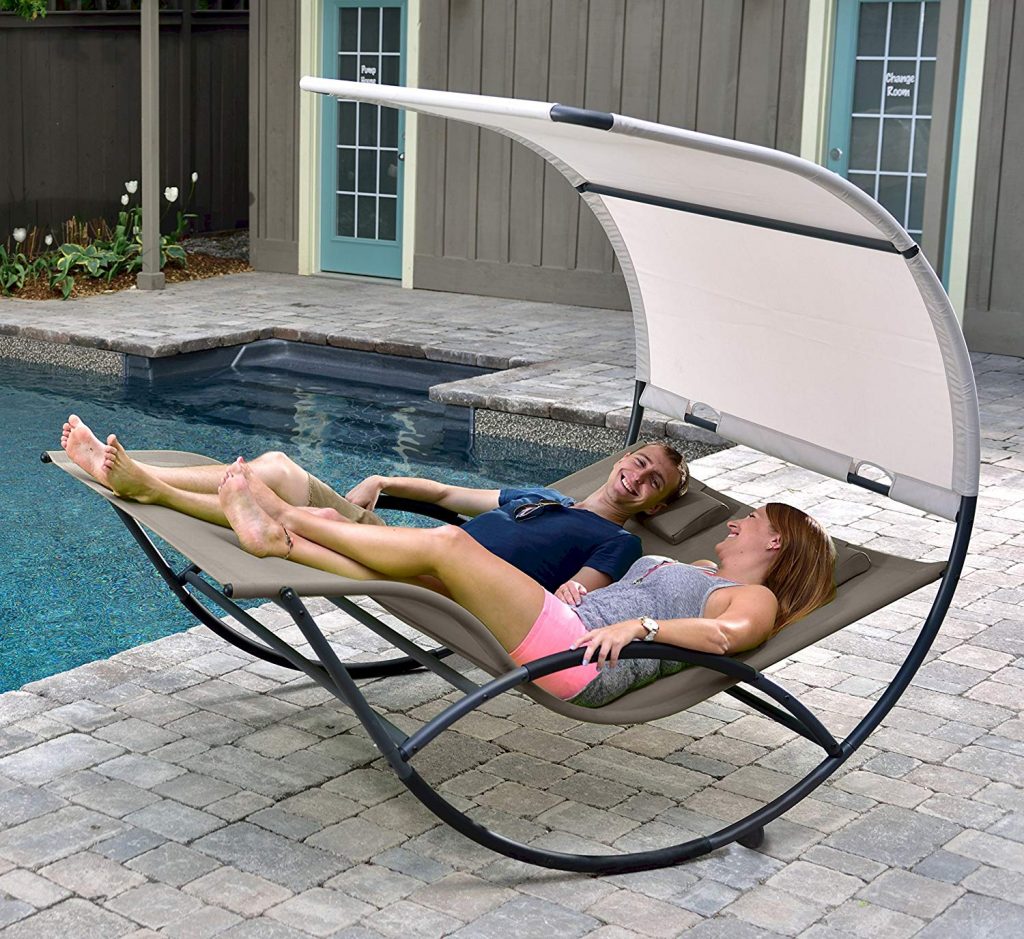 Rocking Chaise Lounger Without Canopy
When guests visit your home they are sure to be intrigued by the unique design of the Goplus Outdoor Orbital Lounger.
Not only is this chair eye-catching but it's also packed with features that make it ideal for almost outdoor activity. It's easy to fold away and only weighs 18lbs, making it lightweight enough to carry from one place to another.
Ten Reasons To Choose A Hanging Lounger For Your Home
When it comes to buying furniture we are surrounded by many different (and exciting) possibilities. So many in fact that it can sometimes be hard to choose. Here are ten reasons why a hanging chaise lounger would be the ideal addition to your home.
Unique seating experience
A hanging lounger offers a seating experience like nothing else in the world. It allows you to lift off from the world and feel as though you are floating in the air – and if that's not a unique experience then we don't know what is!
You won't find hanging chairs or loungers everywhere you go, they certainly aren't a common piece of furniture. But this makes them unique, eye-catching, and always memorable. If you're looking for a new conversation piece (that's also perfect for relaxing in) then a hanging lounger is an excellent choice.
Hanging loungers are perfect for people who need a chair that will help them unwind. The gentle rocking motion of these loungers, and the room to spread out make them unmatched when it comes to relaxation.
Your friends will love it
You'll love owning a hanging lounger and your guests will love you for having one too! Plus, many of our featured hanging chairs are capable of seating more than one person – making this an ideal piece of furniture for those who love to entertain – both indoors and outdoors.
There are dozens of hanging loungers on the market that are designed to hold upwards of 400lbs which means they can be used by the whole family. Ideal for watching an outdoor movie together or just looking up at the stars and telling stories. Great memories await!
Ideal for indoor and outdoor use
Hanging loungers can be introduced to almost any room of the house. They make an attractive addition to a bedroom or study and are eye-catching as living room decor too. But hanging loungers are also ideal for outdoor spaces such as porches, balconies, or poolside.
There are even loungers made for traveling. These feature a lightweight design that makes them perfect for camping, hiking, and fishing trips. Imagine looking up at the stars from one of these loungers – now that would be pure bliss!
With an outdoor hanging lounger, you don't need to compromise on shade protection as many varieties actually come with their own canopies. These help to decrease the glare and the amount of sun that reaches the chair. This is especially useful when you're planning on spending a few hours in the lounger which trust us, you're going to want to do.
They're available with or without stands
Hanging loungers are available with or without support stands. Those that come without stands usually come with brackets and/or chains to make installation easier.
There are many different types to choose from so it's up to you to decide which type of lounger will suit your home and your lifestyle better.
Hanging loungers are easy to look after and can last for many, many years. Just follow the manufacturers' instructions to keep your chair in showroom condition.
One of the most attractive qualities of hanging loungers is their gentle rocking motion, which many people find to be a powerful de-stressor. These types of loungers are well-suited to people looking for a unique way to retreat from the world and find total relaxation.
FAQ's About Hanging Loungers
Buying a hanging lounger is an exciting experience but many people have questions when it comes to their purchase.
What is a hanging lounger used for?
A hanging lounger is a piece of furniture that can be placed indoors or outdoors and is designed for relaxation. Loungers allow you to recline (lie down) or sit up and these chairs can be mounted to a wall or tree or hung from a stand.
What makes hanging loungers so special?
Hanging loungers and chairs offer a unique seating experience. Because all the weight is supported from the top (rather than the bottom like most furniture), it makes you feel as though you are floating in the air. Most loungers also feature soft cushions and this combined with a gentle rocking motion is ideal for unwinding after a long day.
I live in an apartment – can I have a hanging lounger?
Of course, you can! Just like hanging chairs, there is a hanging lounger for everyone. Hanging loungers aren't only for those with huge houses.
If you don't want to mount your lounger or make it a permanent feature you can choose one that comes with its own stand. If your apartment has a balcony you might want to consider an outdoor lounger with a canopy to provide a little shade.
Many types of hanging loungers are made to seat more than one person, which also makes them useful for small areas like apartments.
I like to travel – what's the best type of hanging lounger for me?
Space and portability are the main factors that you would need to consider if you wanted a hanging lounger that you could travel with. You'd want to choose a hanging chair with a lightweight design that is easy to assemble and dismantle, and made from a strong durable fabric. You would also want to consider whether the lounger needs to be just big enough for you or for your family as well.
Where can I buy replacement parts and cushions for my hanging lounger?
Should you need a replacement part for your chair, it's best to contact the manufacturer or the store you purchased the chair from. Failing this you could also visit a general hardware store who should also be able to assist.
The same would apply if you need replacement cushions or soft furnishings for your chair. These can usually be purchased without any hassle from the supplier but you could also have your own bespoke cushions designed and made by an interior designer.
What type of materials are used to make hanging chairs?
Most types of hanging chairs and loungers are made from a combination of materials such as wood, metal, fabric, and rattan.
Hanging loungers that fold away easily are usually made from aluminium which is both lightweight and strong. Heavier loungers made from wood are more well-suited for long term placement while rattan chairs are lighter and weatherproof.
Are hanging chairs and loungers safe?
You must read the instructions that come with your hanging lounger to ensure that you assemble and use it as recommended by the manufacturer.
Hanging chairs and loungers should always be used with caution, especially by unsteady or elderly persons. And because hanging chairs often have moving parts, it's best for children not to use them without adult supervision.
How do I choose the best outdoor hanging lounger?
When it comes to any type of outdoor furniture, the first thing you'll want to do is consider the material it's made from. Make sure that you choose a chair that is intended for use outside – like wood or treated rattan.
You'll also want to check whether the cushions are weatherproof of whether they need to be removed after use.
Then you'll need to decide whether you want a free-swinging hanging lounger or whether you prefer a chair with a stand. It's a good idea to invest in a lounger that has a canopy as this can be a lifesaver on hot days.
How do I clean my hanging lounger?
Each hanging lounger should come with a set of instructions for cleaning. Making sure that your hanging chair is clean will keep it in tip-top shape so it's important to make a note of these cleaning instructions.
Many loungers (especially those intended for outdoor use) require minimal cleaning – sometimes just a rubdown with a damp cloth is all that's required.
What should I look for when buying my hanging lounger?
When it comes to purchasing a hanging lounger these are some of the factors you should consider:
Size vs. available space
Weight Capacity
With or without stand
Indoor or Outdoor use
With or without cushions
What type of maintenance
What type of cleaning is required
What type of tools are needed for assembly
Does it need to be portable